As her slinky new single suggests, soul-pop vocalist Kirsten Arian is a Queen. Currently residing in illustrious Nashville, the silky singer-songwriter is about to explode Top 40 with the release of her debut LP titled Higher Than Heaven (out July 7). Despite taking plenty of time to craft her classic, throwback-textured sound, she is ready to pierce the stratosphere above with what she calls "ethereal pop," pulsating from her very veins and her powerfully-charged vocal. "My songwriting definitely lends itself to more of a pop sound," she shares with Popdust in an exclusive interview. "I love using instruments like violins and piano. But it wasn't like that a year ago. My sound was very rock. My band and I worked really hard together to create the sound I was looking for, something that crosses generations and genres. I'm learning every day. My sound is always changing, but for right now I am very happy with it."
As countless musicians can attest, Music City is a petri dish of stylistically-driven rock, pop, country, R&B, Americana, and EDM creators, who have nothing but an undying love for making music. For her part, Arian says the city itself drastically influenced her own musical experiments. "Living in Nashville has changed EVERYTHING. People in Nashville do music because they love it," she says. "What I found in LA was that people tend to do it for the fame. I hope that's not the case anymore, but it was when I was there. Moving to Nashville allowed me to fall in love with the art of music and the incredible community behind it. We encourage and lift one another up. It's really amazing, and has allowed me to fully be myself. And that's ultimately what you hear on this album."
On a more personal level, she admits (quite frankly), "I tell people every day that if I had known what it would take to do this, I would have never done it. I would have been way too scared. It's incredible to see what's happened in just the last year. More than anything, I've become someone I never thought I could be and I've grown in ways I never thought I could grow. I never thought I would have my own album or team of people working with me. It seems so nuts! It's only the beginning, and I'm just so thankful. [I'm] learning in every moment, every single day."
The Adele and Florence + The Machine-charmed Queen serves as Arian's bold declaration about the music industry. She explains:
"I had heard so many horror stories about the music industry. I wanted to look it right in the face and say I'm not going to be moved or manipulated. One of my philosophies is to laugh it off, so I love that this song is so fun -- it allows you to laugh in the face of the beast."
In the song's sweeping hook, she enlists vivid royal imagery as the driver for her angst and quest for self-reliance. "I love the idea that a Queen or King is greater than a Princess or a Prince," she says. "I explored hierarchy as a theme throughout this entire song. That's what I wanted to convey, that we hold authority over our beasts, whatever that beast may be. I really want people to know that they are significant and important. I hope they take that message away when they listen. If I can be a Queen, so can they. Status and image are only perceptions. We all matter."
Having written all the songs on Higher Than Heaven, she hopes "people connect with it on all sorts of levels." Digging her heels into the creative process from beginning to end, Arian was able to find her footing on a solid and diverse musical foundation. "I feel like I've found a sound that is absolutely unique and true to me as an artist. But at the same time, it's relevant and I can hear it among all kinds of radio pop anthems." She does concede, though, there were three that needed immediate tweaking. "On the production side, Scot Sherrod and I worked together to really achieve the sound I was envisioning. I had never done anything like that before, so it was amazing to hear the outcome when everything was finished. I just cried like a baby for an hour," she says.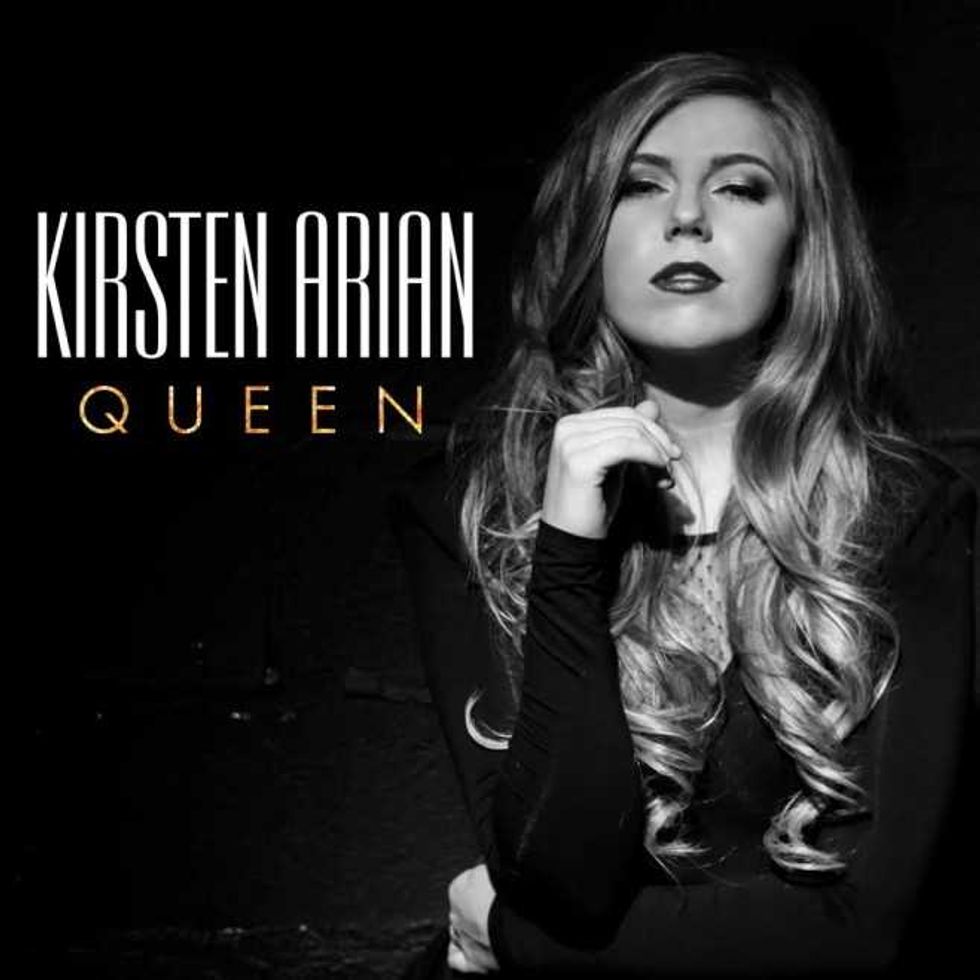 As the old adage goes, you have your entire life to make your first record. For Arian, she settled on a collection of tracks that speaks directly to her life in this moment. The 21-year-old does, however, reach back to a song she wrote when she was only 18. "'Heartbeat' goes back the furthest. I had just gotten back from Thailand and was reflecting on an incredible adventure," she says. "This song is very special to me and I knew it had to be on my first album."
Elsewhere, she notes two particular songs to which she has a a jarring emotional reaction. "I think the one I'm most proud of is 'With Or Without You' or maybe "Ecstasy." Those two make me cry when I perform them and are such a release," she says. And speaking of emotions, Arian says those raw human experiences are what propel her most. "One of my weird quirks is that I really have not listened to a ton of music over the last three years. I wanted to be influenced by my emotions and I pulled directly from those feelings while writing for this album," she says, then citing several current radio hits that she's been spinning. "That being said, I love pop, especially anthems. The more I listen to what's current, I usually have one song off an album that I love and will listen to a million times. The last few months it has been 'One Last Time' by Ariana Grande, 'Jealous' by Nick Jonas, 'Wildest Dreams' by Taylor Swift, 'Lay me Down' by Sam Smith, 'Love Me Like You Do' by Ellie Goulding, and 'Halo' by Beyoncé."
As a female in an ever-changing, often fickle, business, she admits "it's hard to get people to listen but when it happens and there's a connection made, there's nothing like it. Connecting with people is what it's all about for me. There's no greater feeling." She adds, "I haven't had anything block me specifically because I am a woman, but man, it's hard to breakthrough! 'Breakthrough' has been the big word for me this year, and this entire album."
On what she wanted to say with the new record:
"My family loved me so well growing up. My parents taught me that I could do anything and be anything I wanted to be. I think that's the most vital thing I want to tell people. I've never once questioned my worth, because I knew my value. I think that's where insecurity stems from: not knowing how valuable you are. I want women to realize they matter and that their voice is important. But I also want that for men, too. We're all in this thing together. We all need to lift each other up."
As far as her own journey (including moves to Los Angeles and then later to Nashville), she says "it has been out of this world." She continues, also discussing her life-affirming coffee shop tour: "I honestly feel like I could write a book about it. So much has happened, and so much has changed. I can hardly believe it's only been two and a half years! The first year was really hard, but that's mainly because I couldn't decide if I wanted to give everything to music yet. Once I stepped in, I really went for it and that's when I started seeing the payoff. Last summer I decided to go on a coffee shop tour. My dad is a pilot and I figured I could just book a ton of coffee shops and play for whoever would listen. It ended up being the most humbling experience. I would sit outside coffee shops with a tip jar and hope someone would stop and listen. I started in June singing for two hours straight to five people in a room. By the end of the tour, I was filling these shops to capacity and people were coming out just to hear me! In the middle of the final show, a woman stood up and asked if I could sing the National Anthem. I told her yes, and a month later I was singing at the StubHub Center in LA for 10,000 people! It was amazing. That same month, I found out I made the top three in the Music City Breakthrough competition. By the next month, I was announced the winner. It was a crazy couple of months, and it just keeps getting crazier!"
Rest assured, you'll find the entire album is a framework and adequate portrayal of her own life arc. "The whole album is my journey from LA to Nashville, and everything I've learned along the way," she says. "I wrote 'Heartbeat' three weeks before I left LA; it's actually a huge reason why I even moved in the first place. The rest of the songs were written here in Nashville. They each have their own message and carry a little piece of my heart."
Recently, Arian had a bit of a vocal dilemma, quickly posting a photo of her doctor visit on Twitter. "Everything is great now and I can sort of just look back on it all and laugh. Me being silent for a week is UNHEARD of! It was such a funny week. I even got in a fender bender and had to communicate with the cop using my robot phone app since I couldn't talk myself. He thought I was nuts! I honestly wasn't that worried. I will do everything in my power to protect my voice, and sometimes that means giving it a rest. Everything is feeling and sounding better than ever!"
Looking to the future, the singer shares some details about her vision board, a tool she utilizes to keep her motivated and on the right track. "I was TERRIFIED to post the vision board [on Twitter]; it felt like standing in my underwear for the world to see," she says. The things on it are crazy and HUGE and make me want to throw up a little bit. But I know the second I get to cross something off it will feel SO freaking good. I am definitely a dreamer by nature, and I think what's held me back the most is the idea of failure. I had to change my way of thinking. Failure to me is not even trying in the first place. As long as I'm trying and giving my best, who cares? I'm trusting in the journey, and that's enough."
Of course, she has her sights set on the heavens beyond in 2015. "Hopefully I'll get to cross a ton off the vision board -- including the small steps it will take to get to some of these bigger goals," she says of the coming year. "My album comes out July 7th and I'm really excited to take these songs on the road with my band! I hope this year truly is the breakthrough year. But more than anything, I hope I can continue to travel sharing this music with audiences far and wide."
Make sure you pre-order Kirsten Arian's debut album Higher Than Heaven on iTunes now!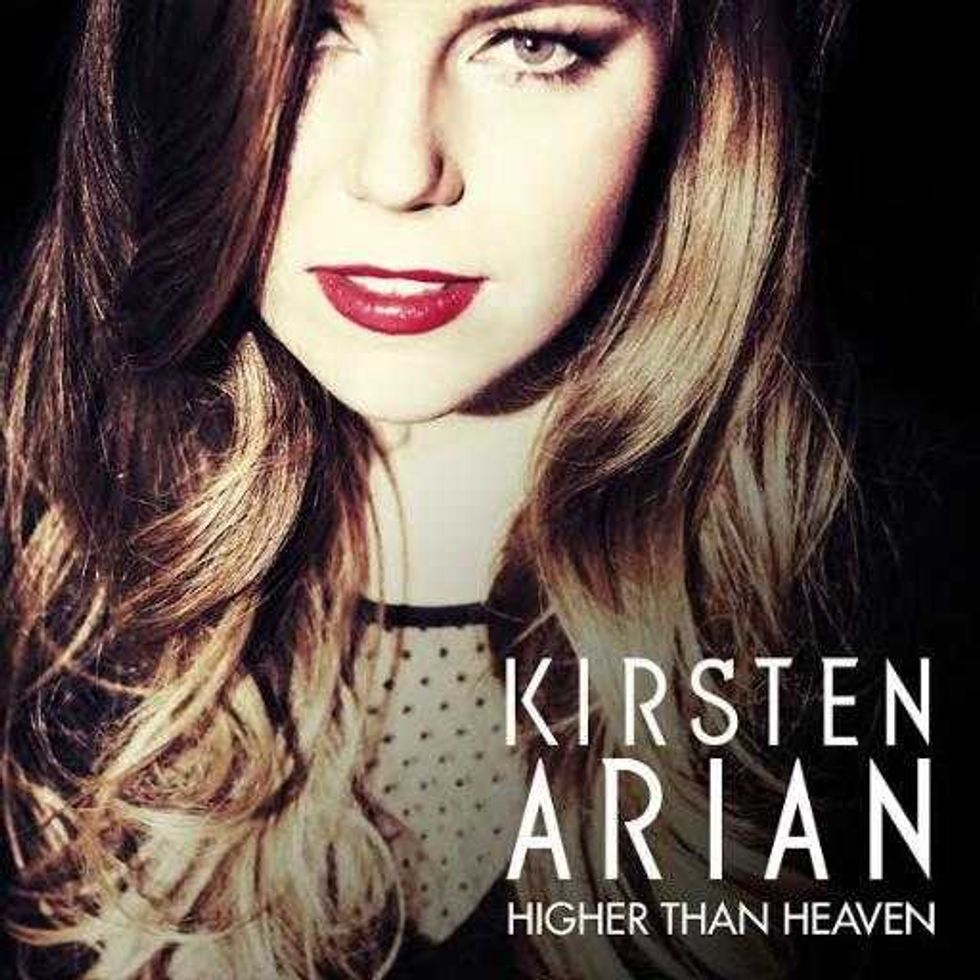 Stay tuned for Kirsten Arian updates. Be sure to follow @Popdust and @JasonTheScott on Twitter!