FILM
"For every 10 rejections, you get one acceptance, and that's how you win everything."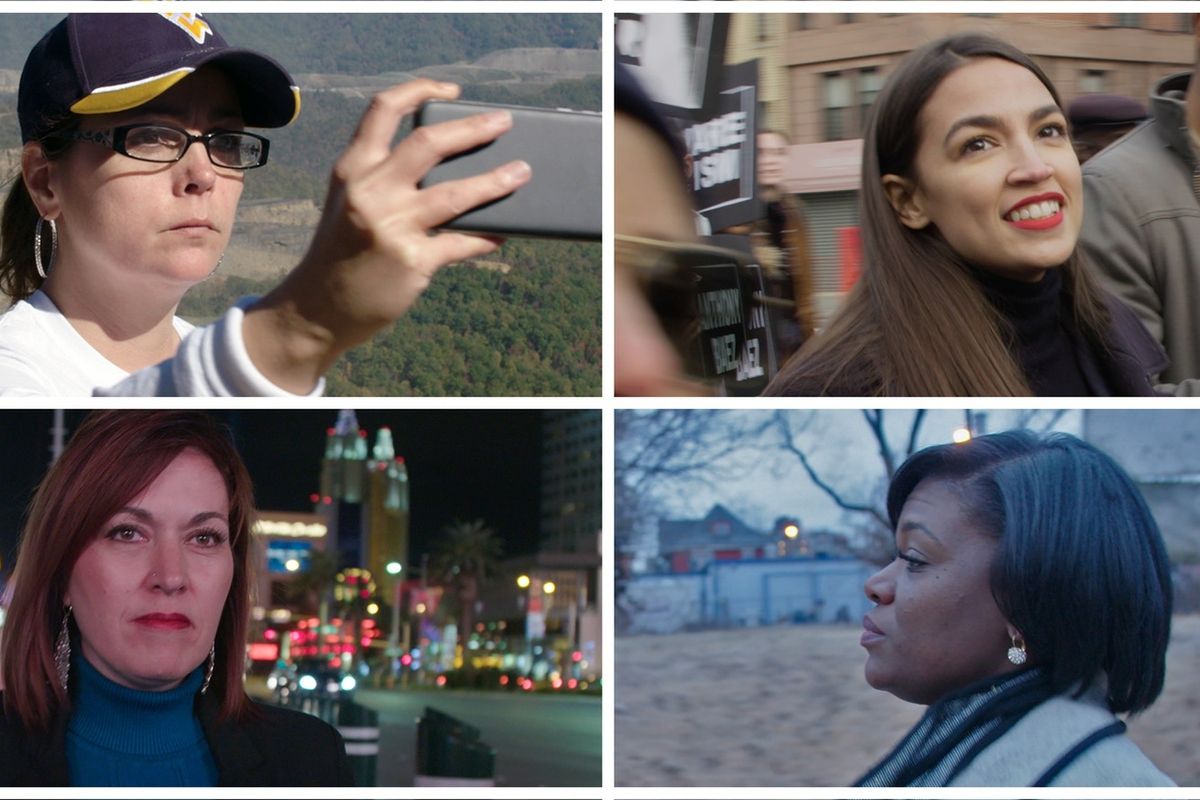 Kickstarter
Alexandria Ocasio-Cortez isn't a socialist icon in Knock Down the House, Netflix's documentary about four female Democrats running for Congress in the 2018 midterm elections.
In fact, "socialism" isn't uttered at all in the 1 hour and 26 minutes of Rachel Lears and Robin Blotnick's simple feature; because co-producers Lears, Blotnick, and Sarah Olson present the four grassroots candidates as "regular people taking on political machines," as Lears toldHuffPost. In an interview during the early days of her campaign, Ocasio-Cortez summed up the filmmakers' stance: "Basically, what political machines do is suppress democracy." Lears and Blotnick use straightforward camerawork to illuminate the unique obstacles facing women of color in politics, the protected elitism of America's political firmament, and the leaps of faith necessary to challenge the status quo.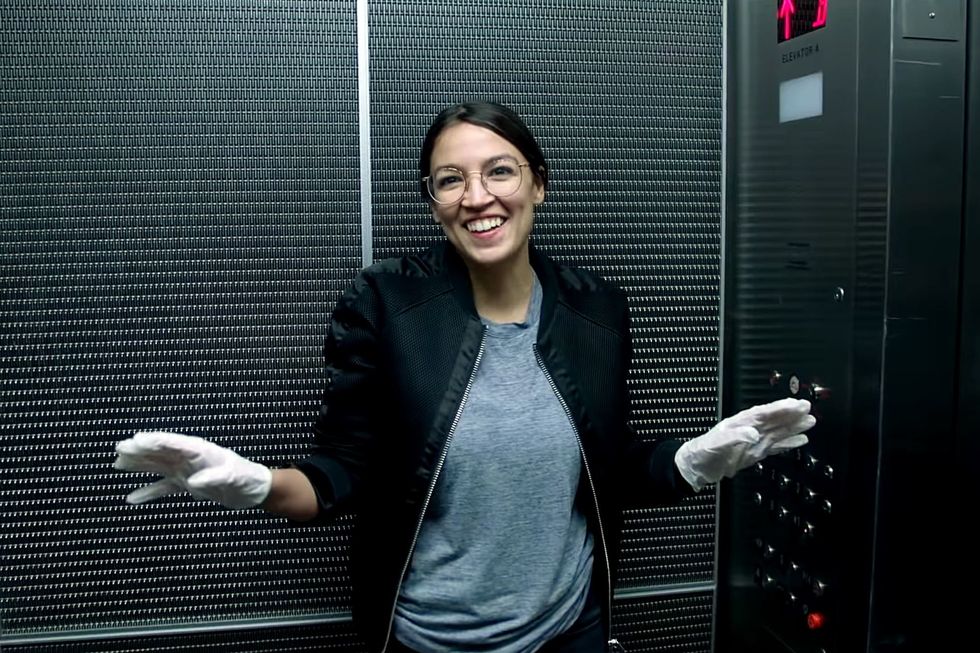 Ocasio-Cortez during her waitressing shiftYahoo
In the wake of Donald Trump's 2016 election, former staffers and supporters of Bernie Sanders formed the political action committees Brand New Congress and Justice Democrats. With the goals to reform the Democratic Party and "replace every corporate-backed member of Congress," according to Justice Democrat's website, they supported a record-breaking number of women running for office.

"It's just the reality that in order for one of us to make it through, 100 of us have to try," Ocasio-Cortez tells a tearful Paula Jean Swearengin, the West Virginian who challenged Senator Joe Manchin on the platform against big businesses destroying the health of the working class. Her speeches included the proud proclamation, "I'm a coal miner's daughter, and I'm mad as hell." Swearengin lost her election weeks before New York's 14th congressional district elected Ocasio-Cortez, but footage of all four women detail the year leading up to their election nights. Lears was able to capture the most footage of Ocasio-Cortez, from her early days waitressing and street canvassing for 10,000 signatures in order to get on the ballot to her victory night: a fortuitous circumstance of the filmmaker living in the same city. But each woman was selected by Lears and Blotnick for her charismatic presence, articulation of issues, and soldier-like mindset in the war against corporate interests and self-interested politicians.
In addition to Swearengin and Ocasio-Cortez, Amy Vilela made healthcare her primary issue when she challenged incumbent Steven Horsford in Nevada. In frank interviews, she attributes her motivation to the death of her 22-year-old daughter, who died in 2015 after doctors refused to perform tests that would have saved her life because she couldn't show proof of health insurance. In Missouri, Cori Bush "was not trying to become an activist," but she lived six minutes away from Ferguson, where Mike Brown was murdered in 2014. Bush shared, "Being a woman of color, our image is scrutinized...Basically, you deal with it. The people of my district, this is how we look."
As for Alexandria Ocasio-Cortez, the then-28-year-old reiterates in interviews that the four women's campaigns represent one unified movement for change; she sees herself as being on the "front lines." She says, "I'm from New York, and New York isn't about Democrat vs. Republican. New York is Establishment vs. whatever poor stray cat who thinks you can stand up against them." At one point, she clarifies with her patent directness: "Here's the best part about all of this. We're not running to make a statement; we're not running to pressure the incumbent to the left; we're running to win."
The low budget production is direct and earnest. Aside from well-timed, emotional music cues and a few poignant clips from Vilela and Ocasio-Cortez's home videos, Lears doesn't manipulate the audience. The documentarian also makes the voting public an integral character in the film through powerful close-ups on the faces of concerned community members, the candidates' campaign teams, and anonymous spectators of their speeches. As Ocasio-Cortez shared on Twitter, "At early screenings, even Trump supporters left the film in tears - because it's about the power of everyday people."
"The new documentary is worth a watch, no matter your political persuasion." I'm so glad #KnockDownTheHouse is ins… https://t.co/wx4Z5hy2wu

— Alexandria Ocasio-Cortez (@Alexandria Ocasio-Cortez) 1556720347.0
Ultimately, Vilela, Bush, and Swearengin share a crushing defeat—one that's immediately tempered by Ocasio-Cortez's victory, which is filmed with organic energy that's somehow lovely, graceless, and ecstatic. Knock Down the House is best described the same way, in that it frankly depicts why tearing down a corrupt political establishment is nearly impossible. Any hope for change is built from the belief that Congresswoman Ocasio-Cortez shared with her niece in 2017 while they were canvassing on a cold street corner in Queens: "For every 10 rejections, you get one acceptance, and that's how you win everything."
---
Meg Hanson is a Brooklyn-based writer, teacher, and jaywalker. Find Meg at her website and on Twitter @megsoyung.

---
POP⚡DUST | Read More...
"13 Reasons Why" Is Problematic—But It Hasn't Caused Teen Suicides
What Netflix's 'Bonding' Gets Wrong About Sex Workers
Why Series Finales Hurt: When Your Favorite TV Shows Break Up With You