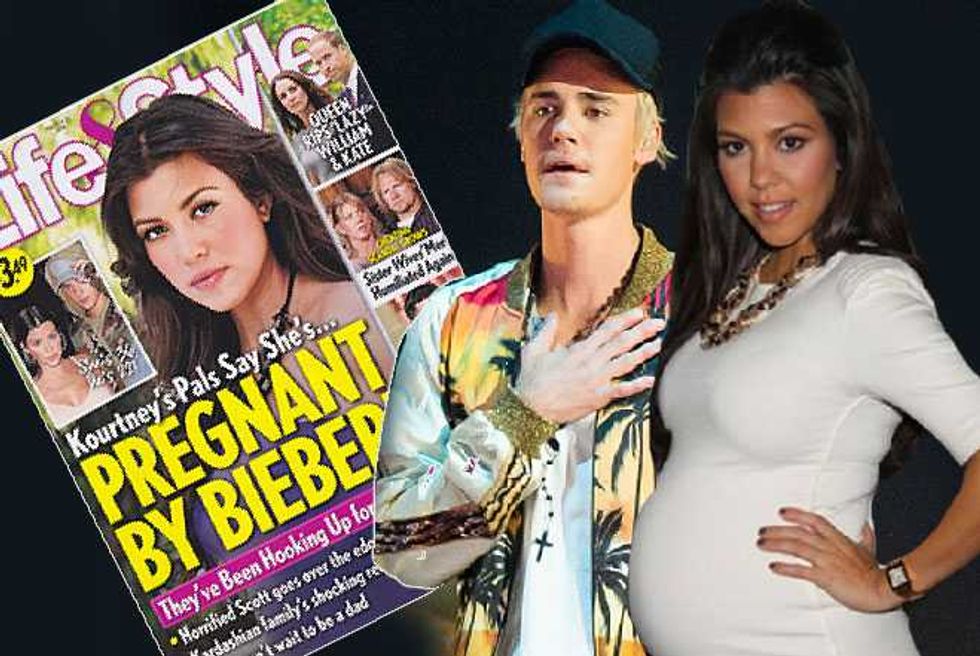 kourtney kardashian pregnant justin bieber Kourtney Kardashian Pregnant By Biebs Wins Best Fake Story Of The Week
Who doesn't love a good old surprise pregnancy story?!!
The tabloids know that only too well, which is why they've impregnated Jennifer Aniston 540 times (and counting).
But, now she's pushing 50, they're having to cast their fictitious pregnancy net a little further afield.
Taylor Swift Calvin Harris Secret Wedding Wins Fake Story Of The Week
Fake baby fever!
kourtney kardashian pregnant justin bieber
So far this year, the tabs have impregnated Gwen Stefani with twins—because, hey, everyone loves a baby story, so two babies must mean they'll love the story twice as much!
Khloe Kardashian has been impregnated with Lamar Odom's baby—presumably when she was visiting him in hospital while he was languishing in a coma.
Justin Bieber's Dad Is Bursting With Pride Over His Son's Super Size Schlong
Then, not to be outdone by her big sister, Kylie Jenner apparently went and got herself a Tyga bun in the oven.
Yay! Kardashian baby fever!
Count down to Kimye twins begins in five, four, three.....
Justin Bieber Gets Deep—Real Deep—Wants To Live Like Jesus
Surprise! You're pregnant!
kourtney kardashian pregnant justin bieber
Olivia Wilde has been impregnated, with her second child from partner Jason Sudeikis—which came as a huge surprise to the actress, who had no idea she was expecting!
Taylor Swift was also shocked to learn that she's nine weeks pregnant, with boyfriend Calvin Harris' baby—but, not as shocked as Kate Middleton was over her surprise pregnancy!
Toby Sheldon—That Justin Bieber Plastic Surgery Lookalike—Found Dead Age 35
Just last week, OK magazine impregnated the Duchess of Cambridge with twins—twin girls no less!
Which is great news, as sadly, it appears she was unable to carry to term the twin boy and girl they impregnated her with last October.
Biebashian baby
kourtney kardashian pregnant justin bieber
And now, this week, Kourtney Kardashian has been impregnated by the tabloids—well, by Justin Bieber, strictly speaking.
How Real Are The Kardashians? Kourtney Plastic Surgery Exegesis
Life & Style presents a truly fabulous invented pregnancy news story—earning them the fake story of the week award.
It kicks off with the screaming headline:
Kourtney's Pals Say She's… PREGNANT BY BIEBER!
Apparently, "Justin can't wait to be a dad" and, naturally, him becoming one is Selena Gomez's "worst nightmare."
Oh, and Hailey Baldwin will be "devastated"…. of course.
Joy Behar Links Kardashians To Terrorism—And We Can't Fault Her For It
In case you're doubting the validity of the story, an "insider" tells Life & Style:
Kourtney's already admitted to friends that she and Justin have been intimate, and she hasn't been with Scott in a long time, so the math is pretty clear. It would have to be a Bieber baby.
Oh shit, so we're not 100% it's a Biebs baby then?
Well, it appears Kourt's not concerned about that little detail, as Life & Style reports she's "thrilled" to be exacting "sweet revenge" on Scott Disick.
Money Monday—How Much Is Kourtney Kardashian Really Worth?
All we can say is thank fuck female stars aren't as fertile as the minds of tabloid editors, because let's face it, the world is overpopulated enough already.
For more entertainment, world, music and pop culture updates and news, follow Max Page on Twitter
The Lord is born... "I don't mind being portrayed as the villain on TV, but nobody knows the real me. I'm a great guy … I'm young, handsome, successful, wealthy. You could say I'm a role model. I'm the American dream!" Says Disick
Scott carrying off the pink look... "My hair is flowing in the wind like flocks of Capistrano [swallows]," says Disick
Scott's style... "I can't wait to unleash my fall trend to the world: the walking stick," says Disick
Scott speaks the truth. "I don't mind being portrayed as the villain on TV, but nobody knows the real me. I'm a great guy … I'm young, handsome, successful, wealthy. You could say I'm a role model. I'm the American dream!" Says Disick
Scott likes to party... "When you think of the debonair, ridiculously good-looking guy, you think of me," says Disick
MAJOR douchery... "Like I don't need to be walking around like I'm some peasant. I need to be walking around like I'm royalty," says Disick