Letting You In, Kris Allen's fourth post-American Idol studio album, carries the weight of the world. Standing strong at only 10 tracks, the LP is the singer-songwriter's most compelling and most lived-in of his career. Songs like I Remember You, If We Keep Doing Nothing and the title track bare resemblance to a well-worn pair of farm boots, shaded with enough grime, grit and age to make you question your entire existence. For Allen, who has noted (early) pop hits in Live Like We're Dying and The Vision of Love, it comes down to two things: getting older and the joy of fatherhood. "Maybe it comes with getting older, not that I feel old; I don't feel old. But I've seen crazy things and been through things. I have views now," he tells Popdust of the new project (out now) and how it signifies a shift in his life. "There was a time when I was so neutral about everything, about life and how I felt about politics or religion. Now, it's like 'oh, this is actually how I feel and this is how I'm going to say this.' My way of saying it is in song. Pulling back that veil has let people in, not to quote the song."
Allen and his wife Katy O'Connell are expecting their second child in a few months. Their son Oliver Neil is almost three-years-old. In terms of how he presents himself online, he considers he has always been fairly guarded but having a kid has certainly changed more than a few perceptions. "You do see yourself a little bit differently when you become a dad. You realize you are not a kid anymore. Oh, 'I have a kid now!' I've always been pretty guarded on social media," he says. "I'm not too worried about the pictures of myself, but I do think there is this realization of what you are doing and the legacy you want to leave your kids. It's this 'I'm not doing this for myself anymore' kind of thing."
"I'm doing this for my family. That's a cool place to be. It's not all about you. How can I make them proud? I show my son Oliver music and he doesn't care, at least not right now," Allen chuckles. "Later on, I can't imagine him listening to a record and going 'oh dad, this music is OK.' I want him to love it and think it's cool as crap. You want your kids to be really proud of you. There's also this sense of urgency about how hard you're working. You have to work harder. I want my son to be proud of me, so I'm going to go play guitar for three hours."
For the record, Oliver only likes one song on Allen's new album. "He likes 'Faster Shoes.' We were driving down the street, and I was listening to the mixes. I was playing another song, and he goes 'daddy, that isn't music right there.' Then, 'Faster Shoes' comes on and he goes 'oh, yea, daddy, that's it.'"
Allen discusses a few other key elements to his new album Letting You In, how Nashville has influenced him artistically, country music and his upcoming Idol finale performance. Dig into the interview below.
The title track, Letting You In, is one of the standouts. How did it come together?
I had had the first half of the chorus for a little bit. I was at a songwriter's retreat during the summer in Vermont. It was really beautiful. A couple of us were sitting outside on a park bench. I showed them the first half of the chorus. When it's good, it all comes out really easily. That one did. It came out simple. The guy who put on the retreat was jumping between a bunch of different writing sessions. We showed him this song, and he was like 'you guys are freaking show offs, man. This is ridiculous.' It felt good to get that.
You've lived in Nashville for a few years now. How has the music culture there influenced you, artistically?
There is this sense of community here that I have never experienced. There are so many people doing the same thing that are really, really talented. There could be this crazy sense of competition in the city, but there's not. Everyone is rooting for everyone. When you meet people who are doing the same thing and are really complimentary of what you do, there comes this sense of confidence. Not that I haven't had confidence before, but you're getting this validation from your peers of what you are doing. That's really nice to have.
What is cool about the album, too, is there are a ton of different sounds, while also fitting together as a cohesive whole.
This is the second time I've done a record with just one producer or one team of producers. I think it is really essential to what I do. I don't feel like I write into one genre. I'm never going to. I enjoy so many different types of music, whether it be African music or R&B or country. My influences come from everywhere. I write songs, and then, I get into the studio and there is the same people playing and producing in the same studio. It all has this cohesiveness to it, but you don't get bored.
There is even some country in the mix, as well.
Growing up in the south, I was around a lot of country music. I don't even realize it sometimes how much that it influences me until I start writing music. I remember I was writing a song for my parents, and I think it was 'Letting You In.' It never felt country to me. I was playing it acoustic for my parents. The wanted to hear some new songs. They were like 'Nashville has really rubbed off on you.' I thought 'what are they talking about?' [laughs] Then, you start playing the song and it's like 'maybe it does sound a little country.' I don't think I'll ever go that way, but it is a part of who I am. I enjoy that type of music.
Would you ever go full-on country?
I don't think that would feel very genuine for me. I don't know anything about that world. I may live in Nashville now, but I don't know a lot about country music, as far as the industry of it. I don't feel I would fit in with that. I don't wear cowboy hats. I look terrible in cowboy hats, and I'm not a big boots fan. I think I would be the most un-country country artist ever.
You previously talked to Billboard.com about how your wife has different names for your songs, including Sushi Song in place of Love Will Find You. What are some others?
She doesn't like to listen to my titles, so she calls them other things. 'Way Up High' is the 'Plane Song.' 'I Remember You' is like the 'New Year's Eve Song' or something.
Why is the album only 10 songs?
I feel like it makes for a better listen. It leaves you wanting more. There are songs I didn't record for this album that I really like. Maybe I could do a deluxe thing later on or just release these other songs in a different way. The way music is now, people are releasing music more frequently. We probably will release some of those songs, maybe not fully produced, pretty soon. Not incredibly soon but this year. I am really excited for people to hear these other tunes that didn't make it, as well. It's not because these songs are bad. It's just that they didn't fit or are maybe not quite there yet.
Is there one new song, in particular, you are most excited for people to hear?
There are a couple, actually. There is a song called 'Venice' that I think people will really love. That song is almost there. Then, there is another called 'Safe Side' that I really love.
Did your car accident and injury in 2013 completely change how you viewed music?
100 percent. It put everything in my life into perspective. I have been guilty of coasting through things before, like finding my niche and keeping on the same path. When that happened, it put my life into perspective, really. I had never had anything like that happen to me before. My life had been really good, and it still is really great. But when you are dealt that hand (no pun intended there), you have to stop. I had to stop and think about everything and what I really want my music to say. Do I want it to be fun? Yes. Do I want the content to be really great? Yes. So, 'Kris you have to be more honest about this stuff.' I was writing pop music to please a lot of other people and not myself and not really saying what I wanted to say. Since it has happened, I'm not afraid to say things, like my views on things or how I feel about the world, our country and myself. I don't care anymore. That's a good thing. There was this privacy I had before where I tried to keep myself at a distance from everyone else and from the listener. Every piece of music I've made since then has been letting them just a little bit closer.
American Idol is ending soon, and you're returning for the finale (April 7). Do you know what you are performing?
I do. I just got the call yesterday. I was always going to go. I knew I was doing something, but I just didn't know what until then. I don't know if I can release that information. I do know it is going to be great.
Could it be Heartless or another one of your standout moments?
It won't be that. It'll be a group performance with some of the former Idols. It's going to be really cool.
It is crazy to think the show is coming to a close.
It is crazy. I've been trying to keep up more this year just because of it ending. I feel like there is this sense of celebration and sadness this year. People are sad about it. I don't think that will really hit me until I get there and all of us former contestants are there and we're reminiscing and hanging out with some of the producers and crew. It'll be a good time, though.
Grab a copy of Kris Allen's Letting You In now on iTunes.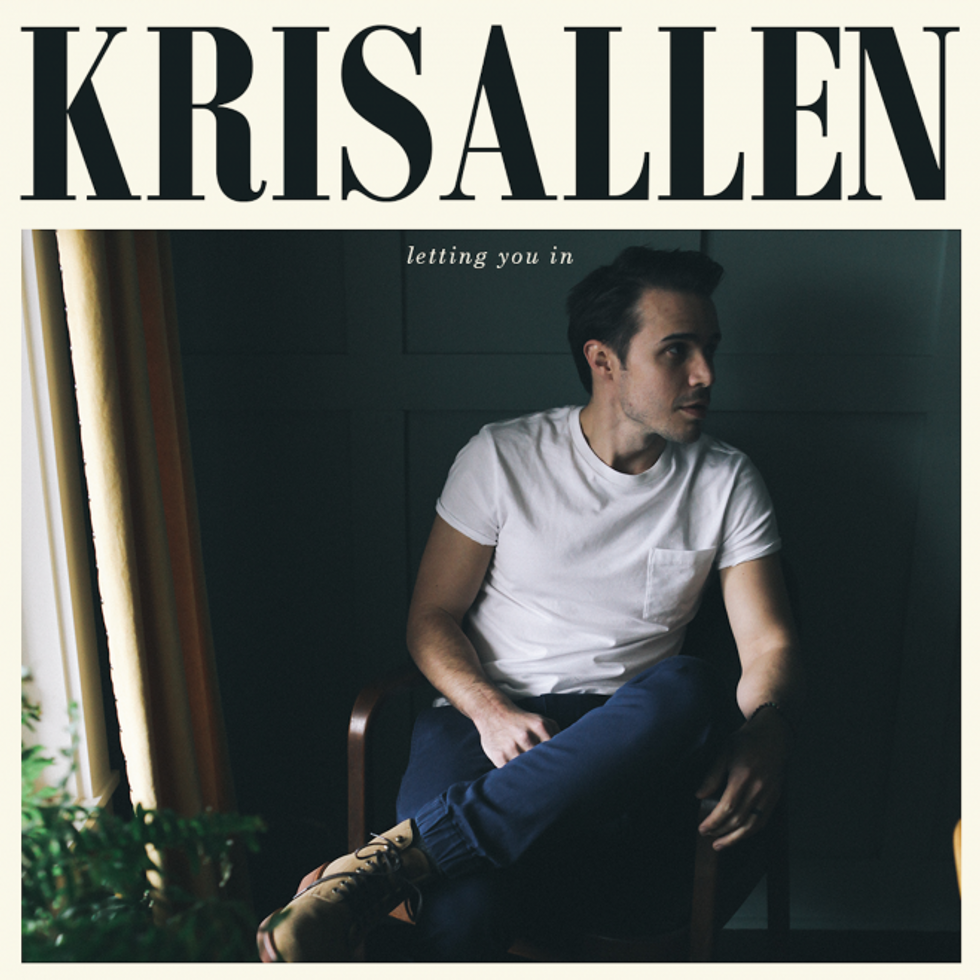 [PHOTO CREDIT: Ashtin Paige]
Stay tuned for Kris Allen updates. Be sure to follow @Popdust and @JasonTheScott on Twitter!