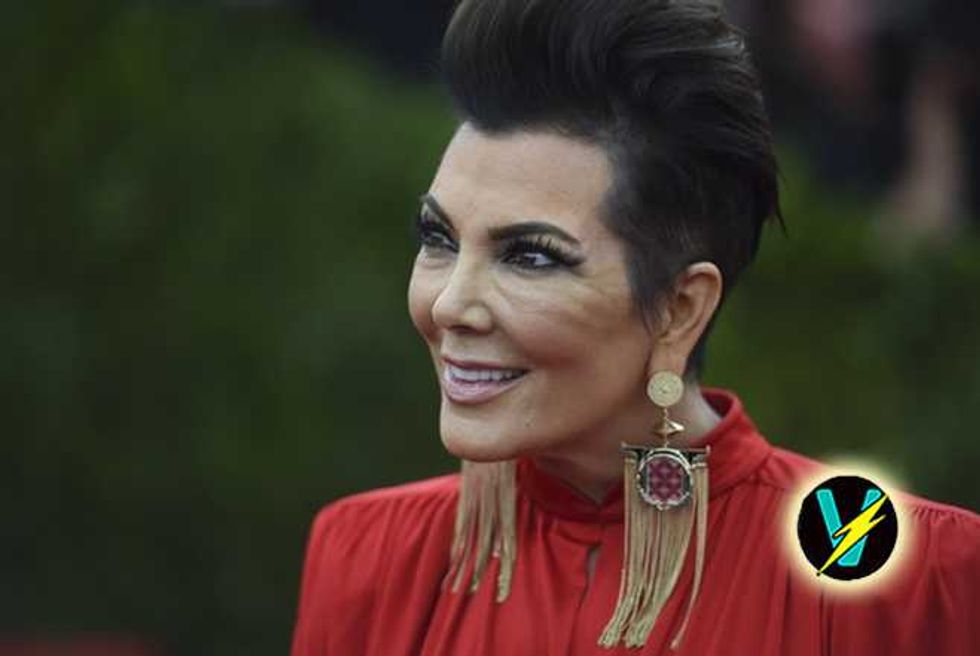 And there was us thinking Kris Jenner is absolutely perfect!
Not so however—at least according to Jenner herself, who has copped to having made a "handful" of her share of mistakes over the years….. a whole handful! Who knew?!!
Conspiracy Theory Thursday—Khloé Kardashian's Real Dad Is OJ
The mom-of-the year makes the candid confession during an interview with CNN style, during which she waxes lyrical about "the art of motherhood."
Ah! Kris Jenner and the art of motherhood—let us count the ways of good mothering:
Filming your pre-teen daughters as they work the stripper pole in your bedroom
Telling your daughter that she needs a nose job—when she is 9-years old.
Berating your daughter for "damaging the brand" by gaining weight. "You don't care and it's really very very upsetting to me because I've worked so hard at creating what I think is a great deal for you girls and you're not pulling your end of the weight," Kris once told Khloe. "I feel like you could not chat about how many cookies you're eating in between meals."
Making it crystal clear that you favor one of your children over all the others (Kim, duh!) "Whoever gives her the most percentage rights [is her favorite]," Khloe told Barbara Walters in a 2011 interview.
Neglecting your two younger daughters in favor of your three older, [more famous] daughters
Pretty much totally ignoring your son and focusing all your time and energy on your daughters
Homeschooling your kids so they can focus more time on their careers
Permitting your 17-year-old daughter to undergo multiple plastic surgery procedures and date a 25-year-old rapper
Putting money and fame above all else—never missing an opportunity to cash in, roping your children into endorsement deals with pretty much anyone that will pay enough $$$$, from diet pills, to laser hair removal systems, to hair extensions, to credit cards….and on…. and on…. and on….
PumpingUpTheKardashians Plastic Surgery Time Lapse Videos Are Awesome
Perhaps those digressions are among the "handful" of mistakes Jenner admits to in the CNN video? Maybe, just maybe…
"I feel like our family is a little mini United Nations," the 59-year-old says. "Its just so great and, brings so much criticism sometimes, from people who just don't understand, things gets crazy or chaotic, or you know, you're just trying to get it right, and everyone makes mistakes, for sure.
Wanna See A Nearly Nude Photo Of Kris Jenner—Be Careful What You Wish For
"I've probably made, you know, a handful of my share. You just have to take what comes one day at a time. I'm a firm believer that God has a handle on everything, and that everything happens for a reason."
"I think it's definitely a balance being a mom and then being a manager," Jenner says later in the interview.
Everything You Never Wanted To Know About The Kardashians Pubic Hair
"When you do a reality show like we do, it's kinda fair game. And I think that from the very beginning we just decided to let it all hang out, in order to have a great presence on the show.
"I think the focus has been, and always is, about the love, and the kids, and the grandkids, and just all about that. I will drop anything to do something for the kids, that's personal, way over anything business…they know, that's just the rule."
Khloe Kardashian's NOT Exploiting Lamar—Shame On You Thinking Otherwise!
Sure thing Mommy Dearest!
For more entertainment, world, music and pop culture updates and news, follow Max Page on Twitter