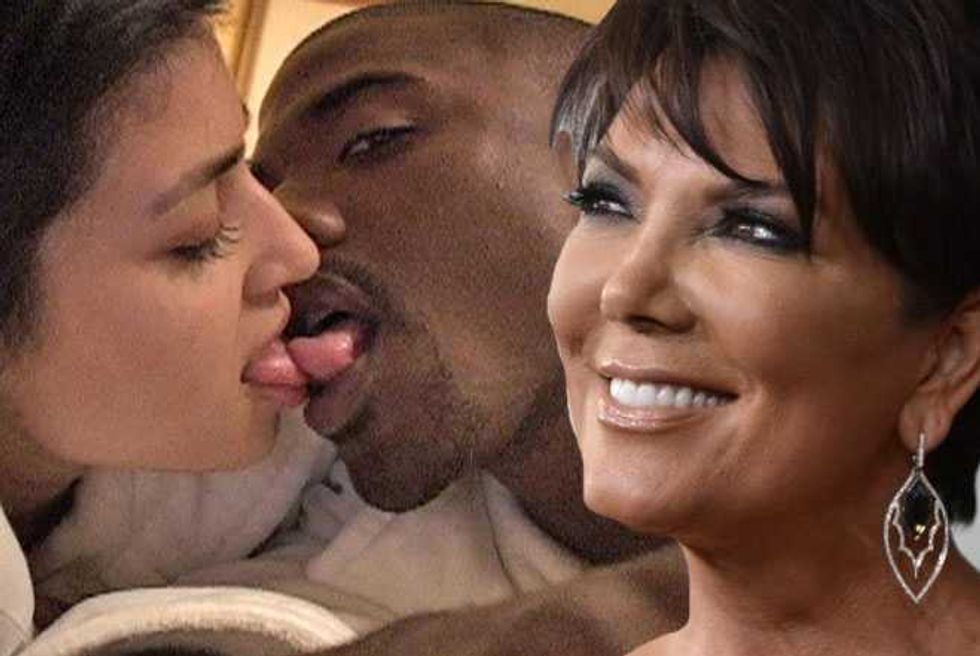 kris jenner kim sex tape
What loving mother wouldn't deliberately leak her daughter's sex tape?
And, if there's one thing we all know by now, it's that Kris Jenner is a loving mother who always has her children's best interests at heart.
Ahem.
The Most Famous Celebrity Sex Tapes Of All Time—A Ranked List
What price your daughter's fame? kris jenner kim sex tape
According to The New York Post, a new book, by reporter and author, Ian Halperin, claims Jenner unleashed the now infamous sex tape on the world in a bid to make Kim Kardashian famous.
Well, we have to give the momager props for one thing—the alleged dastardly plan certainly worked.
Hulk Hogan Adds Another $25 Mill To $115 Mill Gawker Sex Tape Payday
As Popdust previously reported, Kardashian made the tape with then-boyfriend, Ray-J, back in 2003.
In the video, which was released by Vivid Entertainment in 2007, the couple make-out for the camera, before Ray-J has sex with Kardashian, while she lays there like a sack of spuds.
Like a waterfall kris jenner kim sex tape
There's been multiple reports that in the original unedited tape, Ray-J also peed all over KK "like a waterfall" but that scene was cut from the released version at the behest of Kardashian.
Awww… so romantic!
Courtney Stodden Releases Sex Tape To Help Children With Cancer
Kardashian has always denied having anything to do with the leaking of the tape.
Sweet sweet deal kris jenner kim sex tape
And, both she and Jenner have vehemently denied past reports that the momager had a hand in securing the sweet sweet deal Kim scored upon the video's subsequent release.
How sweet?
A reported $5 MILLION apparently, for signing over the rights to Vivid.
Mama June Breaks Silence On $1 Million Vivid Sex Tape Offer!
But, even sweeter?
The reality TV deal the Kardashians ended up landing off the back of Kim laying on her back, resulting in the family's modern day fortune of an estimated $300 million.
Family collaboration kris jenner kim sex tape
Upping the ick ante yet further, Halperin claims Kardashian was advised by a pal that making a sex tape would be a sure fire way to achieve fame—and that she had discussed it with her family prior to doing the dirty.
Jesus, what's next? The revelation that Kris Jenner directed it?!!
Hustler Proposes Sex Tape to Rob Kardashian and Blac Chyna
In his book, Kardashian Dynasty: The Controversial Rise Of America's Royal Family—Halperin quotes an adult film industry source:
A mutual friend of Kim and Paris [Hilton] had advised her that if she wanted to achieve fame, a sex tape would be the way to go . . . Kim had discussed the idea of producing a tape with her family beforehand. It was Kris who engineered the deal behind the scenes and was responsible for the tape seeing the light of day.

A rep for the Kardashians has denied the claims, because….. Kardashians.....
What do you think? Vote in the poll below!
Kardashian Dynasty: The Controversial Rise Of America's Royal Family is set for release April 26.
For more entertainment, music and pop culture updates and news, follow Max Page on Twitter
<a href="https://polldaddy.com/poll/9365832/"></a>
Kendall Jenner Confirms What We All Know—Her Mother Is A Barefaced Liar