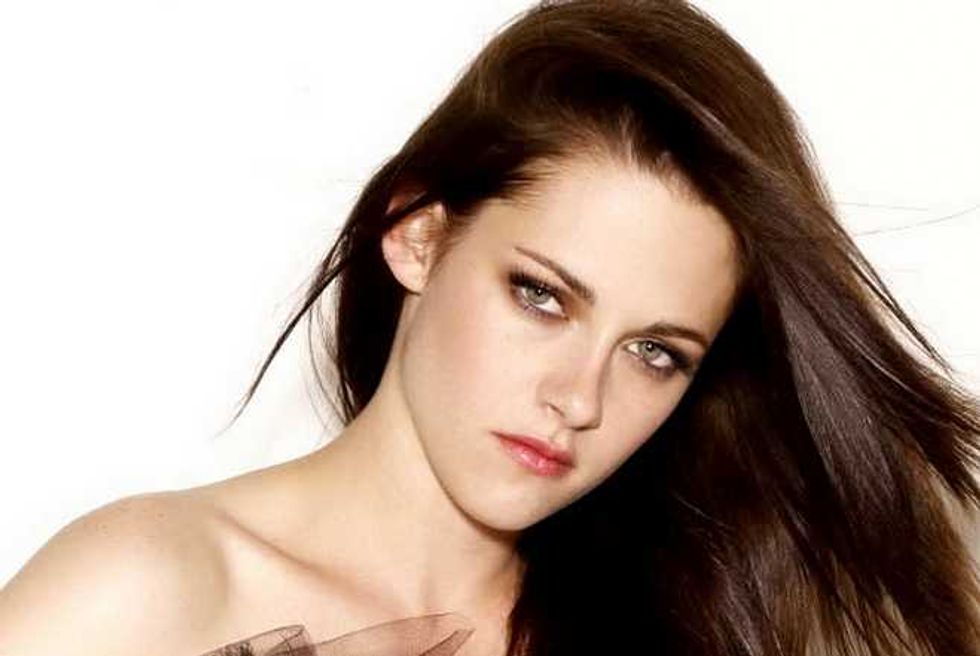 Is she or isn't she?
Rumors have been swirling for ages now that Kristen Stewart is involved in a relationship with her close friend Alicia Cargile, a visual effects producer, but the 25-year-old refuses to be drawn into the subject.
Has Kristen Stewart Switched Teams? Inside K-Stew's Dirty Dancing Girls' Getaway
During a recent interview with Nylon magazine she neither denied nor confirmed the couple is romantically involved—sort of leading to the conclusion that they are.
Stewart made a really good point:
I think in three or four years, there are going to be a whole lot more people who don't think it's necessary to figure out if you're gay or straight. It's like, just do your thing.
Kristen Stewart Talks Feminism—Dreams Of The Future
And, Stewart discussed the fact that she doesn't see discussing her private life as important, because she's an actress, plain and simple—but, at the same time, she's not covering anything up:
Google me, I'm not hiding. If you feel like you really want to define yourself, and you have the ability to articulate those parameters and that in itself defines you, then do it.

But I am an actress, man. I live in the fucking ambiguity of this life and I love it. I don't feel like it would be true for me to be like, 'I'm coming out!' No, I do a job. Until I decide that I'm starting a foundation or that I have some perspective or opinion that other people should be receiving…I don't. I'm just a kid making movies.
The rumor mill was kicked up a gear in June after Kristen's mom, Jules Stewart, purportedly confirmed to the Sunday Mirror that her daughter is in a relationship with Cargile.
The Ten Best Lesbian Moments In Film
"I've met Kristen's new girlfriend, I like her," she is quoted as saying. "I feel like people need to be free to love whoever they want. I accept my daughter loves women and men."
However, in a case of don't always believe all that you read, Stewart later came out and denied talking about her daughter's love life.
"I spoke to Sharon Feinstein about my film K-11 that has been put on display in the Hollywood Museum," she told Us Weekly. "It's currently there under the LGBT banner on the third floor. She also asked me about my views on gay rights, which I was happy to express. Then we talked briefly about the fundraiser I am hosting for TheWolfConnection.org. Never ever did we discuss Kristen!"
But, who to believe?!!
Hollywood's Top Ten Bad Boss Bitches—Ranked In Order Of Bad-Assness
Feinstein is sticking to her guns, insisting the quotes are true—she wrote on her blog:
I am aware that Ms. Jules Stewart has stated that her interview with me has been used out of context, that she never discussed her daughter or her daughter's relationship. That is simply incorrect.

I have reported the story as discussed and memorialized during our lengthy and cordial formal interview, which took place on Thursday 11th June. I am disappointed and saddened by her statements to the contrary.

This was a very positive story and one told by a loving parent. Any statements to the contrary are simply not supported and not true.
She went on to threaten to release the audio of the interview, but as of yet she has not.