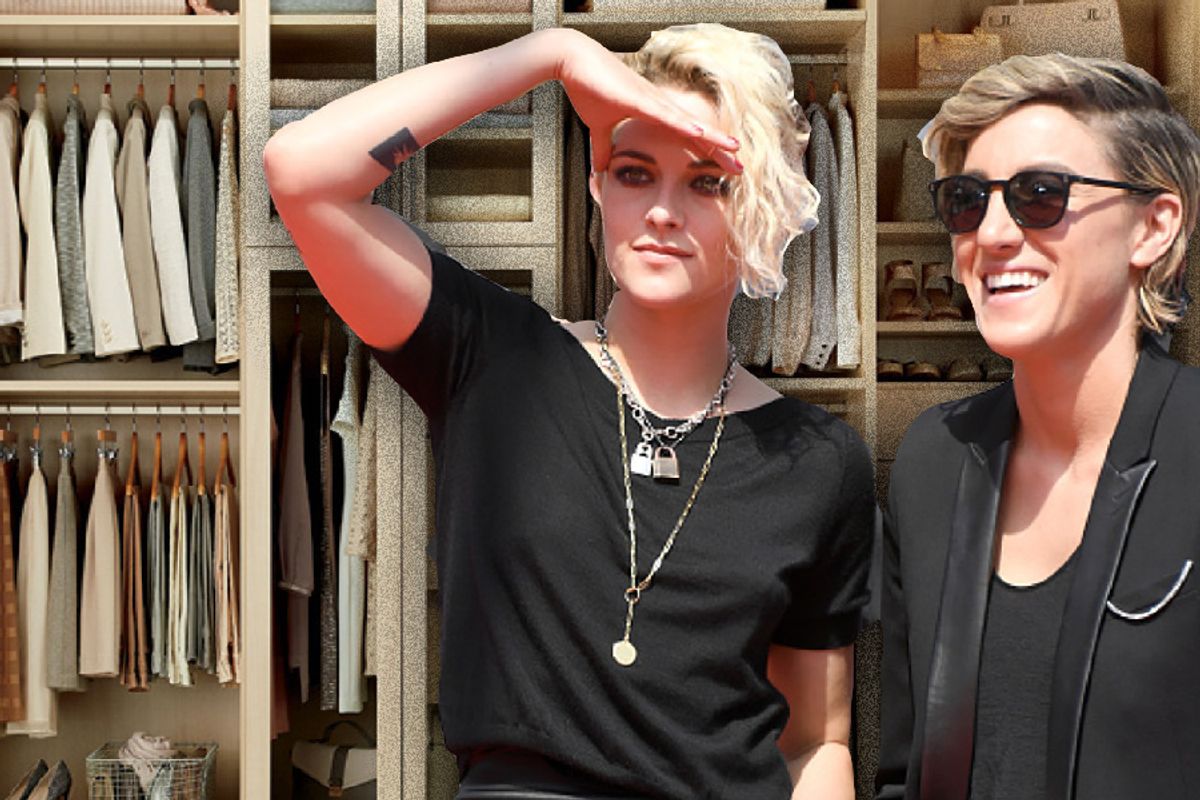 Kristen Stewart relationship girlfriend Alicia Cargile is now official—the actress is out and proud...at last...

Kristen Stewart is finally out and proud.

After months of skirting around the issue, the 26-year-old has confirmed she is dating long-rumored girlfriend, Alicia Cargile.

Actually scrap that, after months of skirting around the issue, the 26-year-old is gushing about how in love she is with long-rumored girlfriend, Alicia Cargile.

Awwwww!!!!

As Popdust reported back in May, Stewart has previously refused to define her sexuality—or to address speculation about Cargile.

Although she has never denied being in a same sex relationship, she was clearly not ready to talk publicly about her love for the visual effects editor.

Earlier this year she explained why in an interview with Variety:

There's acceptance [of sexual fluidity] that's become really rampant and cool.
You don't have to immediately know how to define yourself.
I had to have some answer about who I was.
I felt this weird responsibility, because I didn't want to seem fearful.
But nothing seemed appropriate.
So I was like, 'Fuck, how do I define that?'
I'm not going to.
Plus, I didn't want to fuck with other people.
I didn't want to be this example: It's so easy.
I don't want it to seem like it was stupid for them to have a hard time.
When I was dating a guy, I would never talk about my relationships to anyone.
I feel the same way now.
I'm not hiding shit.
However, something has clearly shifted—and we applaud Stewart for her decision to go public.

Although her private life is her private life—and it's sad people are forced to define their sexuality and put themselves into a box—there's no doubting that by the actress going public she could help many young people struggling to come to terms with their own sexuality.

Because, let's face it, the more public figures that are out and proud can only help breakdown any prejudice and stigma that still (maddeningly) remains out there in the big bad world.

Despite living in a time where same sex relationships are more accepted than ever—we are still living in a time where LGBT people are discriminated against, beaten and even killed, purely because of who they choose to love.
Purely for just being themselves.

And, according to The Trevor Project, LGBT youth are four times more likely to attempt suicide than straight kids.

In addition, nearly half of all transgender people admit to attempting suicide at some point in their lives.
By not talking about her relationship, and acknowledging her girlfriend, Stewart sends a message (albeit unintentionally) that it's something to be hidden and ashamed of.

She addresses that very point—and talks about her love for Alicia—in an interview with Elle UK:

I think also right now I'm just really in love with my girlfriend.

We've broken up a couple of times and gotten back together, and this time I was like, 'Finally, I can feel again.'

When I was dating a guy I was hiding everything that I did because everything personal felt like it was immediately trivialized, so I didn't like it.

We were turned into these characters and placed into this ridiculous comic book.

And I was like, 'That's mine. You're making my relationship something that it's not.'

I didn't like that.

But then it changed when I started dating a girl.

I was like, 'Actually, to hide this provides the implication that I'm not down with it or I'm ashamed of it'

So I had to alter how I approached being in public.

It opened my life up and I'm so much happier.
Don't know about you, but we love love love K-Stew more and more by the day….

To read the complete interview, pick up the September Issue of Elle UK.
And, if you, or anyone you know, have questions regarding sexual orientation and/or gender identity, contact the GLBT National Help Center—via their website or phone: 1 888-843-4564.

For more entertainment, music and pop culture updates and news, follow Max Page on Twitter
---
READ MORE.....
Nicholas Hoult—Kristen Stewart Is a Truly Talented, Lovely, Wonderful Girl
Julianne Moore Gushes About Kristen Stewart—I Just Love Her!
Kristen Stewart—I'm Endlessly Fucking Proud of Twilight, Talk Shit All You Like!
Kristen Stewart Talks Feminism, Dreams For the Future
Kristen Stewart On Taking a Break From Hollywood—'I Need To Breathe'

---