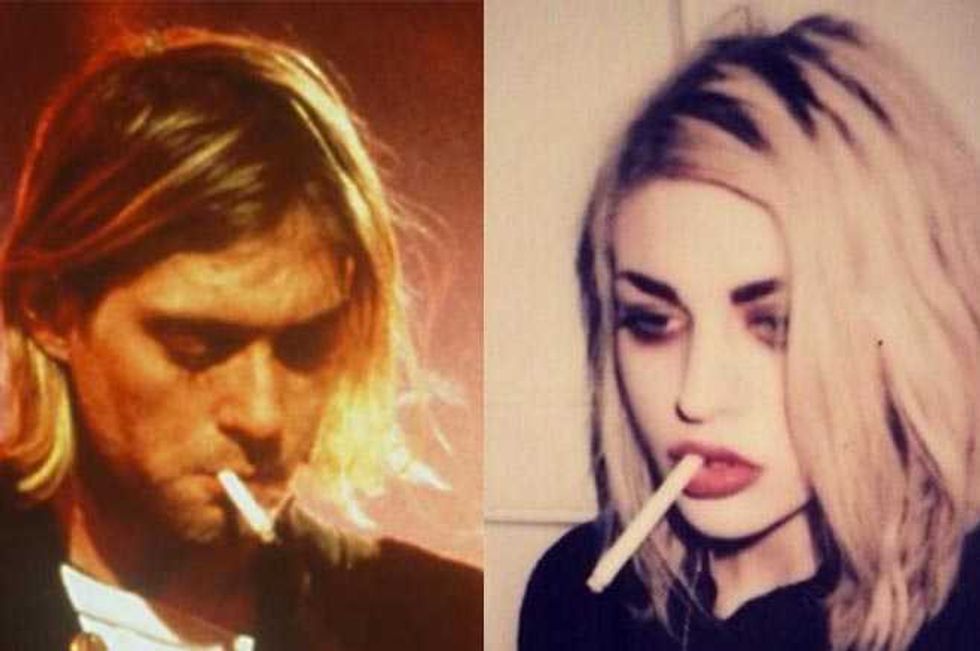 Frances Bean Cobain went and got herself all grown up!
The 21-year-old recently posted photos on Twitter that show she's the absolute doppelganger of her late father, Kurt Cobain—and Popdust has the pics.
Sadly, Frances never really got know her father as he committed suicide April 5 1994, four months before her second birthday.
Frances Bean Cobain is the doppelganger of late dad Kurt!
Frances inherited 37% of her dad's estate following his death—estimated to be worth around $75 million—but she clearly also inherited many of his physical traits too.
Considering her punk rock heritage—mom Courtney Love admitted in an interview with Elle magazine that she took heroin throughout the first trimester of her pregnancy—the aspiring singer/artist appears to be remarkably grounded and down to earth.
Frances Bean Cobain might be the spitting image of dad Kurt, but she has inherited mom, Courtney Love's pout!
That could be down to her very close relationship with her paternal grandmother, Wendy O'Connor and aunt, Kimberly Cobain, whom she lived with after becoming estranged from Courtney.
Frances actually took a restraining order out against Love in 2009 following a physical fight—alleging in court documents that her mom existed on a diet of prescription drugs and cigarettes, was a conspiracy theorist and hoarder and that she once threatened to jump off a balcony while Frances was watching.
Love has been attempting to rebuild their relationship ever since, however, she admitted during an interview with Howard Stern last year that she and Frances only have contact over the internet.
Frances announced her engagement to Isaiah Silva in October 2011
Meanwhile, Frances has been building her life with fiance Isaiah Silva. The couple has been dating for four years and announced their engagement in October 2011.