Travel back in time: Before the media made Prince Harry and Meghan Markle the stars of the multiracial fairy tale Disney has never provided us, Prince Harry attended a party with one of the dumbest themes of all time.
In 2005, a young, rich, and ridiculously tone-deaf Harry attended a "colonial and native" costume party dressed as a Nazi. It was outrageous and especially strange for a member of the high-profile (albeit powerless) royal family, but, hey, all 20-year-olds are idiots.
This past weekend Kylie Jenner, the 21-year-old member of America's de facto (and frighteningly powerful) royal family, topped the list of offensive, tone-deaf, and ridiculously privileged party themes when she threw her friend a Handmaid's Tale-themed birthday party. Kylie and Sofia Richie posted photos of the detailed affair to Instagram, with Jenner posting to her Instagram Story: "You know The Handmaid's Tale is my favorite show ever … so for Stassi's birthday … welcome to Gilead."
Of course, when you're not the world's youngest billionaire, The Handmaid's Tale is not so much a cute party theme but rather Margaret Atwood's cautionary tale about female objectification and oppression in a dystopian, totalitarian future (which, thanks to a conservative Senate, seems closer to reality every time Congress convenes).
It's an impressive display of ignorance that lacks all the self-awareness you'd expect from the Jenner-Kardashian who's culturally appropriated dreadlocks and cornrows for the sake of a selfie and who heinously waited 20 years to try cereal with milk. Accordingly, Twitter exploded with indignation at the bald display of poor taste, naivety, and sheltered privilege that drove Jenner to host a party with cocktails named "Praise Be Vodka" and "Under His Eyes Tequila."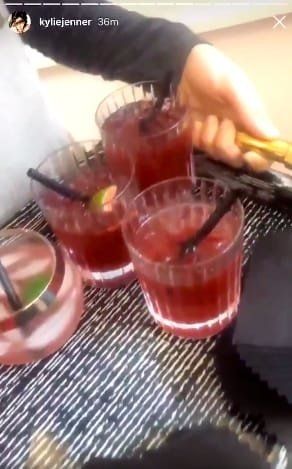 Instagram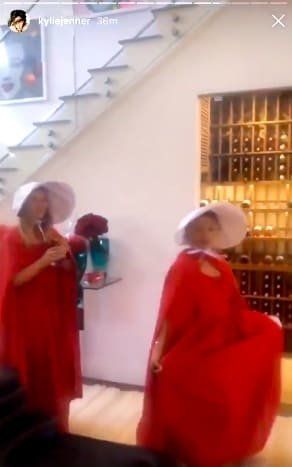 Instagram
Really, it's our fault for expecting better from someone who promotes toxic diet products like "miracle" diet teas and who claims cultural staples like tax deductions. Even if Jenner follows her sister Kendall's example and publicly apologizes for her tone deafness, Kylie's brand shouldn't be held to higher expectations than this Gilead stunt. After all, it took Prince Harry 12 years to go "from Nazi dress-ups to model royal," Maybe in 12 years, all we'll remember is how "Handmaid's Tale Garb Is the Viral Protest Uniform of 2019" and think Kylie was a subtle feminist icon. God help us all.