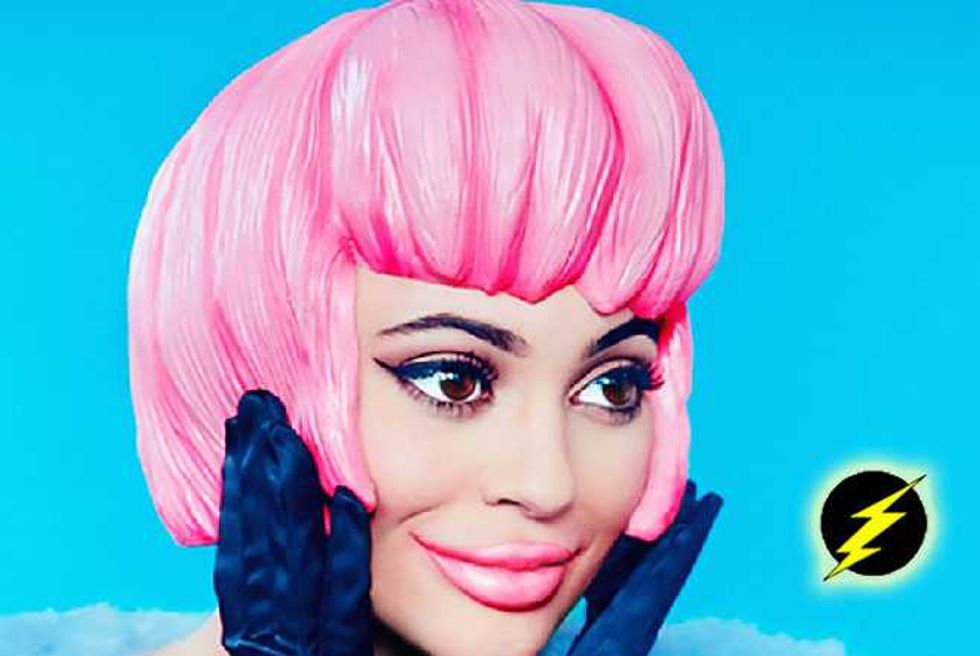 kylie jenner fake materialistic
Kylie Jenner graces the cover of April's Paper Magazine, looking every bit like a super-fake plastic doll.
Which, we presume, is in the spirit of irony, as inside the magazine, she insists the biggest misconception of her is that she's "super fake".
Oh, and that she's "materialistic".
How Real Are The Kardashians—Kim—Plastic Fantastic or Au Naturel?
Jenner's interview, which was carried out over Instagram direct message—of course—kicks off with an ass-kissing intro.
In the intro, the magazine waxes lyrical about how, "even the most snot-nosed cynic would be hard-pressed to deny that [the Kardashians are] a family of survivors."
"And not just survivors—thrivers."
Thrivers, yeah, sure....but survivors?!!
How Real Are The Kardashians? Kourtney Plastic Surgery Exegesis
They go on to call Kim Kardashian a "sex-positive feminist icon" and Kris Jenner, "a powerful advocate for trans visibility and civil rights".
Hahaha.
Somebody at Paper Magazine has definitely been drinking the Kardashian-laced Kool-Aid.
But, they haven't finished toadying up to Kris Jenner just yet, there's more!
How Real Are The Kardashians? Kris Jenner Plastic Surgery Exegesis
How about this paragraph:
Not to mention, that the family matriarch would prove to be one of the most expert businesswomen of the 21st century, creating an unprecedented multi-million-dollar business model that took an unforgiving gossip news cycle and used it to her advantage?
Jigga what?!!!!
Finally, they get down to business, and share Kylie's interview—the highlights of which are below.
How Real Are The Kardashians? Kendall Jenner Plastic Surgery Exegesis
What she day dreams about:
kylie jenner fake materialistic
I day dream about when I can get to a place in my life where I can be off the radar.
Ahem.
Biggest misconception about Kylie:
kylie jenner fake materialistic
Probably that I'm just super fake and that at 16/17, I got my full face reconstructed and that I only care about materialistic things.
Did Khloe Kardashian Get A New Face For Kocktails With Khloe?
Clearly a HUGE misconception, given the following answers:

If she could be any of her sisters for 24 hours:
kylie jenner fake materialistic
I would probably be Kim just to try on all her clothes and go through her closet.
The last time she cried:
kylie jenner fake materialistic
Um, I don't even remember. I think it was from happiness. I think I cried at one of my launches recently of my lip kits.

I had had some issues before that and I was so happy that everything went so smoothly and I was just crying so hard with my mom.
The single most important thing she hopes to accomplish in life:
Business-wise, I would love to have a really successful cosmetic line and then family/personal-wise, I'd like to have a really big family and a farm.
Bless her little 18-year-old heart.
For more entertainment, music and pop culture updates and news, follow Max Page on Twitter