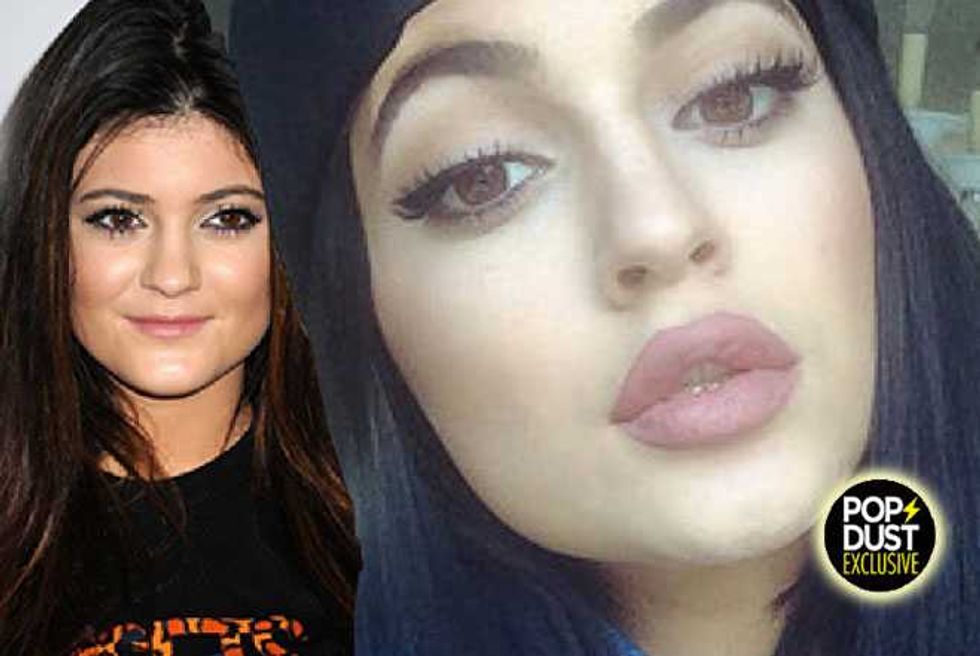 kylie jenner fillers natural Kylie Jenner's Keeping Up With The Fillers—But Wants To Look 'Natural'
Last week, Kylie Jenner posted a pic of herself with thin lips, and then superimposed her poutier pout with wings attached.
She captioned the photoshopped masterpiece, "fly away my friend."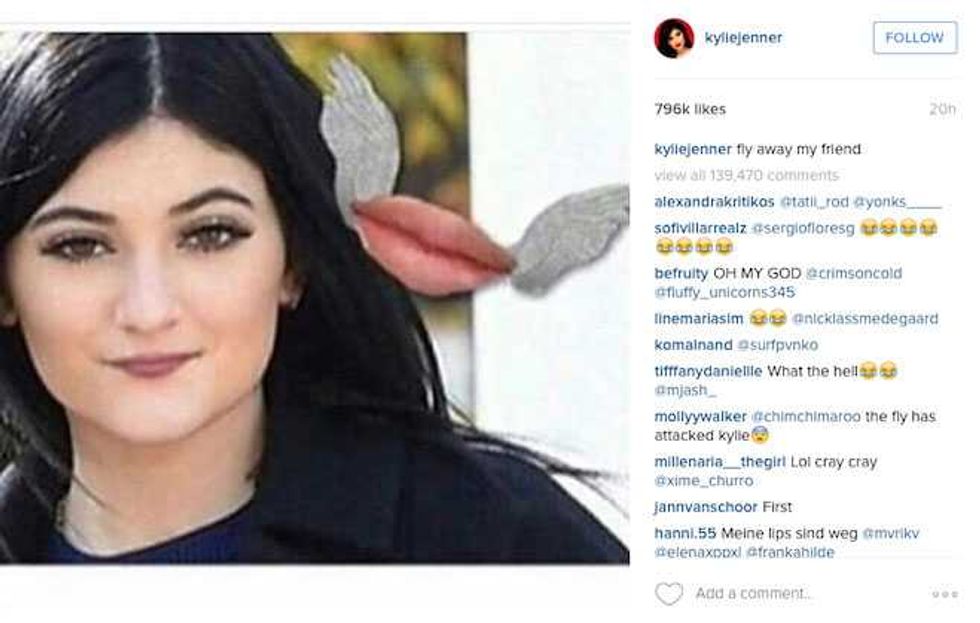 So what gives?
kylie jenner fillers natural
Is Kylie shedding the fillers and returning to her au naturel state?
How Real Are The Kardashians? Kendall Jenner Plastic Surgery Exegesis
Well, it does seem that the youngest Jenner is embracing a more natural look these days—she also shared a makeup-free selfie recently.
"Saw someone comment why I don't embrace my freckles anymore. So here's a freckle appreciation post," she captioned the pic.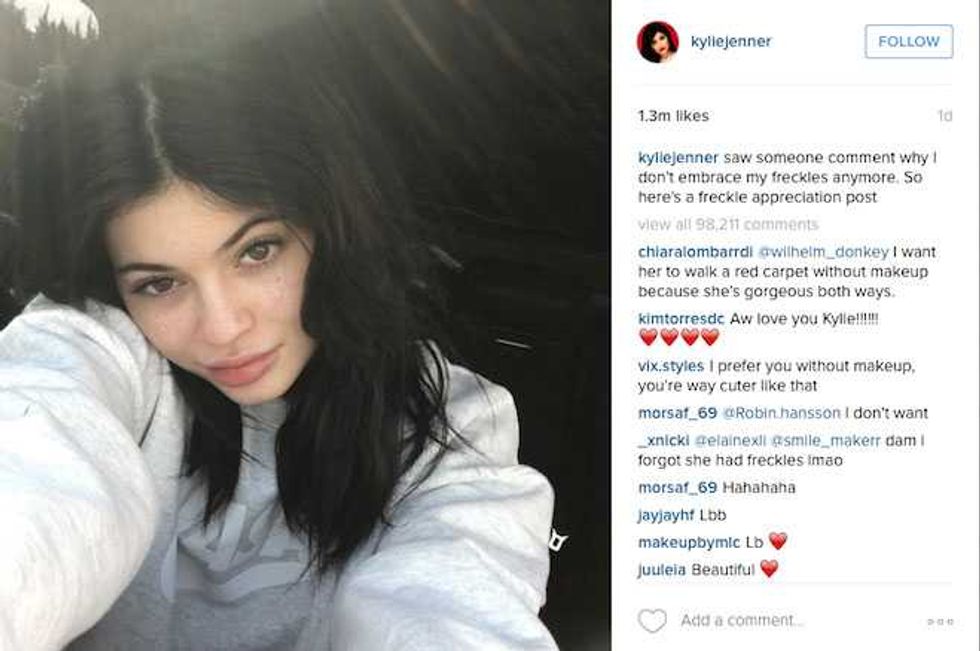 Nixing surgery or grabbing attention?
kylie jenner fillers natural
Is it the end of a surgically enhanced era, or is it all just more attention grabbing?
How Real Are The Kardashians—Kim—Plastic Fantastic or Au Naturel?
Last October, she posted a makeup tutorial on her website and mobile app, where she said, "You know what's weird? I've been into small lips lately. Like, I want them to look small."
But, according to a source close to the teen, Jenner's got a taste for the needle and won't be deleting her surgeon's number anytime soon.
How Real Are The Kardashians? Kourtney Plastic Surgery Exegesis
"There's no way Kylie will stop having procedures done," the source tells Popdust exclusively. "But she will be ramping it down a notch or two."
Natural beauty
kylie jenner fillers natural
"She doesn't like everyone telling her she looks totally fake, and wants everyone to believe she's a natural beauty, like Kendall," the source continues.
How Real Are The Kardashians? Kris Jenner Plastic Surgery Exegesis
"So, she will still have injections, but not as extreme. She says she wants to be a better role model for young girls—to encourage them to have more self confidence in their natural looks.
"But, I suspect, she's doing it to sell even more of her lip kits. If her mouth looks more natural she can easier put her pout down to her makeup line, instead of it obviously being fillers.
Money Monday—How Much is Jonathan Cheban Really Worth?
"I mean, let's face it, it usually comes down to money with the Kardashians—it's rare they do anything for purely selfless reasons."
Cop to the needle
kylie jenner fillers natural
Kylie staunchly denied having anything done to her lips before finally copping to it last May on Keeping Up With the Kardashians.
Money Monday—How Much Is Kylie Jenner Really Worth?
She also opened up to the New York Times about  getting temporary lip fillers in September 2014.
"I still do Juvéderm for my lips," the reality star finally confessed after months of trying to convince people her provocative new pout was the result of sticking her lips in a Coke bottle.
Or saying stupid shit like: "These plastic surgery rumors hurt my feelings to be honest and are kinda insulting," adding, "Just in case anyone forgot... I'm 16."
Money Monday—How Much Is Kendall Jenner Really Worth?
And "My pictures, I pout them out a lot. I think big lips are awesome,' she added. "I love lip liner and over-lining my lips."
International woman
kylie jenner fillers natural
The photo she shared right before this — one with her mom and sisters in honor of International Women's Day — also showed Jenner with a noticeably slimmer smile.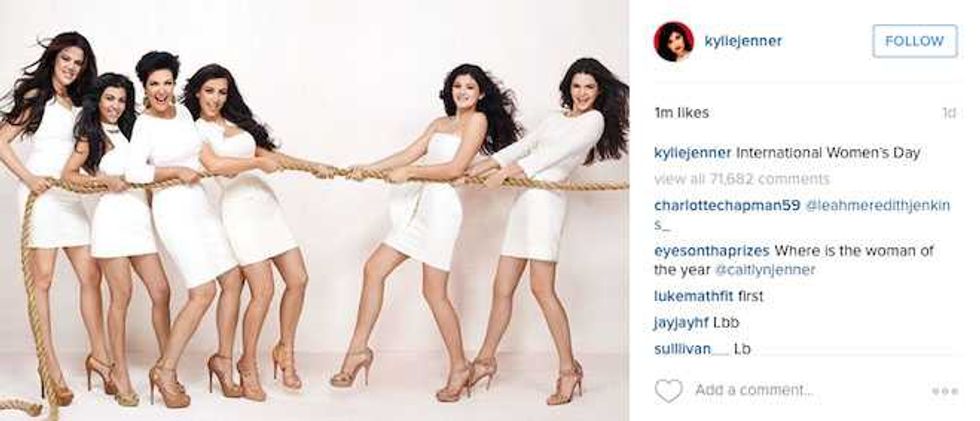 But will Kylie have big sister Khloe's kiss of approval? She was the one who urged Kylie to come clean and also attributed Kylie's sudden rise to fame to her fuller lips.
Money Monday—How Much Is Rob Kardashian Really Worth?
Khloe advised that she "cop to it" adding: "If you avoid the question, you're going to look like a liar."
Owning it
kylie jenner fillers natural
Finally, the then 17-year-old admitted:
"I have had temporary lip fillers," on an episode of her show.