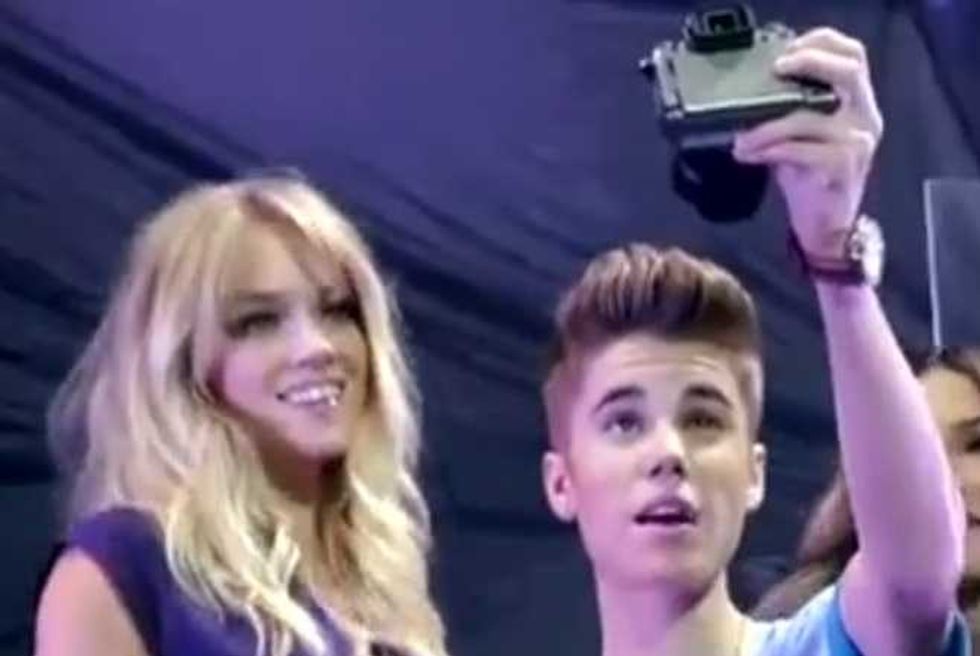 By all accounts, Justin Bieber had a great time at this year's Victoria's Secret fashion show earlier this month. He performed, he hung out backstage, he took in the scenery. To repay him for his generous service—models can't walk without music!—the lingerie superstore's best and brightest helped put their own spin on Bieb's current single with a courtesy lip dub. Selena Gomez, you might want to avert your eyes right about now.
Various models mouth the words to "Beauty and a Beat," like they did last year with Maroon 5's "Moves Like Jagger" or Jay-Z and Alicia Keys' "Empire State of Mind" to close out New York Fashion Week, creating a similar effect to what tortured Floridian football fans felt when the Miami Dolphins cheerleaders made a "Call Me Maybe" video. Or something. Bieber's rogue directing style gets another go-round, as we're led to believe "2700 hours" of footage—that's a lot of dress rehearsals; no wonder Selena was suspicious—was stolen before the show. Fool us once, shatter a YouTube record. Fool us twice, shatter our power to believe forever.
VS regulars like Adriana Lima, Alessandra Ambrosio and Miranda Kerr are on hand to goof around and dance like someone who doesn't get clothed in fabrics more expensive than the average American mortgage, while Bieb turns the camera on said ladies, testing the strength of the poor and nauseous viewer. At least there's a sign to let us know when to party like it's 3012!
Apologies if this brings back bad feelings, Selena. (Be smart and make yourself scarce, Barbara Palvin.) But at least he didn't go clubbing with Lindsay Lohan after his Madison Square Garden Show? Also, the dance moves are a lot tamer than any body roll Bieb and Nicki Minaj executed before a live audience. Either way, YouTube commenters are ON THE CASE, emotionally preparing us for any potential fallout.