Top Stories
The duo smash an upright piano as a metaphorical representation of heartache and pain.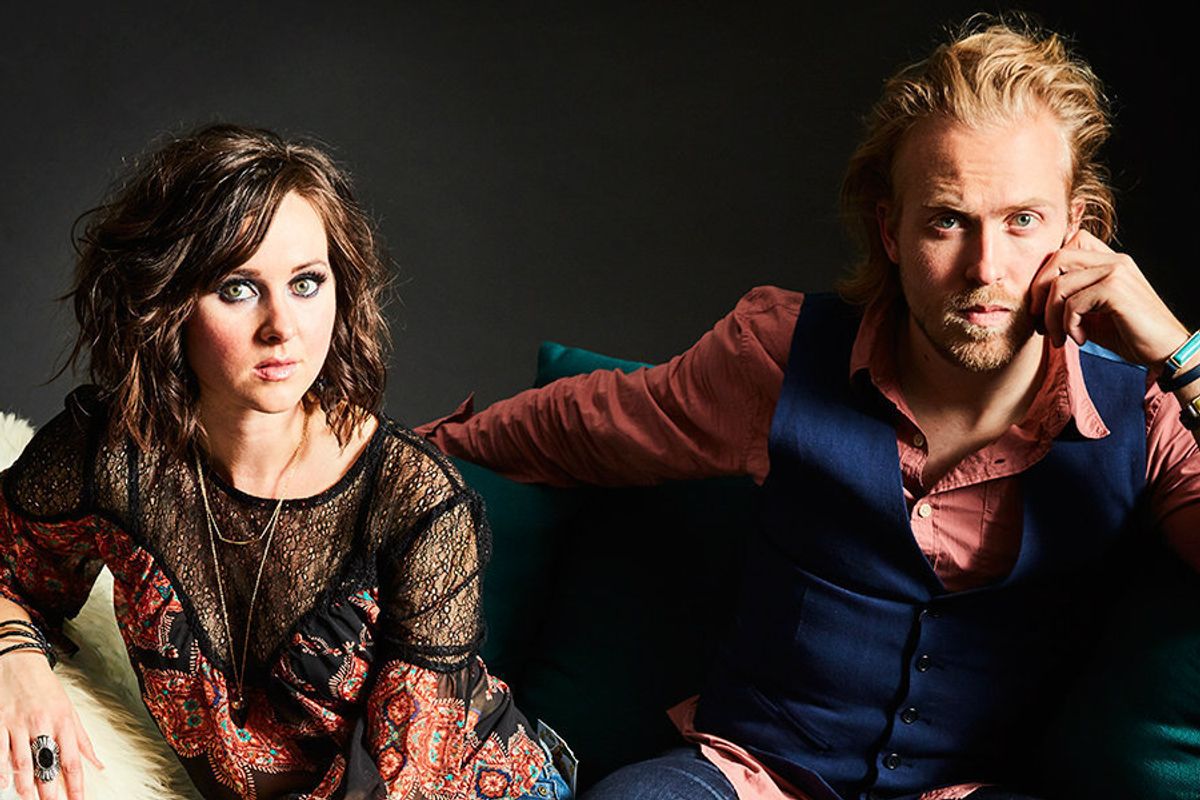 Husband-wife duo Lady & Jones have known each other since they were wide-eyed six-year-olds. With that kind of relationship, they have seen it all, weathered every kind of storm conceivable to man and lived to tell the tale. The trust they have for one another is evident in their music, even when they are singing about heartache. Their new single "Not Sorry" is the latest chapter in their journey, which began over 10 years ago as singer-songwriters, and is cemented together with luscious strings, well-balanced harmonies and an aching cry. Popdust is lucky to get its hands on the official music video (premiering today); the clip is suitably rich in emotion and focuses on their own personal struggles through the years (and that makes it even more significant).
The piano serves as the centerpiece of their relationship and even that comes under siege.. "We had the time of our lives smashing an old piano. There were a few young girls in the alley yelling 'SMASH IT!' through half of the video shoot. So funny," the duo, made up of Matthew and Amber Jones, tell Popdust. Amber adds, "Jones' just doesn't get angry, so it was a lot of fun pushing him to get a rise for the camera. Once I got it out of him...man, if looks could kill, he surely would have."
Matthew did find it rather freeing to lay metal to wood, too, bearing his heart and soul and pent-up rage. "It was really satisfying taking a sledge hammer to that piano after trying to move it. That sucker was 700+ pounds. We broke one dolly, dented the fender in our car and almost threw out our backs. But, still completely worth it," he says.
"I'm sorry that I'm not sorry, that I know you're in pain, feel pleasure in my veins," they sing, moments before the piano's splintered skeleton shatters onto the concrete. "I'm sorry that I'm not sorry, that you live in the past, can't believe our misery did last. After the hell I've been through, I can't feel badly for you."
Amber and Matthew trained at the Capital University Conservatory of Music in Columbus, Ohio (their home state) and relocated to the City of Angels in 2014 to pursue their dreams of music-making.
"Not Sorry" samples the duo's forthcoming, self-titled debut EP, expected to drop early next year. The project is produced by The Record House.
"Not Sorry" is out now on iTunes.
Watch below:
---
READ MORE ABOUT MUSIC...
Exclusive: DJ Pebbles Curates The Perfect Christmas Party Playlist
Premiere: Chasing Moonlight "Come Alive" With New Song
Jeremy Thurber Eyes New Album, Talks Meghan Trainor & Touring