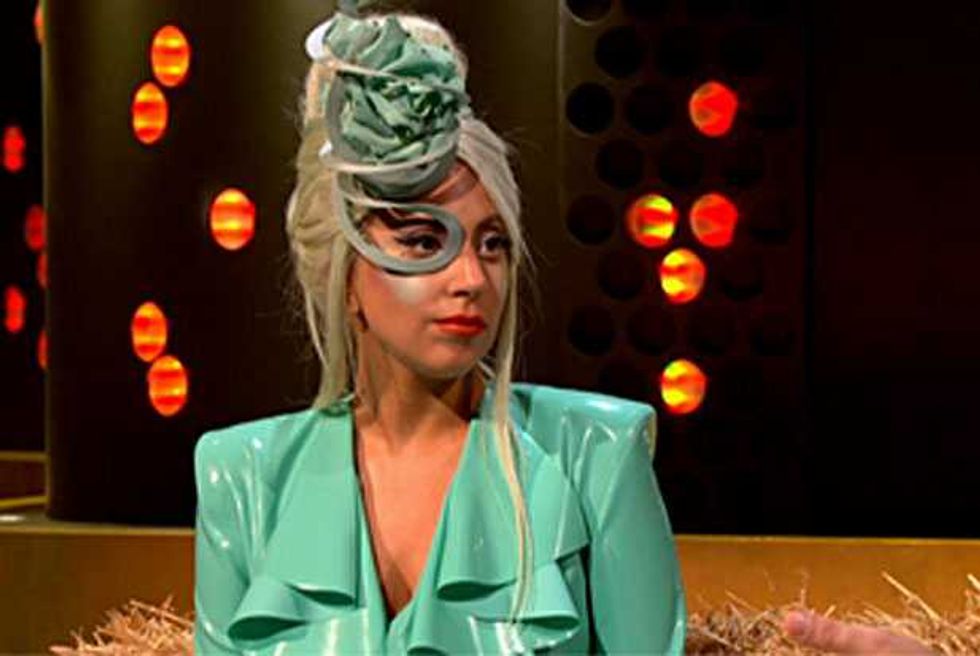 The more interviews with artists you follow, the more you can suss out by artist and interviewer which will be entertaining and which will be three endless minutes of how much they just love their fans, love touring, love their new single which will be out any day now, really. Lady Gaga interviews generally aren't like that. Neither are interviews by British TV personality Jonathan Ross. Combine the two? Thirteen wonderful minutes, well worth watching in their entirety (just eat your lunch twice as fast or something.) Still too much? Highlights:
- Lady Gaga brings out a special guest: a male sheep named Kevin. Jonathan Ross isn't so keen on having a sheep on stage, alas. Less successful? The bit with the real fake purported meat dress being mutilated by scissors. The day the meat dress joins bullet bangs and sunglasses in the hall of departed Gaga looks will be a welcome day indeed.
- Finally, we get a semi-coherent throughline for "You and I": "This song is about a love affair with a man from Nebraska... It's all about going back to his hometown to get him back. There's this beautiful scene in a barn, where everything goes awry, and it's kind of twisted, and he's trying to fix me and change me. As he's doing that, I break apart, then he puts me back together and puts me in formaldehyde, and I turn into a mermaid, and the whole thing goes wrong." (We said "semi.")
- Lady Gaga's asked the contractual female-artist questions about her love life and her pregnancy or lack thereof. On dating: "I really don't like when people contact my management for a date... I mean, isn't that awful, to get an email? 'Would she be available for dinner?' I'm like, fuck no! I'll be at home heating up a chunky soup watching Will and Grace." She's got less to talk about on pregnancy, probably because she's in her mid-twenties, single and well into her career, enough that she said she'd want to make "ten more albums" before a baby. And that's that. One imagines the answer won't change between now and her next interview. (Hint.)
- As far as news? Alas, we didn't hear any titles of songs from her upcoming album, because Jonathan Ross didn't take off his shirt (Gaga's stakes.) His excuse? Four nipples; caveat: this is probably not actually true.
Because this is a TV appearance, it also comes with a performance; because it's still "You and I"'s single cycle (bring on "Marry the Night" faster!), it's of that; because Kevin made an appearance, it's set in a barn-like stage, with hay and, er, barn maenads. One can only imagine how the Americanisms in the song and performance played out in the U.K., but at least Gaga's vocals need no cultural translation.