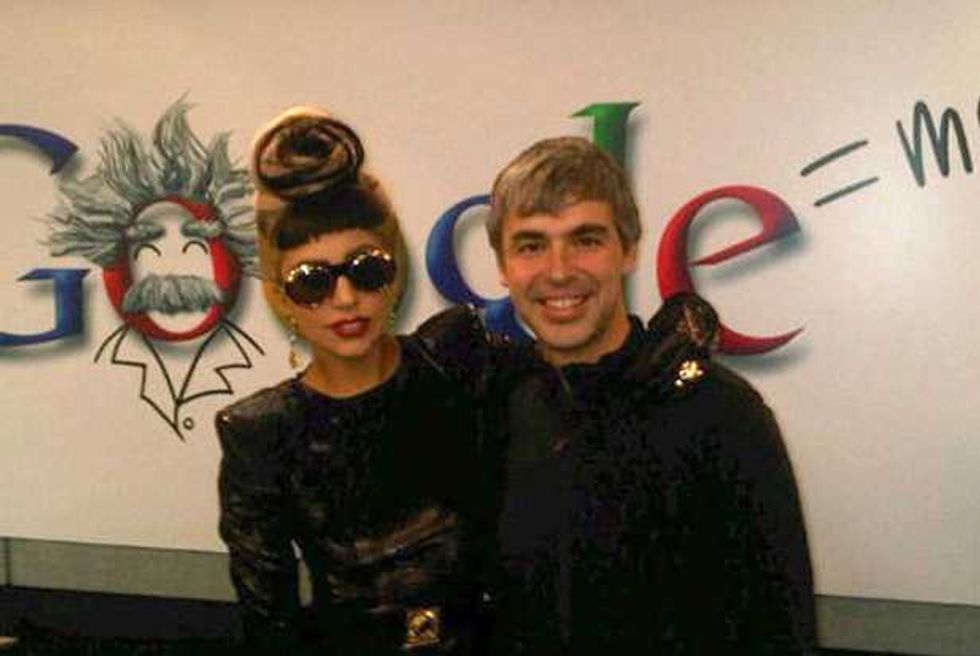 As one of the more tech-savvy (or at the very least, tech-opportunistic) pop stars of our time, Lady Gaga was a natural fit for a slot on Musicians@Google, an interview series conducted by the online giant. She swung by the company's office last night for an interview filled with questions from fans; Google higher-up Marissa Mayer, who took time out to confess to having dressed up as the pop star for Halloween a few years back, fed the pop star questions using a newish tool called Google Moderator. The interview lasted about an hour, during which Gaga answered questions on subjects ranging from bullying to tattoos to a certain teen-pop YouTube sensation.
The proceedings started with a nifty little Google-constructed montage of Gaga's career, as constructed through various internet representations of her burgeoning popularity (search queries, YouTube covers, Google Translate lyric interpretations). From there, Gaga answered a number of pre-submitted fan questions, some read by Mayer and some played over video, and then took Qs from fans in the audience—many of whom had dressed for the occasion, sporting stuffed-bunny suits, tinfoil spaceman hats, and loofah jewelry. ("Why do I feel like some of you were coaxed into doing this?" Gaga wondered.) Finally, a number of more faithfully-costumed devotees lined up for a Gaga fashion show, with the winner getting a pair of tickets to her upcoming concert in Oakland. (All received hugs, of course.)
Some highlights from Mother Monster's interview responses:
On Google: "When I was in high school, all my girlfriends wanted to get jobs here. And, um, I wanted to be what they were searching for."

On listening to herself on the radio for the first time: "I remember I heard it, and I started crying... and my tour manager David said 'How does it feel?" And I said 'It's about damn time!!'"

On being bullied and an outcast: "I was never the winner, I was always the loser. That still stays with me... but Born This Way is about saying 'This is who I am. This is who the fuck I am.'"

On her favorite Non-Gaga YouTube video: "I love the boy... when he comes home from the dentist. Because I always say, whenever I'm really tired before a show, I always go 'Is this real life?' "

On reality TV: "You will never see me do reality television. Don't even ask, it will never happen...I'm not that kind of person. My whole life is a performance piece, so I don't need to have my picture taken to feel that I'm in a moment of art."

On Born This Way in "just three words": "Avant-garde techno-rock."

On censorship: "If the artist is constantly molding ourselves and constantly changing and abridging what we do for the machine, then the artist becomes part of the machine. I don't want to be part of the machine. I want the machine to be part of me."

On her upcoming "Judas" video: "I'm very excited, actually, I can exclusively reveal here at Google that I will be making my directorial debut with Laurieann Gibson, directing this video with her, ourselves. It's no surprise I'm sure to many of you that Judas is a man of the Biblical senses, so, um, expect to see some symbolism in this video."

On her favorite downtime activity: "I'm actually really into crazy hot yoga in hundred-degree rooms. It's the only thing that I feel I can be really bad at and nobody knows. So I sort of take comfort in the journey of becoming good at yoga, because if I suck at it one day, nobody sees it."

On her appearance at home in her room: "I look exactly like I look right now. I just probably have a Motley Crue t-shirt on and there's a really good-looking guy in my bed."

On You-Know-Who: "I think it's fantastic. I think that Rebecca Black is a genius, and that anyone who's telling her it's cheesy is full of shit."

On living a double life: "I really make absolutely no separation between Stefani and Gaga. It is the absolute same person... I wish I could give that gift to anyone of being able to say "I rebuke all of that negativity, and I am now a new person, and I am going to be the queen that I know that I can be.' "

On being both an artist and a female pop star: "I am, as a blonde woman, with tits and ass, very proud of my accomplishments as a musician.... people call it arrogance, but I do believe that women in pop music have a very bad rap, and I think people have learned to expect very little from all of us, and it's very, it's very prejudiced, so me and my tits and my ass and my brain are very proud to be here today."
Pretty cool stuff, all in all. Though Casual Friday at the Google office will probably be pretty underwhelming this week.