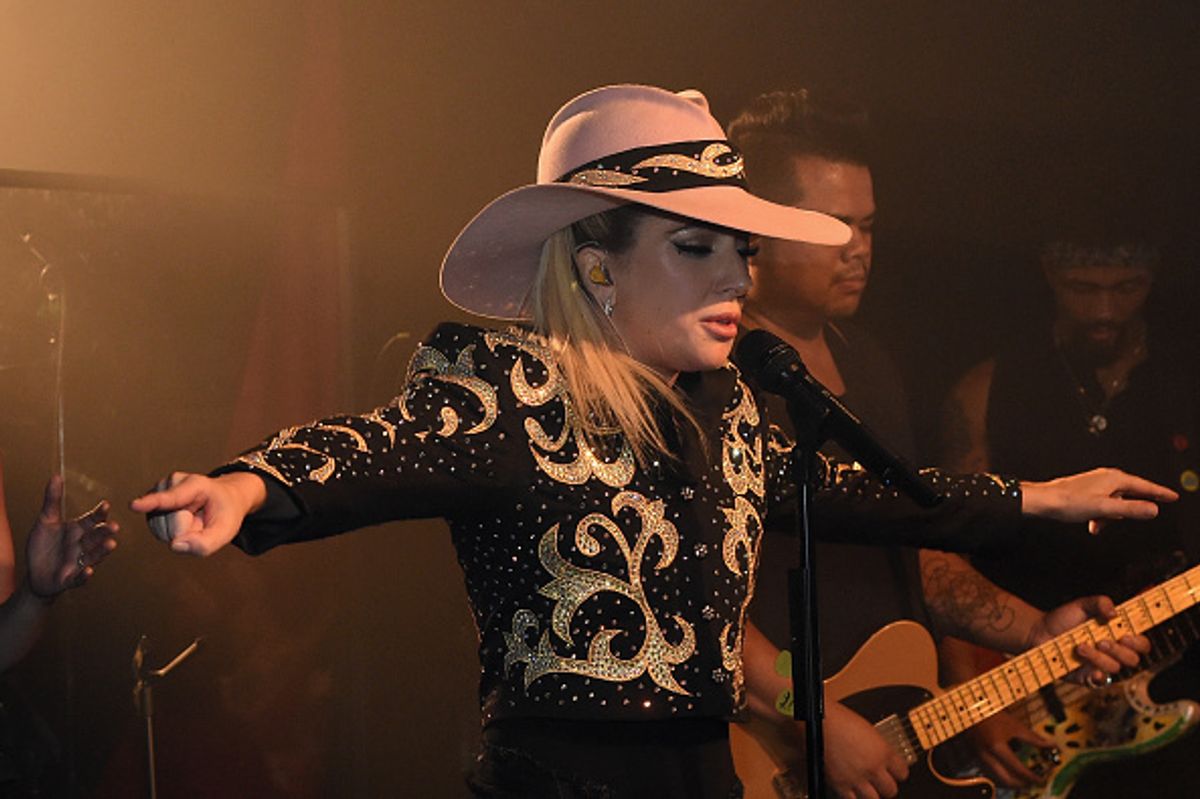 Getty Images
Let's talk about Lady Gaga's latest release from her forthcoming Joanne LP, shall we? It's a melodramatic, countrified ballad called "Million Reasons," in which the uber-talented Stefani Joanne Angelina Germanotta's musical theater-friendly bravado is in endless overdrive. The references/comparisons are already pouring in for the stripped-down number, as seen via a quick #MillionReasons Twitter search. Bruce Springsteen-meets-Tracy Chapman! Johnny Cash-goes-on-a-date-with-Carrie Underwood! Also, the Indigo Girls...?!? Jesus, please take the wheel! My ears are experiencing something a bit different/semi-grating from the pop superstar, though. Like, maybe she had a few envious summertime slumber parties with musical theater royalty and multiple Tony Award winner, Patti Lupone, where activities included smoking many a joint while belting and harmonizing to Dixie Chicks' records. Can you even imagine being a fly on that royal blue, velvet wallpapered wall?! *Faints, convulses, dies.* Also and obviously involved were an array of artisanal cheeses paired with fine red wine teeth.

It's apparent that Lady Gaga's Joanne era has found her once again reinventing herself in true "I'm an artist from New York!" form. I'm actually so here for her hanging up the meat dress for daisy dukes, midriffs and cowboy hats. It's very on-trend. But, this tune, albeit very different for Gaga compared to her previous global superstar-making bops, isn't anything groundbreaking or forward-thinking. It's fine. I live for a roaring vocal over simple guitar strums and piano chords. And the verses and pre-choruses are super hooky and lovely, so much so that they almost distract from the saccharine, rhyme-y lyrics. (See also: "If I had a highway, I would run for the hills. If you could find a driveway, I'd forever be still.") This should've been the pleasant sonic surprise we've all been waiting for/rooting for since learning about her working with Mark f'n Ronson. A break from the rocket booms and robotic synths and soul-drenched torch songs and Tony Bennett jazz duets! But we've already heard this song. For me, it makes me hum P!nk's stripped-down "I Don't Believe You," which was her sixth single from Funhouse. That's the thing! "Million Reasons" is sixth single material. It'll be a good karaoke jam, but I'd rather belt out off-key another bittersweet ballad from another Lady -- that'd be, and don't you dare judge, "Need You Now" by Lady Antebellum.
So, do we really need this song now, replete with lyrics about cutting through tattered leather, from Lady Gaga? Debatable. And sure, I'll take it. But perhaps I/we just expect so much more from the talent considering her incredible body of work. Her reinvention and rawest sound yet is definitely commendable. The song is good. It's just nothing to go Gaga about. (Here's hoping that we'll lose our damn minds over that Florence Welch duet.) Final "Million Reasons" verdict: one Lil Monster paw up.
(PS. This review is the writer's own and does not represent other Popdust-ers.)