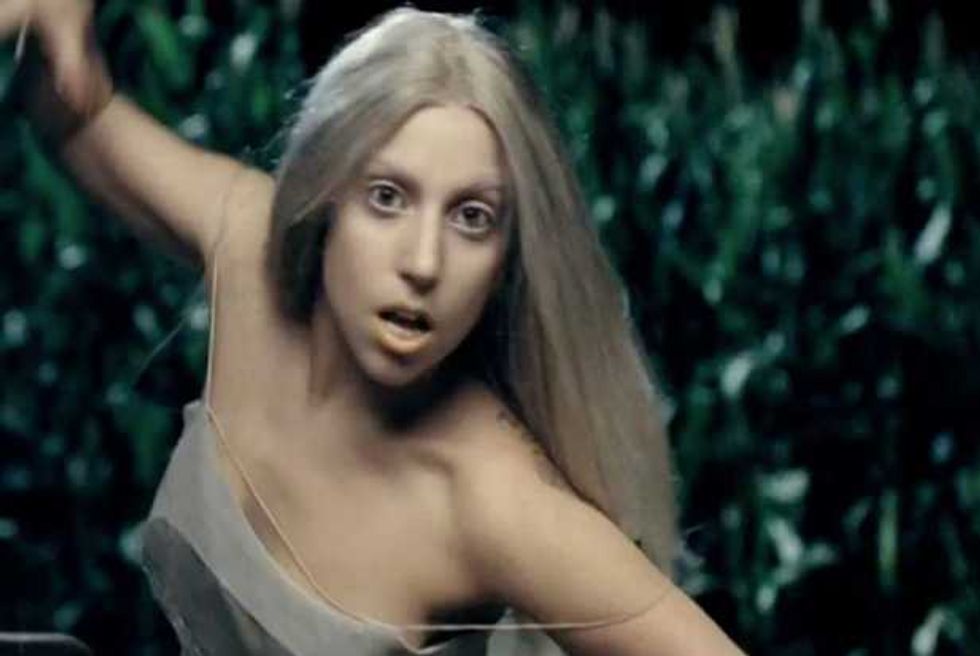 Three days in, and we're still not crowning Lady Gaga's "You and I" a success on the level of "Bad Romance" or even the other Fame Monster videos. This doesn't mean we're right, of course. This just means we're philistines who don't know how to appreciate the art of love or of art. Take it from Gaga!
The video is quite complex in the way that the story is told, and it's meant to be slightly linear and slightly twisted and confusing, which is the way that love is.
"Slightly linear" means all over the place, but never mind that. If you don't understand everything about "You and I," you are like the subject of a Lil Wayne song and just don't know how to love. The only possible explanation. This applies to matters of the heart, as well as matters of mermaid sex, because apparently that is the world's takeaway from this video as well as from any myth involving mermaids probably since the idea of mermaids. No, the impossibility of mermaids making love (which isn't even all that impossible, unless you're clinging to the old "technical virgin" idea) has a point too. It's a metaphor! Soak in the wisdom:
"Sometimes in love, you can't make it work. No matter what you do, there's this giant boundary between you and someone else. So that's what it's about, perceiving in your imagination that there's something magical inside of you that you can make it work.
This would make sense if the video showed Lady Gaga being at all ambivalent about her menage-a-mermaid--and she knows how to act ambivalent; see "Bad Romance." This is the problem with all of Gaga's after-the-fact explanations: there's no evidence within the work itself, making statements like this things she might as well have pulled out of her ass. Like "Telephone." Gaga swears it's a metaphor for her overactive telemarketer of a brain, but the song is nothing like that. If somebody not inside Gaga's Haus came to this same conclusion without being under the influence of heartbreak or shrooms, we'd be shocked. At least when J. K. Rowling pulled this stunt with Dumbledore, there was subtext. There is no subtext here.
But then, we're artless hacks. So disregard our opinion accordingly.