MUSIC
Sunday night's Super Bowl halftime show was truly for the fans.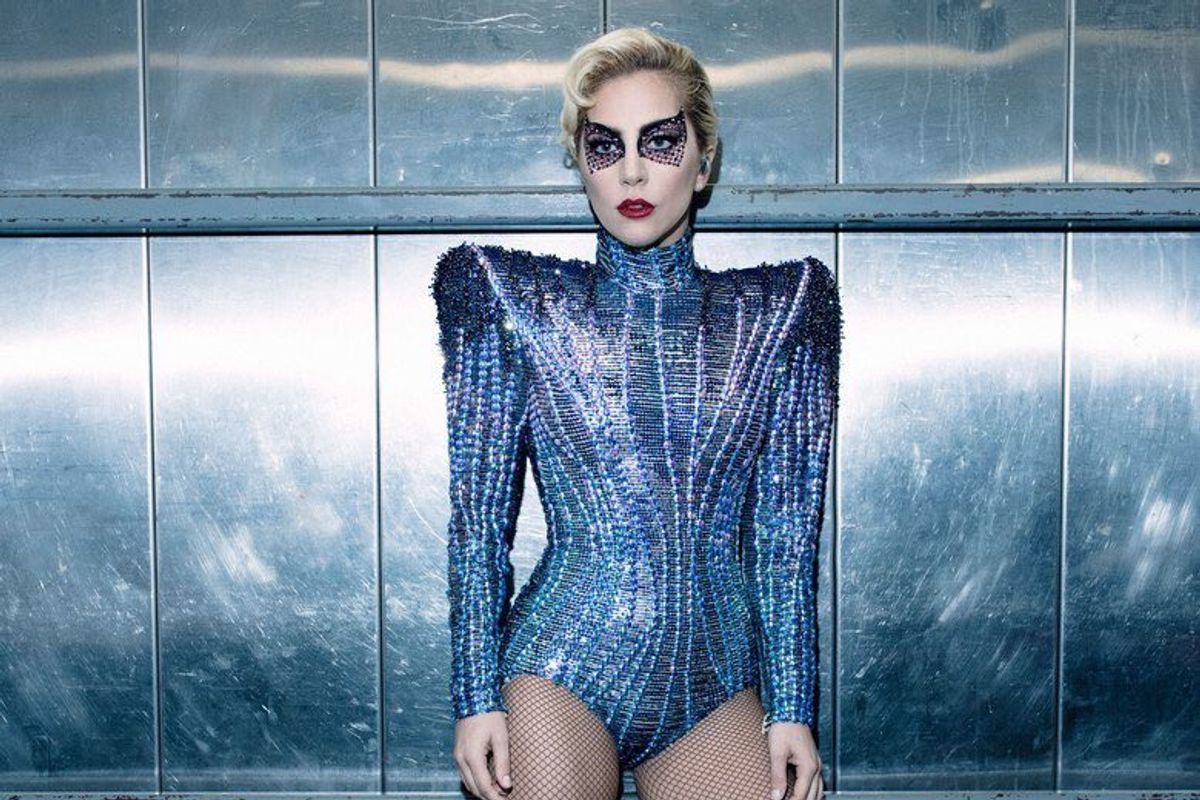 Twitter/Lady Gaga
Lady Gaga's Super Bowl stunning halftime performance Sunday was, as she said, for the fans. It was a good time. And, best of all, a hopeful hint of more classic Gaga to come.
The show was conspicuously lacking any songs from Artpop, and featured only one from her latest album, Joanne. With the bulk of the music, choreography, and even costume inspiration coming from her Fame, Fame Monster, and Born This Way days, most of the show could have been straight out of 2010. And that's a great thing.
The Artpop era, plagued by record label drama and Gaga's severe hip injury during its production phase, consisted of only two videos ("Applause" and "G.U.Y.," the latter of which was undeniably not up to the artistic standards of most of her work). It's easy to understand why, then, most of Gaga's little monsters feel the most connected to her earliest albums—higher quality of work, more videos to memorize the choreography of, more wild costumes to obsess over.
So when the songstress came out performing mostly pre-Artpop hits and dressed in pantsless ensembles à la vintage Gaga, it was an old and welcome kind of magic. She told the crowd she wanted us to feel good, and boy, did we. With the tumultuous and often frightening world we're living in lately, the show was exactly what we needed, and not only because it reminded us of better times. If nothing else, Gaga understands her fans. And when she says she loves them, it's not hard to believe her. The connection with her fans was tangible here as it is at all her performances: audience members were central to the show, most of whom came dressed up in costumes and performed choreography that, truth be told, they were probably armed with long before Super Bowl LI was even in the works.

While there's been artistry, vulnerability, experimentation, and craftsmanship in the most recent steps in Gaga's journey, the fact that she would make her first major appearance of 2017—one of the biggest a musician can make, headlining the Super Bowl—a throwback to her own earlier hits is a strong hint that she's ready to start pumping out new fan favorites. Not a return to 2011, necessarily, but a synthesis of the places she's been on her creative trajectory. We get the sense that certain songs were personally necessary for her to write; almost the entirety of the album Joanne has this air, with several songs referring directly to real events or people in Stefani's life, her recent split from Taylor Kinney being no exception.
But with a tour announcement right on the heels of Sunday night's performance, it doesn't seem as though the Joanne era is going to be another chapter of experimentation so much as it will be a building on top of the body of work we already love.
At the very least, it's a suggestion that Gaga is returning to her pre-injury prolificness (although hopefully at a pace that won't threaten her health this time). And as far as the rumours that LG6 could come out as early as this fall? Our paws are crossed.