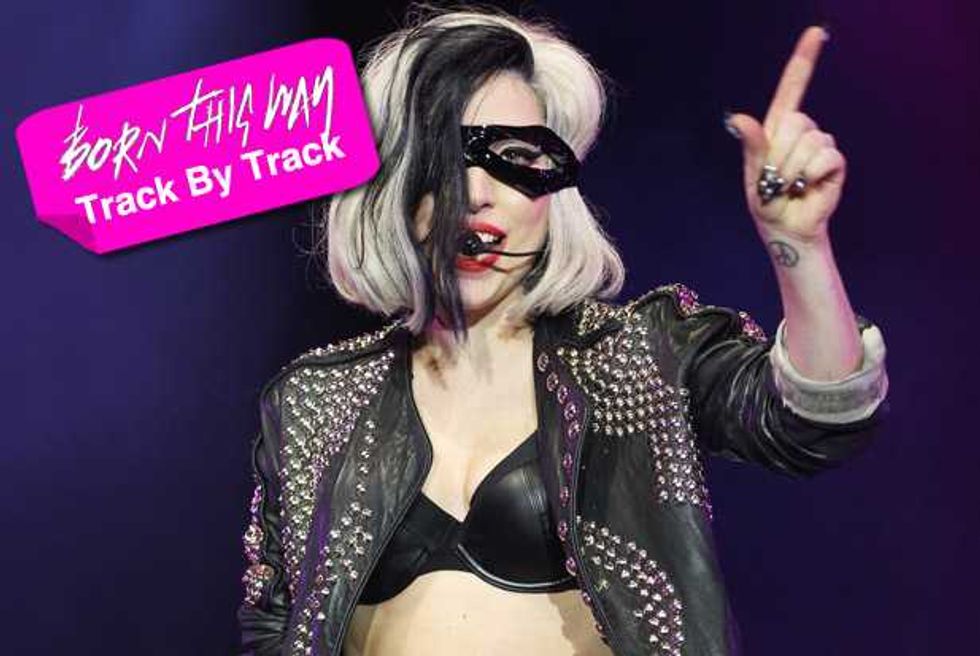 #2. "You and I"
Sounds Like: A ballad of Jovi and Guns-sized proportions, mixed with an Elton John groove, an Aerosmith-like swagger and a Queen (via "We Will Rock You") drum beat. Basically, all of Gaga's biggest rock influences rolled into one.
Pros: If Lady Gaga had ever lacked for a set-closer at live gigs, she need no longer want. "You and I" is the kind of stadium-filling, crowd-pleasing, lighter-raising anthem that every performer with ambitions beyond playing Bob Marley covers at coffee-house open mics covets. It copies the feeling of prime hair metal-era power-balladry—getting legendary AC/DC and Def Leppard producer Mutt Lange in the studio was a good first step towards that—without sounding imitative or even particularly nostalgic.
It's still a Lady Gaga song, and it still fits in brilliantly as Born This Way's penultimate track. It just uses backing vocal harmonies, wailing guitar solos and straightforward love-song lyrics to create the same epic feeling she gets elsewhere from glittering synths, 120 BPM beats and messages of self-empowerment. Gaga has frequently professed her love for hair metal and stadium rock in interviews, but until now, we'd never heard it come through so vividly in her music. Here's hoping we won't have to wait too long until we get to hear it again.
Cons: It's possible that repeated references to Nebraska might make fans in some of the other flyover states jealous. If Gaga's smart, though, she'll change the lyric at live gigs to reflect whatever state she happens to be playing in at the time. And we're pretty sure that Lady Gaga is smart.
Yearbook Lyric: "There's something about this place / Something about lonely nights and my lipstick on your face."
Gaga Hashtags: Whiskey, pianos
POPDUST SAYS:
Coming up next: Our pick for the #1 song on Born This Way.