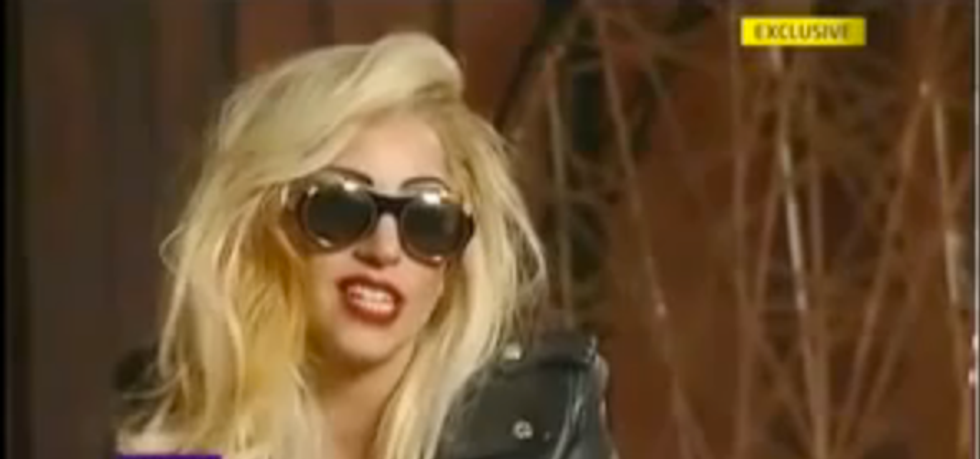 "I do feel some sort of pressure—or rather an obligation—to outdo myself for my fans," Lady Gaga said in a recent interview on the British talk show Daybreak. While the graphic birthing images that filled her seven-minute epic "Born This Way" might be hard to top, the Lady herself has boldly described her upcoming "Judas" video as "the greatest ever." The song's religious connotations have already divided audiences, and a controversial video could isolate even further, yet Gaga believes it will surprise people in a positive way. "The message of faith in the video is so powerful and so beautiful. I think that the video will be one of the most 'I didn't know that about her' things that has ever happened," she said. A brief glimpse at the shoot revealed what we've seen many times before: a harem of dancers, black leather costumes, sunglasses and not much else—in other words, the standard for Gaga performances.
Gaga explained there was "never any doubt in [her] mind" that she wouldn't make it as a performer. "The drive just came from me really wanting to be a star, and me really believing that it was my destiny," she said. If this is true, does she really need the constant hype before she releases new songs and videos, or should she simply let her work speak for itself?
Check out her entire conversation below.
For lots more pics, videos and up-to-the-second dish on Lady Gaga, be sure to check out her Popdust Artist Page.