"Fofty" was threatening to crack Randall Emmett's head open a few days ago, but now the rapper is "wishing him and his family a very blessed day."
Bravo.com
50 Cent's feud with producer Randall Emmett and his fiancée, Vanderpump Rules star Lala Kent was one of the weirdest beefs of the year, if not this lifetime.
It basically boiled down to this: Randall Emmett borrowed a million dollars from 50 Cent and the rapper/co-producer of Power demanded his money back, or else. But soon, things snowballed into a full-fledged mudslinging fest where embarrassing texts were revealed, Harvey Weinstein comparisons were flung, and plenty of memes were born.

It all started when 50 Cent (real name Curtis Jackson III) took to Instagram to post a clip from Vanderpump Rules of Randall's fiancée, Lala Kent, discussing how her relationship began: she let him "hit it" on the first date, and then got a Range Rover the next day. 50 captioned the video: "10 seconds left in the 4 quarter hoe's are Winning. Do you want A range rover [starry-eyes emoji] yes, bitch yassss. Then just run out [female-jogger emoji, gust-of-wind emoji] and suck a dick. LOL smh [face-palm emoji]."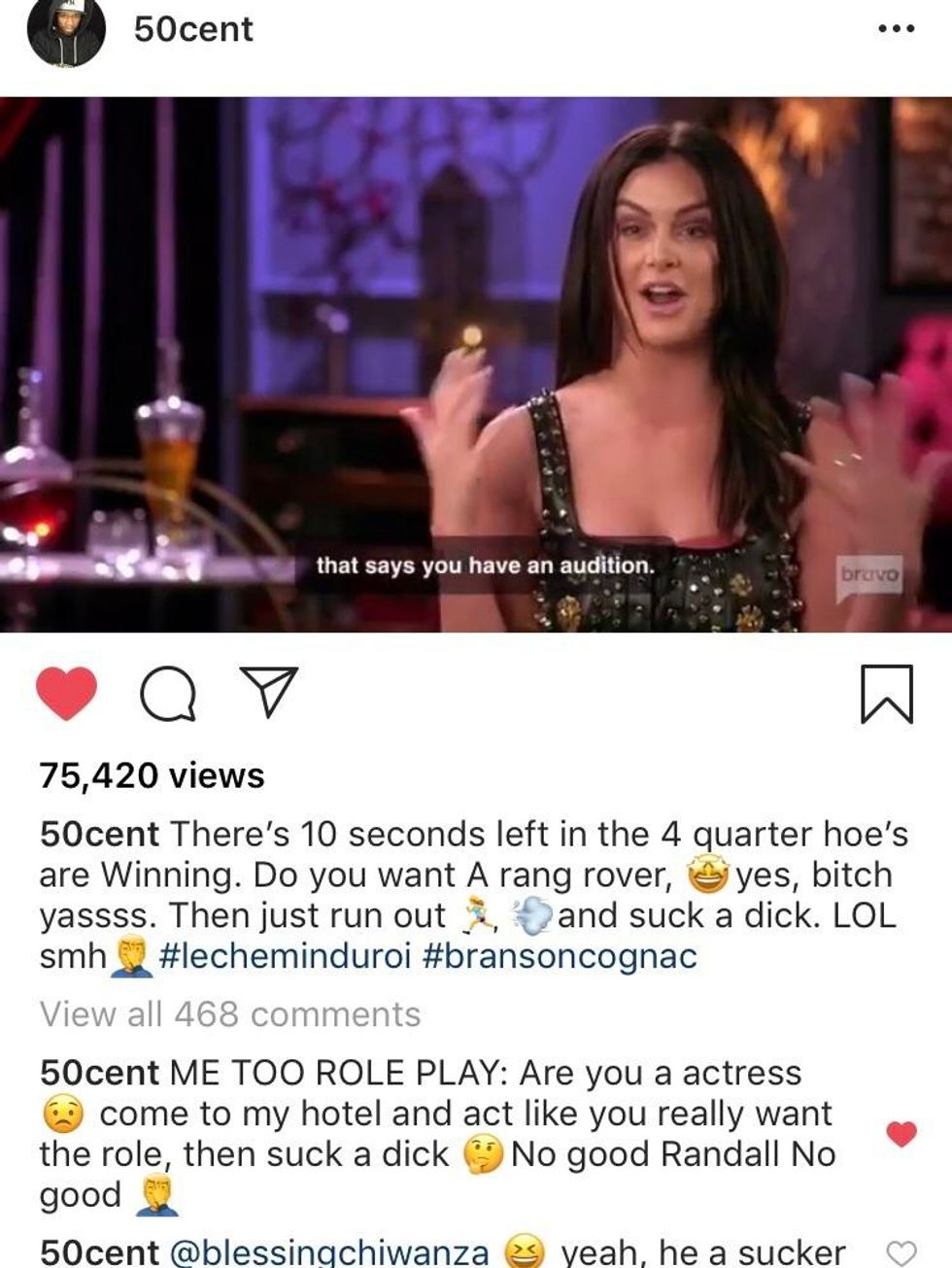 Lala Kent––whose specific brand of sex-positive empowerment we recently dissected in order to decide if it's actually woke––is very passionate about two things: her man and keeping it real. If you've ever watched Vanderpump Rules, then you know that Lala is quick to clap back and point her acrylic nails in anyone's face who crosses her path. Kent commented on 50's post: "She swears she's a thug from south side Jamaica queens & she's up in here watching Bravo." She continued, "Someone has forgotten where they came from."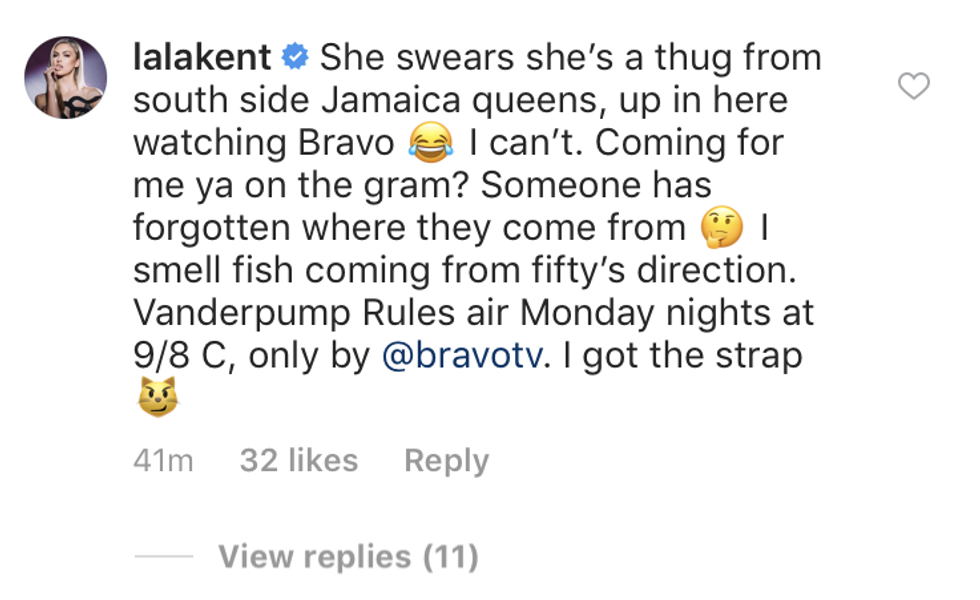 It's a big claim from Kent — who grew up in Salt Lake City, Utah — considering the infamous rapper was shot nine times in 2000 and survived. All good feuds escalate at a rapid pace, and this one is no exception.

50 responded by posting a text exchange between him and Randall, where Randall pleads, begs, and asks for forgiveness among claims of having a heart attack and heading to the ER in what would become the feud's most iconic line "I said I'm sorry fofty."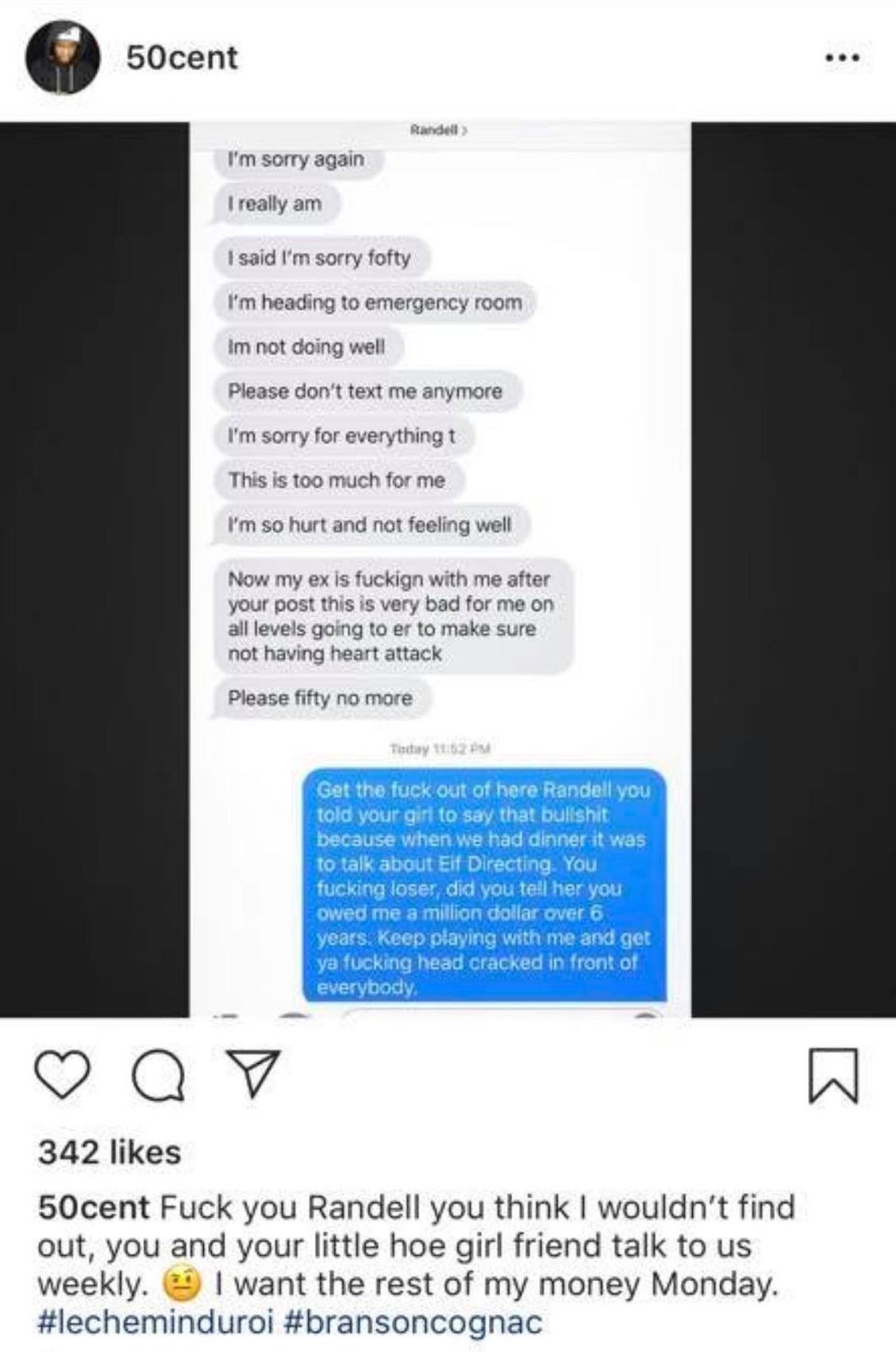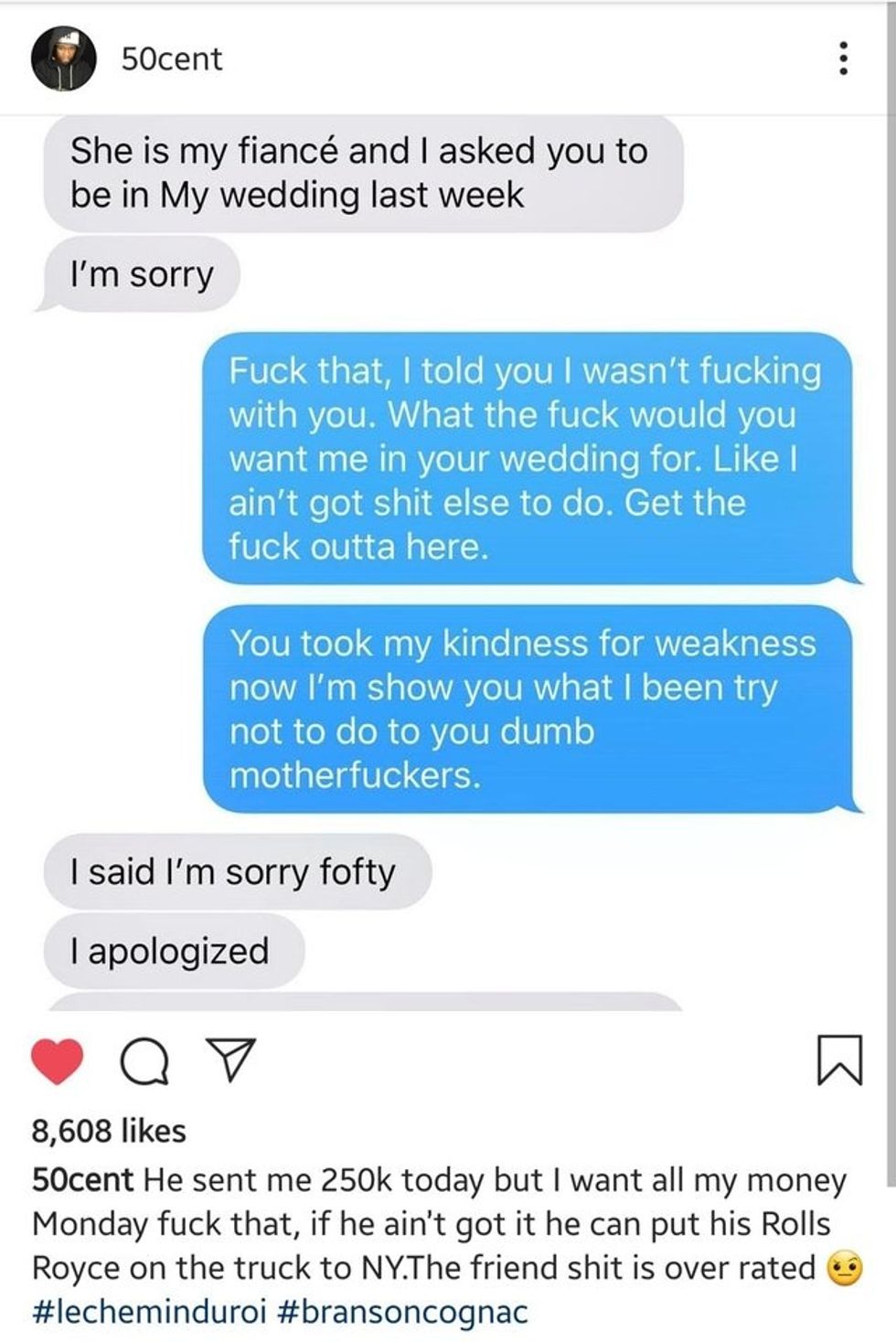 Well, Fifty's not buying it. He even posted a meme accusing Ran of faking the heart attack. The rap mogul is done waiting around, and he's threatening violence if Randall doesn't get the money to him by today, Monday April 29th. He warned in a text to Emmett "Keep playing with me and get ya fucking head cracked in front of everybody."
This spurred Lala to take to her Instagram story (it's not a real fight unless someone goes on vlogging rant) to voice her anger with 50 using the clip of her in a way she claimed served to "diminish the validity of the #MeToo movement."
Fifty raised the stakes when he reposted the video of Kent and claimed that there was no difference between Emmett and Harvey Weinstein. He captioned the video, "Hey how is the Range Rover? There's no difference between Harvey Weinstein and Randel Emmett! This is reality, not reality TV." Can you hear that? It's the sound of a collective "yikes."
50 Cent might have been ready to knock Randall out, but he seemed to have been having a good time milking the feud for all its publicity glory at the same time. Over the weekend, the Rapper was relentless in his mocking of Emmett. Fans went on Kent and Emmett's respective Wikipedia pages and made a few edits to poke fun at the situation and 50 cent even created t-shirts bearing the "I'm sorry fofty" line.
Of course, Chrissy Teigen had to chime in, because doesn't she always? "I never ever want 50 cent to be mad at me," she said on Twitter. "please love me, fofty." KK Chrissy duly noted.
This feud escalated from a simple bitch-better-have-my-money to a full-fledged discourse on the prevailing movement surrounding sexual assault. There may not be a setting that could be more inappropriate for discussing these issues, but nonetheless, it made for good TV. Not sure if Randall is faking the heart attack, or how this will affect Lala's burgeoning musical career, but we can all agree that we hope this arc plays out in the next season of Vanderpump Rules.
As of 20 minutes ago, it looks like the feuders have finally reached an agreement. Fifty got his money and seems to be all good vibes only now as he captioned his latest post "I got my money, so I have no problem with @randallemmettfilms in fact I'm wishing him and his family a very blessed day. 😏positive vibes now guys." The rapper has wiped most of the posts clean from his Instagram page, except for one last screenshot showing that he has, in fact, received the wire.
Randall seems to have cleaned up this mess for now. While the memories may fade, the screenshots will last forever....
---
Sara is a music and culture writer.

---
POP⚡DUST | Read More…
An Interview with Amanda Palmer: No Limits, No Fear, No Intermission
Happy #LesbianVisibilityDay: 10 Queer Musicians Who Are Changing the Industry
To Achieve Gender Equality in Music, We Need More Female Producers and Musicians