MUSIC
Del Rey's always riffed off the past, so it makes sense that she'd be so good at lending her modern tastes to songs from the '50s and '60s.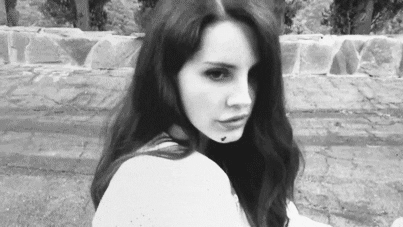 Lana Del Rey's built a universe out of her music by threading influences from the past with modern beats and startling themes.
She's extremely prolific in her own right, but every once in a while she's put her uniquely melancholy touch on some classic tunes from bygone eras.
Here's a running list of all the covers LDR has ever blessed us with, ranked from worst to best.
14. Don't Let Me Be Misunderstood
This song was the concluding track on Del Rey's spaced-out 2015 album, Honeymoon. While "The Other Woman" did justice to Nina Simone in terms of its emotiveness and stylish arrangement, this version failed to live up to the original's brilliance. The track's string section and keyboard sound artificially produced, like they're digitally manufactured effects, and the whole thing feels too wordy and overcrowded to fully communicate its intended emotional impact.
Don't Let Me Be Misunderstood (Audio) - Lana Del Rey www.youtube.com
13. The Happiest Girl in the Whole USA

For anyone who doesn't know, Del Rey has a massive body of work from the decade she was creating music before she became Lana Del Rey. During her days as Lizzy Grant, Sparkle Jump Rope Queen, May Jailer, and several other early iterations of the star she would eventually become, she recorded at least a hundred original songs that are still accessible online, in addition to a few rare covers—one being Donna Fargo's "The Happiest Girl in the USA." She sang it live during her Lizzy Grant era, when she was performing all over bars in New York, singing in a childishly high voice, and using an oddly campy Southern drawl. Wearing her signature flower crown but still sporting her naturally blonde hair, this delicate song shows Del Rey pre-metamorphosis but just as committed as ever to her bittersweet, vintage image.
Lana Del Rey - Happiest Girl In The Whole USA (Donna Fargo Cover) www.youtube.com
12. Happy Birthday Mr. President

In her video for "National Anthem," Del Rey drew from the best of 1950s American folklore. For most of the video, she's Jackie O with A$AP Rocky as her Kennedy, but at the start of the video she appears as Marilyn Monroe, sporting a bedazzled gown and singing the classic adulteress's anthem, "Happy Birthday Mr. President." Her voice gets breathy here, in a nearly perfect imitation of Marilyn's; and her ability to pull off both Marilyn and Jackie O reveals her chameleon-like ability to switch between different characters with a change of clothing. While the cover contains less of the rich expansiveness and artistry of the others on this list, it still gets its intended job done.
Lana Del Rey - Happy Birthday Mr. President www.youtube.com
11. Summer Wine
Del Rey never actually called herself a "gangster Nancy Sinatra"—that was one of her managers—but she eventually did cover a song made famous by Nancy Sinatra. Originally written by Lee Hazelwood, the song was later rerecorded by Del Rey and her boyfriend at the time, Barrie James O'Neill. The duo set their cover to an almost absurdly nostalgic montage of cherry-eating and lounging underneath gauzy summer sunshine. (Barrie eventually went on to inspire Ultraviolence, so obviously, the buzz from the summer wine was doomed from the start).
*SUMMER WINE* www.youtube.com
10. Goodbye Kiss

Speaking of "doomed from the start," that phrase is actually the first line of one of Del Rey's other covers—a rendition of Kasabian's more upbeat track from 2012. On Del Rey's lips, the song turns almost painfully melancholy; she slows it down and gives it her classic whispery, psychedelic spin, letting the tragic lyrics speak for themselves over layers of subdued electric guitar and piano.
Lana Del Rey - Goodbye Kiss www.youtube.com
9. Doin' Time

Lana dropped this radio-ready cover in the (very, very long) interim between announcing her upcoming album Norman F**king Rockwell and actually releasing it. The song tells a bittersweet story of a romance gone wrong, pitted against descriptions of an idyllic, slow-burning summer, which is a Del Rey-style juxtaposition if we've ever seen one.
Lana Del Rey - Doin Time www.youtube.com
8. Season of the Witch
Remember Scary Stories to Tell In the Dark, that book that definitely worked its way into your nightmares when you were a kid, if only because of its shockingly terrifying illustrations? Now, it's being turned into a Guillermo del Toro film, and the trailer features a one-minute clip of Del Rey singing Donovan's "Season of the Witch." Hopefully, we'll get the full version at some point; for now, at least, we can hear Del Rey speak-singing over eerie strings while characters shriek in the background.
Lana Del Rey - Season Of The Witch (Trailer) www.youtube.com
7. Heart Shaped Box

Del Rey has long cited Nirvana as one of her primary influences. She covered this song during her Paradise tour in 2013, and it features one of her most impressive high notes (check out 2:20). This was before she evoked the ire of Frances Bean Cobain for her "I wish I was dead already" comments and well before she toured with and befriended Courtney Love. After she debuted this cover in Oslo, Love allegedly tweeted, "You do know the song is about my v-gina right? 'Throw down your umbilical noose so i can climb right back,' umm… On top of which some of the lyrics about my v-gina I contributed. So umm next time you sing it, think about my v-gina will you?"
Lana Del Rey - Heart-Shaped Box (live) - Oslo Spektrum, Oslo - 10-04-2013 www.youtube.com
6. Once Upon a Dream

LDR was chosen by Angelina Jolie to cover this classic '50s tune for Disney's Maleficent. If this song was a piece of clothing, this tune would be a satin gown draped in cobwebs, worn by a vampire queen as she descends down the stairs of her abandoned, vine-covered mansion. Filled out by droning synths that summon images of a misty, moonlit forest, it's one of her most moody, mystical, and half-dead-sounding tracks, and that's saying something.
Lana Del Rey - Once Upon A Dream (From Maleficent)(Official Audio) www.youtube.com
5. You Must Love Me
Anyone still insisting that Del Rey can't sing needs only to listen to this cover of the classic track from Andrew Lloyd Webber's musical theatre masterpiece, Evita. While musical theatre might not seem exactly in Del Rey's wheelhouse, the role of Evita fits her surprisingly well. Eva Perón was a woman who amassed a cult-like following in Argentina, despite her fraught legacy that made some absolutely enraged. While her legacy exists on a different scale than Del Rey's, one might say that there are similarities between these two women, who have both generated slavish adoration and cold-blooded rage. This cover finds Del Rey singing with the higher part of her range; if she played the evil queen in "Once Upon a Dream," here she fully embraces the Disney princess part of her voice, while a lush arrangement of strings and woodwinds plays on in the background.
Lana Del Rey, Andrew Lloyd Webber - You Must Love Me (Audio) www.youtube.com
4. Blue Velvet

This song was featured in Del Rey's ad for H&M when she was still sporting a stratospherically high beehive hairstyle. Slow as molasses and sung almost entirely in her low range, this song feels apocalyptically ominous and sultry at the same time, making it the perfect soundtrack for, say, a montage of atomic bombs exploding, or for grainy footage of a ghost dancing alone in an empty swimming pool, or something along those lines.
Lana Del Rey - Blue Velvet (Official Video) www.youtube.com
3. Knockin' On Heaven's Door

Another live cover, this one finds Del Rey lending her wispy vocals to the famous Dylan tune, made famous by Guns N' Roses. As someone who sings about God, death, and heaven with surprising depth and frequency, the song was a natural fit. So far she's only sung it at concerts, accompanied only by tremolo-laden guitar. Transmuted through her world-weary voice and sung out over fields of lighters as crowds chant along in the distance, it's chill-inducing and one of her best live covers by far.
Lana Del Rey Live @ Frankfurt - Knocking On Heavens Door www.youtube.com
2. The Other Woman

Del Rey concluded the official version of her third album, Ultraviolence, with a cover of Nina Simone's "The Other Woman," a song that fit perfectly with that album's theme of being irredeemably in love with a careless, damaged, drugged-out man. Her version of Simone's tune is ragged and elegant, a mix of grand orchestrations and desolate-sounding guitars. On it, she sounds about a thousand years old, and the song itself sounds like it's being beamed through a transistor radio from an alternate universe into our own, making it one of Del Rey's finest (and saddest) covers.
The Other Woman www.youtube.com
1. Chelsea Hotel No. 2

In 2013, Lana covered this famous Leonard Cohen piece, which tells the story of the time that Cohen spent a night with Janis Joplin at New York City's legendary Chelsea Hotel. The hotel also happened to house Patti Smith, Allen Ginsberg, Madonna, Arthur Miller, Dylan Thomas, Sid Vicious—who killed his girlfriend Nancy Spungen there in 1978—and many more luminaries, and though it's been under construction for years, it's expected to re-open in 2019. With its beatnik history and dark, drug-addled, Old Hollywood-style lore, the Chelsea Hotel is a natural landmark in Del Rey's melancholic, nostalgic universe, right alongside the Chateau Marmot, Coney Island, and the back of every motorcycle owned by a man older than 60. Later on, she sang this cover at a Leonard Cohen tribute event with Cohen's son, Adam, making that version doubly meaningful. This cover is so heart-wrenching, so vintage New York, and so glamorously faded, it ranks among her best work.
Lana Del Rey - Chelsea Hotel No 2 (Official Music Video) www.youtube.com
BONUS:

Del Rey has also covered Oasis's "Wonderwall" and The Doors' "Roadhouse Blues" during live shows, but the recordings aren't quite good enough to merit them a place on this list. Still, check them out below:
Lana Del Rey covers Leonard Cohen, Oasis, The Doors & Kasabian www.youtube.com