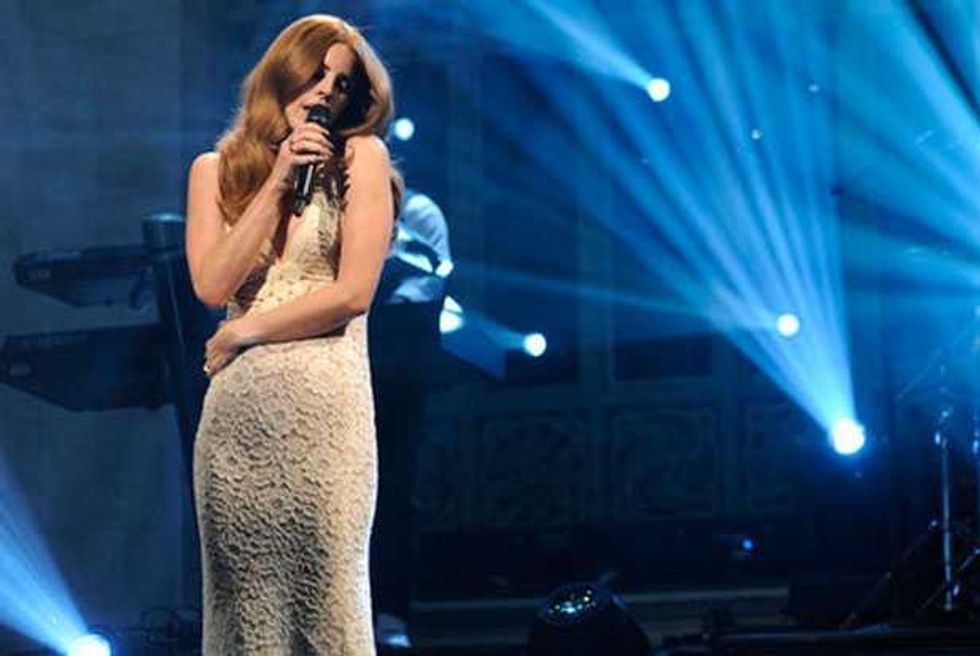 In her first-ever television performance, Lana Del Rey's Saturday Night Live gig was notable for a multitude of reasons: she's yet to release her debut album—Born To Die is out Jan. 31—and last night's live versions of "Blue Jeans" and "Video Games" left many audience members thinking they were watching a rejected sketch meant for Kristen Wiig. Just like with her big budget video for "Born To Die," the Internet has erupted in LDR backlash overnight. It's largely inspired by what they saw, sure, but is also served with a healthy portion of seemingly never-ending contempt for her "authenticity." Last night's performance wasn't Ashlee Simpson-level bad, but, her warbled voice and closed-eye swaying provided enough room for (clever) mockery and elicited questions about her genuine skill and SNL's booking practices. Juliette Lewis has already voiced her opinion, and as a performer and star of the original "Shit ___ Say" meme, she does speak for a larger whole. Start your day off right by reviewing some of the meaner things spread around the Twittersphere in the last 12 hours:
"Lana del Rey's performance on SNL last night really legitimized her career and proved she is a capable performer." -No one

— Daniel Pesick (@dlpesick) January 15, 2012
Stayed up to watch Lana Del Rey on #SNL only to discover she's basically a drunk Julia Roberts trying to remember her own lyrics

— Tom Morton (@tommorton)

January 15, 2012
Is Lana Del Rey inspired by Maya Rudolph's Donatella Versace character? Because that's who's singing on my television at the moment.

— John Thrasher (@jthrasher) January 15, 2012
Some of the bad auditions on American Idol are better and more entertaining than Lana Del Rey on SNL last night

— Tom Rees (@tomcablerees) January 15, 2012
Just watched SNL thats the Lana Del Rey you all like? I thought it was Kirsten Wiig doing one of her 'wacky' characters. You are all idiots.

— Eddie Argos (@EddieArgos) January 15, 2012
Whether this was an epic case of nervousness, or finally proof that every disgruntled critic was right, it might seem like it's time to start hating on Del Rey—everybody's doing it! But we here at Popdust encourage free thinking, so by all means, check out last night's performances and decide for yourself.
[youtube http://www.youtube.com/watch?feature=player_embedded&v=oTA-1IfWAbk#! expand=1]