Lana Del Rey can she can do whatever she wants.
The 34-year-old is celebrating her birthday today, June 21st, which also happens to be the summer solstice. That she was born on the longest day of the year, which is also associated with a variety of mystical midsummer rites, seems appropriate in light of Del Rey's somewhat mystical status in pop culture. (Who could forget the time she hexed Donald Trump?)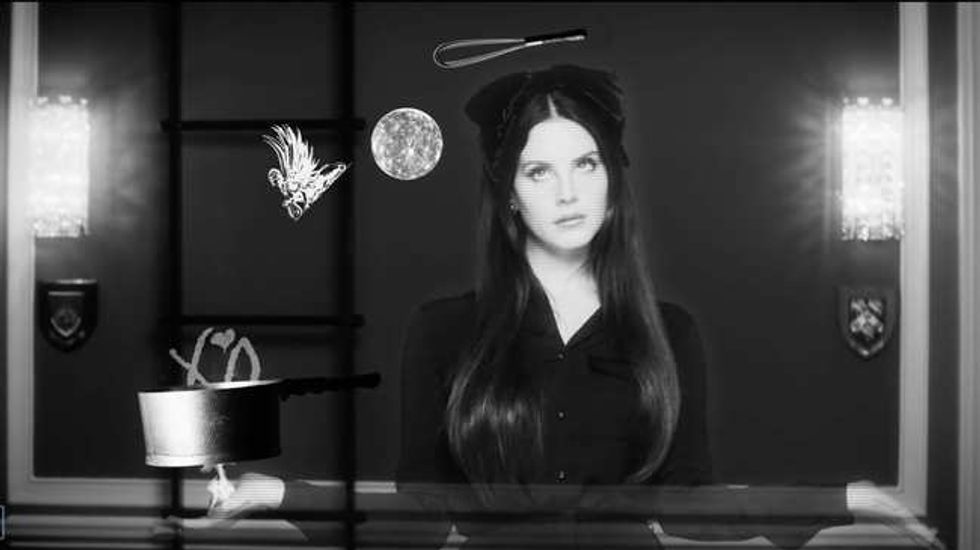 Image via Out.com
Over the course of her career, she's joined forces with a wide variety of collaborators, from Stevie Nicks and Julian Lennon to A$AP Rocky and the Weeknd. Her ability to braid hip-hop, folk, pop, and psych rock has allowed her to constantly redefine her sound, and she's been a leading architect of this post-genre moment in music. Her aesthetic fluidity has also allowed her to shapeshift again and again, moving from sad girl to super-diva, Hollywood starlet to itinerant bohemian.

A collaboration with Miley Cyrus and Ariana Grande would be a characteristic change of pace for the self-proclaimed "chameleon soul," marking a movement towards the top stratas of mainstream pop. Speculation began when Miley Cyrus liked a comment mentioning a collaboration between the three stars; then Ariana did the same thing with another post.
As ex-kids' TV pop stars with little indie cred to their names, Grande and Cyrus may not seem like the likeliest collaborators for the more fringe-based Del Rey. However, if you think about the spaces they occupy in modern culture and their music itself, it's not such a reach to imagine them getting high together in some luxe California villa and brainstorming the song of the summer. They probably have things to talk about: Grande has rebounded from her fair share of tragedies and destructive and difficult relationships; and Miley Cyrus has reinvented herself as many times as Del Rey, facing an equal amount of backlash for her anti-feminist, scandalously sexualized persona during the "Wrecking Ball" era, then suddenly reverting back to a Madonna figure as if none of it had ever happened.
There's something almost punk about all three of these women, each of whom make so many Christian mothers and people on the Internet so viciously angry, and there's something phoenix-like about the way they've all reinvented themselves, persistently releasing surprising, emotionally raw music and never becoming who people want them to be.
Miley Cyrus covers Summertime Sadness in the Live Lounge www.youtube.com
Happy Hippie Presents: Don't Dream It's Over (Performed by Miley Cyrus & Ariana Grande) www.youtube.com
There are also plenty of reasons to dislike each of them, namely that they have all appropriated and discarded elements of black culture. Plus, the quality of Grande and Cyrus's music has varied, and all of their careers have involved a fair number of crash-and-burn moments—but through it all, they've kept listeners hanging on their every move, watching as they rise from the ashes again and again. If the three do release a collaboration, we all know we're going to be listening.