Top Stories
MUSIC | The eclectic group offer up a peculiar reinvention of Italo Calvino's work.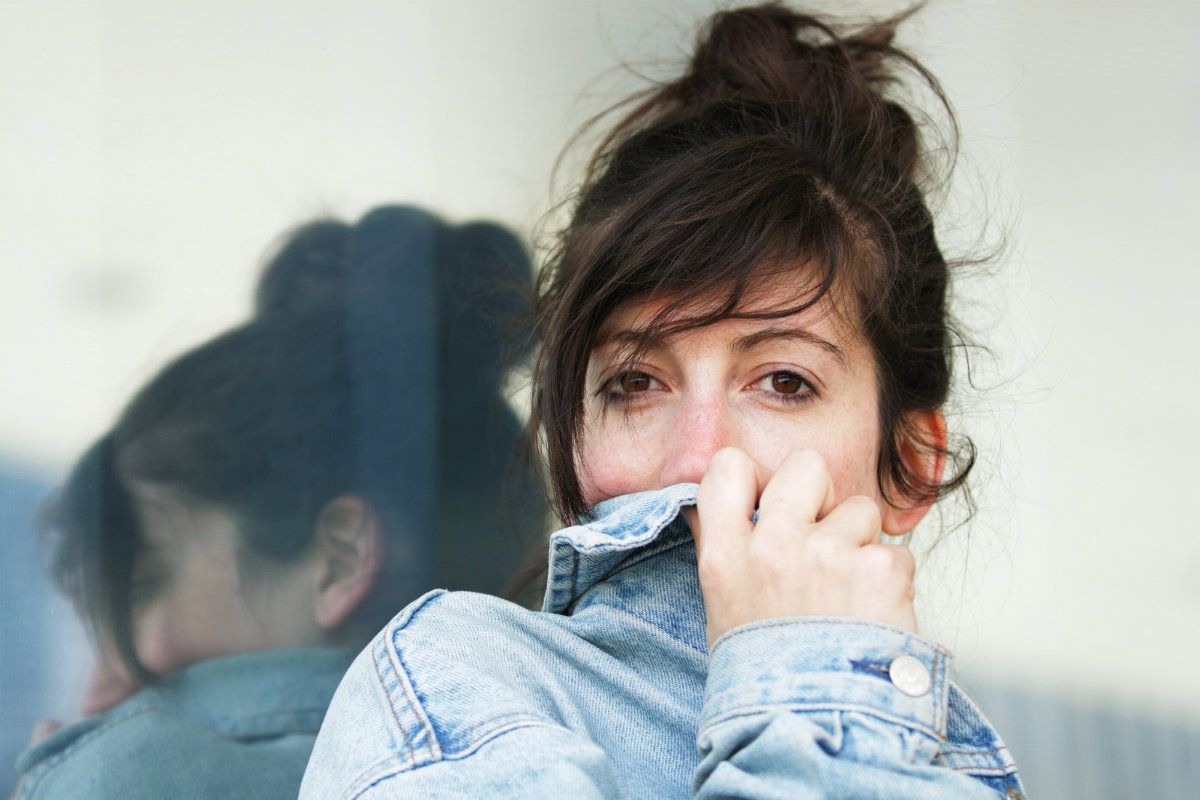 Victoria Long
"We wanted to avoid a direct reenactment of the story on screen," says Conway about the new video.
In "The Form of Space," one of many vignettes in Cosmicomics, journalist and novelist Italo Calvino dissects the relation of time and space through the narrator's perception of love. As he travels through space, he stumbles upon his admiration of Ursula, who happens to be moving parallel to him. But Lieutenant Fenimore has also grown an affection for Ursula, and the unnamed narrator wishes to be able to change space's form that he may get closer to Ursula. But his needless dreams are just that--stunningly futile. "Ursula, let me know the score," sings Lisa Conway in the psychedelic outfit L CON, also made up of Karen Ng, Andrew Collins and Jordan Howard, on a song aptly titled "Form of Space." The reinterpretation of the original 1965 text comes fully alive in a brand new visual, premiering today. "We wanted to avoid a direct reenactment of the story on screen, so we talked a lot about ritual, shifting bodies, our ability to alter our own course within the universe, relationships, and the concept of 'Ursula': the desirable, but forever unattainable," Conway tells Popdust.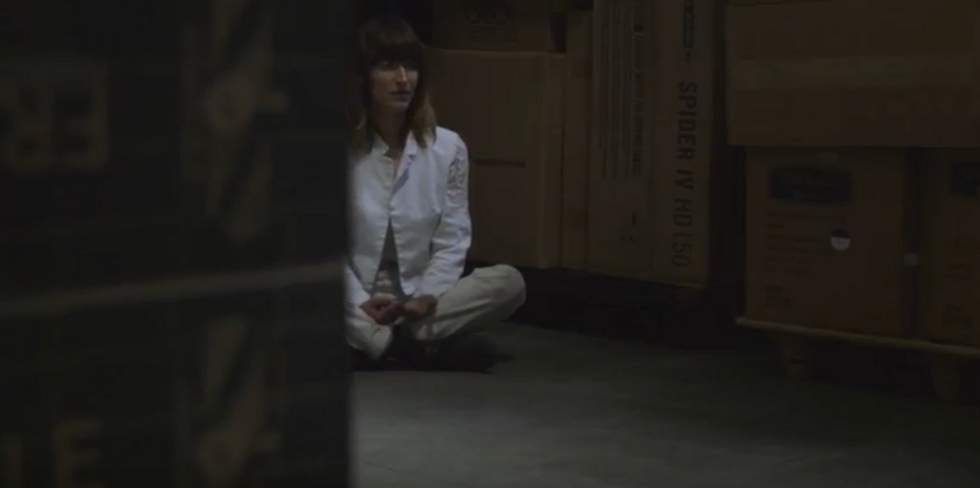 Screenshot
"I had an idea about an astronaut finding a mysterious VHS tape," she adds. Directed by Victoria Long and choreographed by Lindsay Roe, the video was set inside a large warehouse in Pickering, Ontario. "I was on set armed with snacks and helping out where needed. I'd love to direct something in the future, though." Filmed in the early days of December, the cold weather unwittingly influenced the video's cloudiness. "We had an incredible team, so our primary shoot day actually went pretty smoothly. It was...fairly cold. It even started to snow really heavily at the end, but the dancers were troopers."

"Of course, there was a lot of planning ahead of time. It was tricky to find the right location within our tiny budget, and scheduling a crew of busy people can be pretty daunting. This was very much an DIY independently produced affair, and we were very lucky to have such wonderful and generous people involved. It wouldn't have been possible otherwise," she continues. "Everyone was helping out to ensure everything happened according to plan. Kelly Paoli, the AD, constantly filled empty water bottles with hot water so that the dancers could warm up their hands. When we wrapped, and the snow was falling, a beautiful stag was spotted near the parking lot. Pretty magical."
Opening up on an astronaut uncovering a nondescript VHS, the video segues into "found footage" territory--but with earnestness and intensity pouring out of the bizarre physicality of the dancers. "I was aiming for a futuristic but nostalgic feel on 'Moon Milk,' something very much human but otherworldly, and that was important for us to encapsulate in the video. We wanted to create something that lived in its own universe, and let the video evolve on its own terms, rather than draw specifically from visual references, though I'm sure there's lots of things that subconsciously influenced our decision-making," Conway explains. "We were imagining the VHS to be a glitchy tape, almost slowly disintegrating throughout the video like it had a virus, which definitely inspired the direction of the projections, and the overall glitchiness."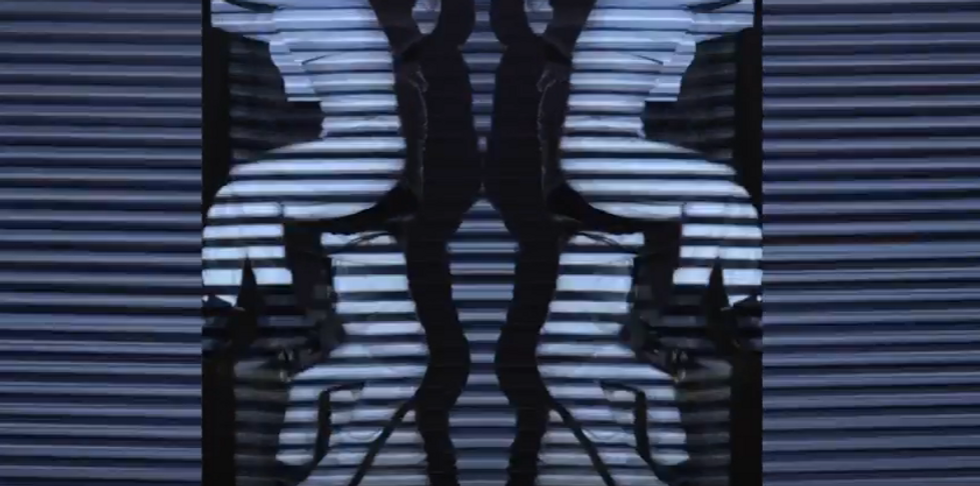 Screenshot
Even in the ending, after the astronaut ejects the tape, there is an uneasy tone permeating the screen. "The ending was Victoria's design: in her words, 'The opening and closing scenes represent a moment of decision for someone, pertaining to a relationship in flux.'"

Early last week, Conway took to Twitter, saying, "wanted to make a scrappy + punk rock record, spent all day meticulously editing all the drums." In fact, work is well underway for a followup to last year's peculiar and boundary-pushing Moon Milk. L CON are expected to drop a new album which began as an EP but "kept getting longer and turned into an album. I've been recording it primarily all myself at my studio out in the woods. It's definitely not as scrappy or raw as I initially imagined, but I'm pretty excited about it. The drums are sounding very tight and fantastic, post-gazillion hours of editing."
Moon Milk is out now on iTunes.
Watch "Form of Space" below:
---
READ MORE ABOUT MUSIC...
PREMIERE | Big Little Lions have never been "Better Than This"
LISTEN | Smoke Season live for the "Good Days"
LISTEN | Fickle Friends are stuck like "Glue"
From Your Site Articles
Related Articles Around the Web