Top Stories
The primetime vocalist sharpens her instrument on audacious, piano-bent new material for her Louder follow-up.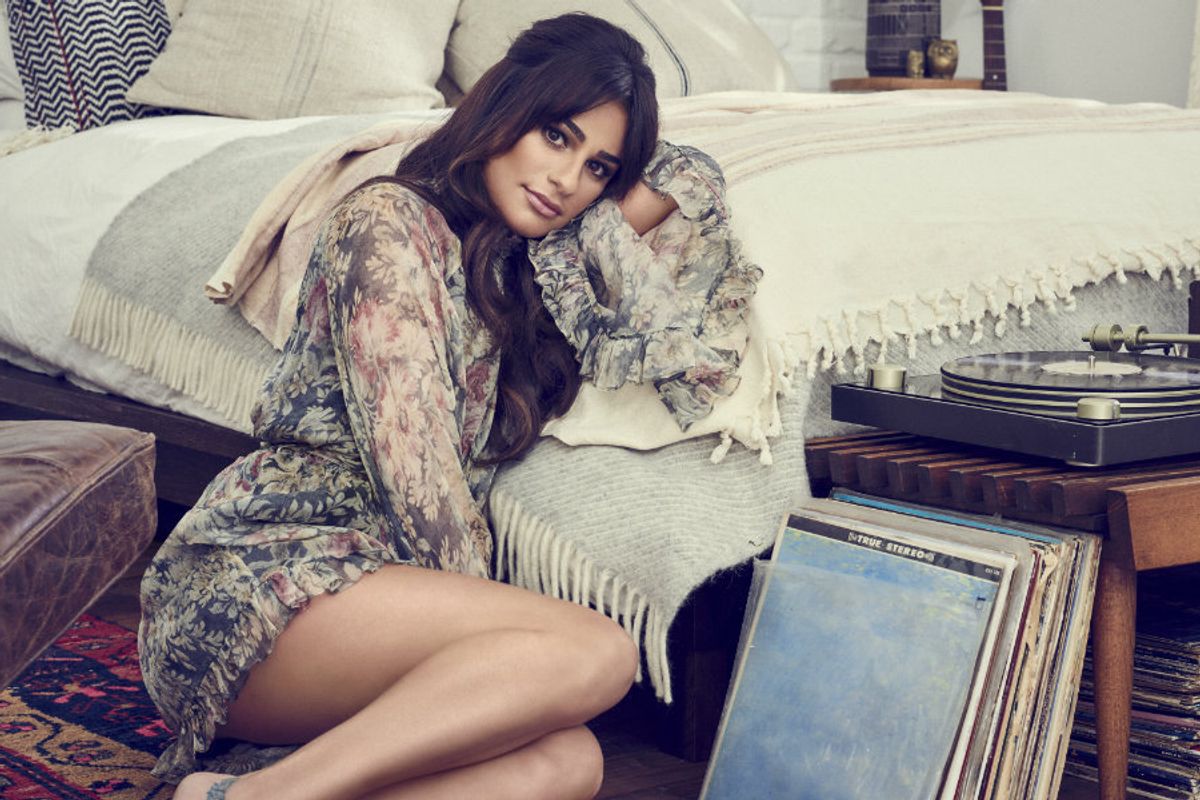 When you get an invite to music and chill with Lea Michele, the answer is always f*** yes. Embodying the spirit of resilient femininity and provocative theatricality, the singer--who stole our hearts as Rachel Berry on Glee and has since scared up a good time as a Scream Queen--commanded the room during a private album session on Wednesday evening (Jan. 25). Beaming from ear to ear, the singer surrounded herself with those (like me) who have been more than eager for her next musical chapter.
Her debut album Louder was released nearly three years ago, and looking back, it was undoubtedly a landmark release, brimming with a penchant for monumental balladry of the Celine Dion curve and her signature dramatic allure. It was a substantial and important pop album for many reasons, most of all, as the Broadway performer's fearless stake on a landscape devoid of pure singers of her caliber. Even revisiting in 2017, the wake of Cory Monteith's untimely and tragic death in the summer of '13 still feels like an enormous and inexorable weight, masking any trace of optimism or freedom--even on the uptempo Sia-penned "Cannonball," there is a dark cloud hovering overhead. There was (and still is) an unshakable sense Michele was in the thick of emotional upheaval that would take several more years from which to heal. Now, bright eyed and perfectly imperfect, the diva readies her long awaited follow-up, the aptly titled Places, and Popdust was present to hear select tracks from the release. In a word: stunning.
Michele has always known how to use her titanic instrument, layering on intricate details in a melody or constructing quirks into phrasing with profound precision. Moments like "Burn with You" and "If You Say So" are timeless, in their own right, and are scorched with otherworldly wisdom. But with her new set of barn-burners, she colors with extremes, balancing out the gloomier, greyscale shades with polarizing, but potent, vibrant splashes. Before playing any songs, she gave an impassioned spiel (albeit well-rehearsed) in which she discussed the creation process locked away in Hollywood's Harmony Studios; she kept the journey intimate, she explained, teaming up with two very strong women, Amanda Berman-Hill, her Sony A&R rep, and songwriter Alexandra Tamposi to help her craft the record. While her end-game was to curate a "universal" project, as opposed to the very directly personal and raw Louder LP, the themes thread together like a diary. She even "Taylor Swift'd" a scorned lover. Michele then sat back and let the music do the talking. The first song, sweeping Dion-sized ballad, might be Michele's strongest and most riveting vocal of her career--tears began to well up behind my eyes as the ache in her voice seemed to climb the treacherous slope of Mount Everest before tumbling back down again. If this ballad is not the album's lead single, we might have to sit her down and have a serious talk about her life choices.
The singer followed with a similarly-constructed piano ballad that stemmed from a glowing recollection of young love. It was carefree but tender. Reckless but succinct. Exuberant but solemn. The song is a reflection of those moments of escaping the high-life for alone time on open backroads--and probably blasting the radio, too. For the 30-year-old, the narrative is rich with magnificent nostalgia, heightened by the use of strings bellowing beneath her caramel-smooth lead vocal. As I got lost in Michele's dreamy story of the past, a smile curled softly on the edges of my lips. A rather uplifting moment.
The singer then presented her most ominous recording to-date, contoured with blustering strings which seemed to scold her as she profusely lamented the heaviness of a relationship. Her melodic choices, too, hinted at a vocalist coming into the prime of her life, as she flittered and floated across chords and progressions rather unexpectedly and feverishly. The moment seemed to be a primer for the Coldplay/"Fix You"-influenced track which came next--even on the outset, it was evident she was electrifying a melody which felt familiar yet refreshing. She might be on the edge of a huge cultural moment with this fourth track, and if it's not an official single at some point, fine, it'll find a life and bloodline of its very own online in the day of streaming. One of her most endearing anecdotes introduced the song; she's sent the song to numerous crushes, and one in particular, replied with a "way too theatrical" text--to which she replied "LOL theatrical." Because, duh. Have you even met her, bro?!?
Just when Places' storyline was becoming tangible enough to reach out and caress--as it turns out, it is love that serves as the driving force behind her new collection, the highs, the lows, the good, the bad...and the ugly--she whipped out the final album teaser of the night. The unfiltered and rise-from-the-dust anthem is packed with foot-stomping percussion and monstrous vocal to match the intensity which exploded into the air. It is a pop jam worthy of not only Michele's strengthening talents and excellence but for heavy rotation on every Top 40 radio station in the country. Songs like "Battlefield" and "You're Mine" from her debut are amateurs to what Michele now has aimed at our hearts. Places could be one of the year's finest pop masterpieces--and you can hold me to that.
Michele is going places, folks--sorry, couldn't help myself (the puns are endless).
Places is expected to drop later this year.
Hung out w/ @msleamichele + heard songs from her new record + of course it was awkward AF because I'm awkward AF an… https://t.co/znsBszClmY

— Jason Scott (@Jason Scott) 1485387246.0
---
READ MORE ABOUT MUSIC...
Premiere: Ryan Lafferty Photoshops "Already Embarrassing" Pics For "Here It Goes" Lyric Video
Premiere: Esh Rises Majestic In Her New "Killing Fire" Music Video