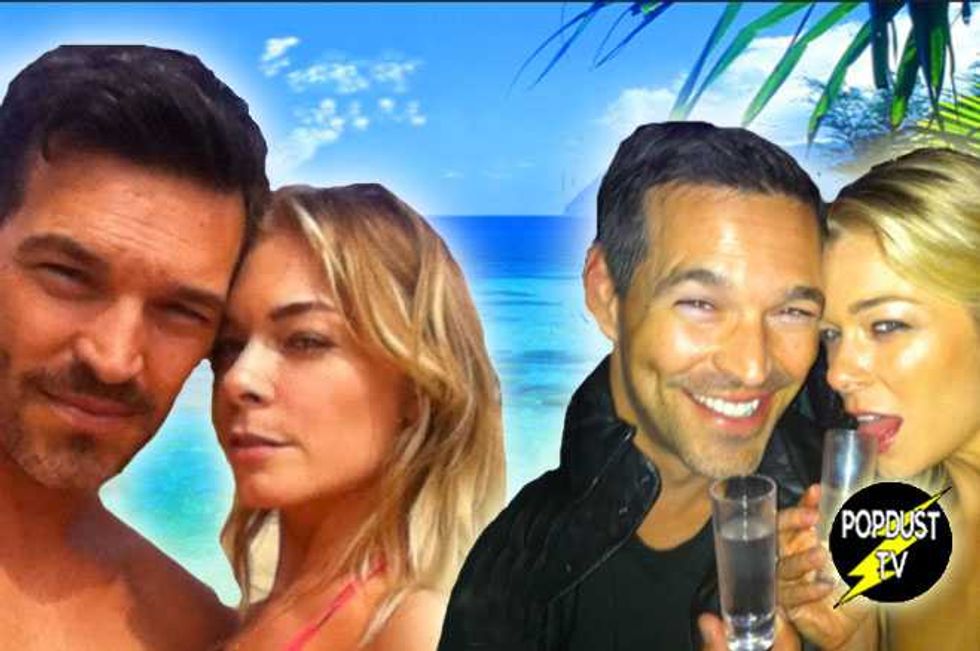 Well, that's all folks. The first season of LeAnn and Eddie has come to an end, and it couldn't have ended in a more disgusting/predictable way.
LeAnn Rimes and Eddie Cibrian take his parents and her mom and stepdad to Hawaii for a family vacay. As soon as they get to the hotel, things start going awry. They are all staying in a three bedroom suite and the parents hijack both rooms with an ocean view, leaving LeAnn and Eddie with two single beds and a parking lot view. Do they actually expect us to believe this crap?
The next day, everyone is discussing what the plan is for the day. LeAnn and Eddie pretty much want to lay on their asses and relax, but the parents want to do actual Hawaiian vacation shit. But before they even get started making plans, LeAnn's mom blurts out that she's having a virgin Piña Colada because she doesn't drink alcohol and she never ran around on her husbands. HUH?!? Was that a major dig at your daughter, because if so that's freaking HILARIOUS!
Later Eddie announces to the parents that LeAnn's off birth control, but they're not necessarily actively trying. This is apparently news to LeAnn as is evident by the evil death stare she gives him. What LeAnn doesn't seem to realize is that Eddie's already made two kids, so he's well aware that the timing of sex is key. From the sounds of it Eddie thinks they were having sexy time when the baby rides were closed.
Anyway they all decide to go paddle boarding and then cage swimming with sharks, both of which LeAnn is not excited about. At lunch while Eddie is in the bathroom, LeAnn reveals to the group that she's nauseous, her boobs hurt, and her period's late…but not to tell Eddie because he doesn't know. Seriously? You just told your step dad and father in law you might be pregnant before you told your husband? Are you drunk?
The next day while the parents are out secretly buying pregnancy tests, LeAnn and Eddie get some alone time horseback riding. She questions him about whether or not he's really ready to have a baby, and he literally doesn't answer for what seems like an eternity. Eventually he says that of course he can't wait to have a baby with her even if it's now. He might be a better actor than we all think.
They also discuss how "Crazy" (Brandi Glanville) is going to react when they have a baby. Umm, probably not well! And also, Brandi sure does come up a lot in a show that's only supposed to be about the two of them. LeAnn is also worried about having a blended family and making sure all the kids get along and love each other. #AdulterousStepmomProblems
Back at the hotel, as the entire family is gathered around the table, LeAnn pees into a wine glass to take the pregnancy test. A WINE GLASS, PEOPLE. Surprise, surprise it turns out she's not pregnant. Eddie seems relieved and apparently so is LeAnn who's happy she can now go drink. Be sure to wash that glass first.
What did you think of LeAnn and Eddie's season finale? Sound off in the comments below!