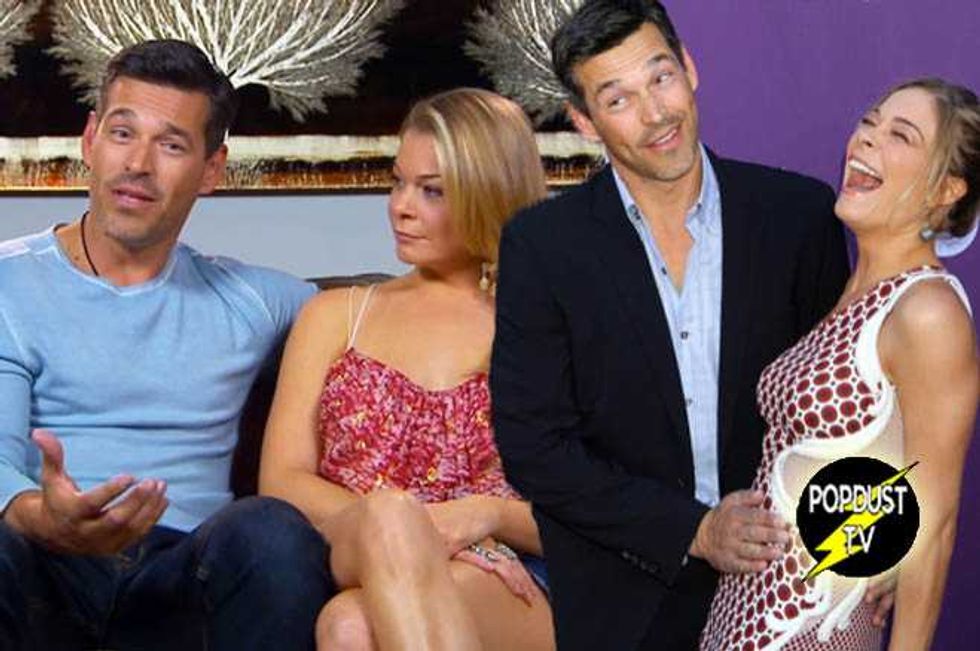 LeAnn and Eddie is like the modern day reality TV version of I Love Lucy--a hot husband and a crazy wife always getting into trouble with her best friend.
It turns out LeAnn Rimes is designing a line of clear, security safe handbags. First of all, there's not a whole lot to design here...it's clear. Secondly, who wants to walk around showing the entire world their shit. Is it really that much of an inconvenience to let a security guard do a split second check into your bag? Apparently LeAnn's answer is yes.
Anyway, she and her friend Liz come up with an idea to use the paparazzi for publicity and they stuff the bag full of the trashiest stuff imaginable, including a giant dildo. While at lunch pulling this publicity stunt, they run into a friend named Stephanie who is very involved at the kid's school. LeAnn is mortified that Stephanie will think badly of her because of the shit in her purse, and her suspicions seemed to be right when Stephanie called to cancel a playdate with Eddie Cibrian's kids. Later LeAnn finds out that the reason Stephanie canceled the playdate was because she had morning sickness. She really couldn't care less about the big silicone penis in her bag and all is right in LeAnn's world.
Well, except for the fact that she left Eddie to design his own media room/man cave. That's right folks...in their entire house Eddie gets to make some design decisions for one whole room! That's a nice long leash you're on there, Eddie. He was getting a little pissed that LeAnn didn't take any of his advice when decorating the house, so he intentionally tried to make the room look hideous. His plan worked because that room was AWFUL. We're talking elephant butt chairs and wiener dog bookends. When LeAnn walked in, she was underwhelmed to say the least but she actually didn't raise as much hell as you'd expect. Eddie eventually decorated the room for real (with the help of an interior decorator) and it turned out very 'Malibu Househusband.'
What did you think of LeAnn and Eddie? Sound off in the comments below!