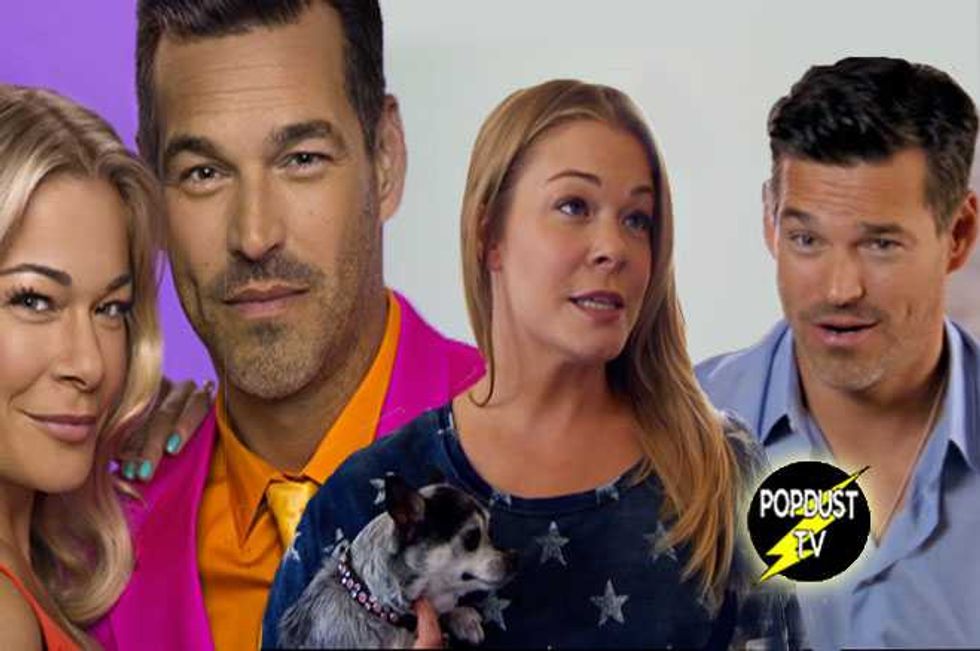 LeAnn and Eddie might just be the best of the worst shows on tv because you can literally just shut your brain off for 30 minutes, sit back and enjoy watching these two thespians act like they're not acting.
This week, LeAnn Rimes goes to lunch with her on again, off again mother and they get on the topic of fertility. LeAnn starts to worry that since she's 31 and since her mom had fertility problems maybe she does too, so she decides to tell Eddie Cibrian that she scheduled an appointment with a fertility specialist. But wait, there's a fly in the cocktail! Leann also scheduled a doggy therapy session for the pooches, so Eddie  unenthusiastically volunteers to do therapy with them.
The doggy therapist lady is a piece of work who, according to her, Oprah calls a "life coach for dogs." Gag. Really, you're not there for two minutes and already you're namedropping Oprah?! Anyway, she says that the dogs are stressed out and she basically teaches Eddie how to calm the dogs down by giving them treats. Bravo!!!!!! You figured out that dogs like treats. Absolutely genius.
Meanwhile across town, LeAnn sits down with the fertility doctor who tells her that women begin having fertility problems as early as their late 20s. Well that's fucking depressing. She decides to have every fertility test under the sun done, then has to wait a few days for the results.  To help pass the time, she takes a hip hop class with her friend Liz, who confides that when she was trying to get pregnant she had an early miscarriage. So now not only is LeAnn worried about getting pregnant, but also losing the baby once she is pregnant.
Eventually, LeAnn gets a call from the doctor and finds out that her AMH level (how many eggs she has left) is on the lower side of normal and that she and Eddie shouldn't put off having kids much longer. Leann suggests to Eddie that maybe she should go off birth control…SCREEEEEEECH!!! Somebody pump the brakes because Eddie is clearly not down. "How long does it take for birth control to get out of your system," he asked. Uhhhh, not 5 years Eddie. LeAnn makes a good point saying she'd be more pissed off about not being able to have a baby than having it too early, and Eddie agrees that they can start trying. ATTENTION AMERICA: LEANN AND EDDIE ARE OFF BIRTH CONTROL! YOU HAVE BEEN WARNED.
What did you think of this week's LeAnn and Eddie? Sound off in the comments below!