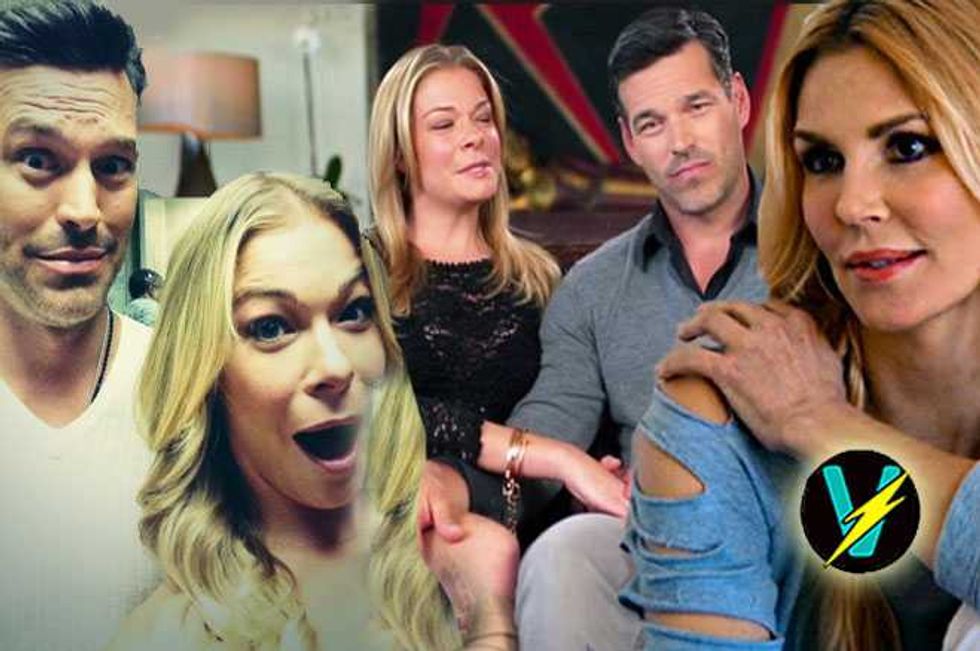 LeAnn Rimes still manages to surprise us all with her craziness, but there's one thing that's never surprising—and, in fact, is pretty much a sure fire guarantee—and that's that she and Eddie Cibrian will find a way to bitch about and bash Brandi Glanville at any opportunity.
Thursday night's episode of VH1's must watch reality TV trainwreck, LeAnn & Eddie, was no different, as the catty country singer's husband wined and carped about his ex-wife—and mother of his two children—while getting his hair cut.
"I mean, you'd think that my ex would be incredibly excited that I'm with someone who loves the kids like they're her own," the 41-year-old actor said in a staged conversation with his hairstylist, Mike, in reference to comments Brandi made, admitting she is still in "pain" seeing LeAnn with her kids.
Yeah, Eddie, what person WOULDN'T be "incredibly excited" about her ex being with someone who loves her kids "like they're her own"... especially when that someone is the person who had an affair with your husband, leading to the breakdown of your eight year marriage?
Hmmmmm....
Onwards! Time for more Brandi bashing!
"Is she dating?" Mike asked, in between snips. "Ha! Would you date her?" Eddie sneered, in a quip from the barber's chair that cut deeper than Sweeney Todd's blades.
Cibrian didn't stop there though, oh no!!! He continue to slam the Real Housewives of Beverly Hills star even more later in the show.
"I have no idea what my ex wife is up to, I mean we communicate a bit over email about the kids, but that's it…I hope she finds happiness, maybe that way she might stop talking s***. But I doubt it."
What's that saying? Something about people who live in glass houses....?
Meanwhile, LeAnn was busy focusing on something other than just herself (kind of) for one shocking moment—having a celebrity spawn of her own with Eddie.
"Baby, baby, baby, I'm excited," she giggled as she hung out with best friend Chrissy and her baby "Lil Bit."
Watch video below for a glimpse of Rimes and Cibrian in action—and, if you can stomach it, tune in to VH1 Thursdays at 10.30/9.30 central to catch all new episodes of LeAnn and Eddie