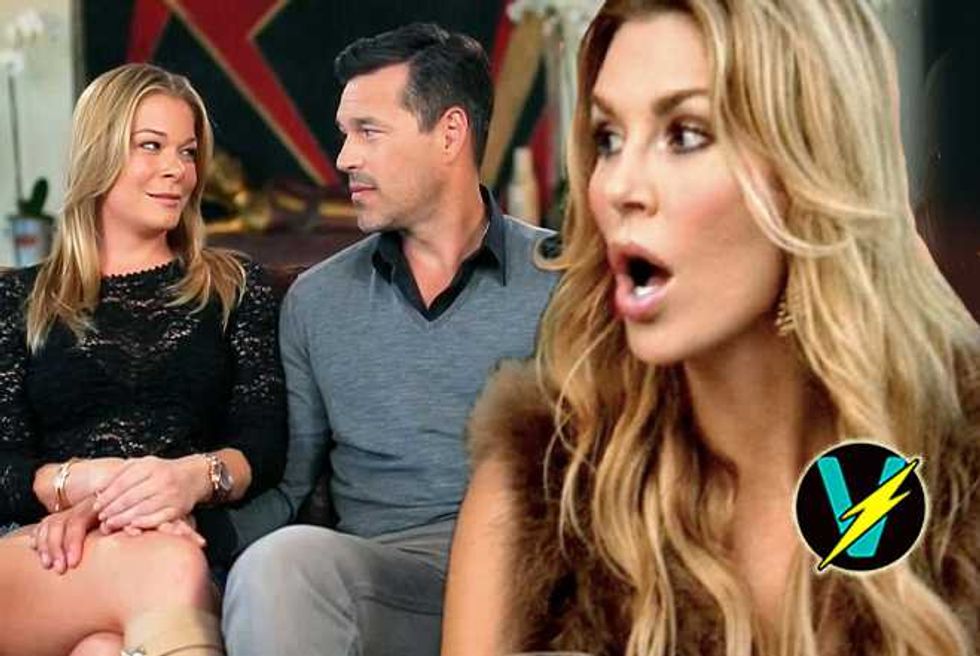 Be left in no doubt, LeAnn Rimes and Eddie Cibrian just LOVE LOVE LOVE each other…..OK?!!
Now, take a guess at who they DON'T love? Hmmmm…. tough one…. Eddie's "mouthpiece" ex-wife Brandi Glanville, perhaps?
Yeah, that's fairly safe to say, judging by last night's cringe-worthy premiere of the couple's new reality TV show, imaginatively titled, LeAnn and Eddie.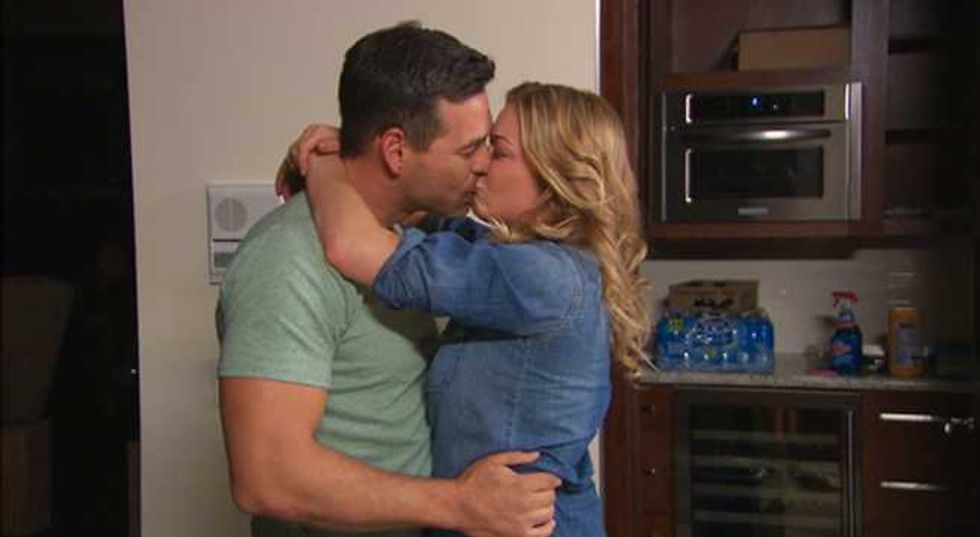 It's ALL about the LOVE for LeAnn and Eddie...
Rimes and Cibrian spent an inordinate amount of time gushing about their love for each other and shooting down tabloid reports that they are heading for a divorce as "laughable."
Oh, and when it comes to Cibrian ever reuniting with Glanville—who, let us not forget, is the mother of his two sons—he made his feelings about that absolutely crystal clear.
"The likelihood of Brandi and I getting back together would be slightly above a sighting of Bigfoot and slightly below an actual zombie apocalypse," he said.
So that's a no then Eddie?
Meanwhile, LeAnn was in full on LeAnn Rimes mode throughout the show, beseeching Eddie to clear up those pesky split rumors by gushing to reporters on the red carpet they are heading to about their amazing relationship—and then sulking like a moody teenager when he refuses—but still managing to squeeze a Brandi Glanville barb in for good measure.
"Well, it's unfortunate that we have a third party in this situation that's just a mouthpiece," Rimes snapped. "It doesn't matter if we say anything because she'll keep blabbing about it."
"I don't want to give anyone the pleasure of it playing out in the media," Cibrian responds—ON CAMERA FOR HIS REALITY TV SHOW—without even the slightest hint of irony.
Bless….
Guess you really can't be that good looking AND smart, can you?
While cuddling lovingly on the sofa, the two launched their on-camera image rehab offensive—addressing the controversial circumstances of the start to their relationship—all while lurid tabloid headlines referencing their affair flash across the screen—with a "BRANDI CHEATED FIRST" front cover thrown in for a bit of "balance," natch.
"Our relationship didn't quite start off like we had planned," a smiling Rimes says.
"We were both married to other people when we fell in love," Cibrian explains sheepishly. "And I know most of you think my wife is a homewrecker and a stalker."
"You're forgetting alcoholic, pill popper and children stealer!" Rimes interjects. "And you're also a moocher, you have no job, and you married me for my money."
"Look, everyone thinks they really know how it is with us," Cibrian charges. "But there's two sides to every story — and this is ours."
At the end of the show, the two jump out of a plane for some charity or other (while attached to working parachutes, unfortunately) before carping on about their relationship AGAIN.
"I love Eddie so much I would jump out of a plane and die for him, but the tabloids would probably say he pushed me out for my $50m," says LeAnn.
"I would still love you if you were worth $10m," vows Eddie.
"I would still love you if you were old and fat," vows LeAnn.
"Who are we kidding?" Eddie asks as they both burst out laughing.
Ah! Now THAT'S Amore!
LeAnn and Eddie airs Thursdays on VH1 at 10.30/9.30 central.
For the best deals on LeAnn Rimes tickets visit TiqIQ.com