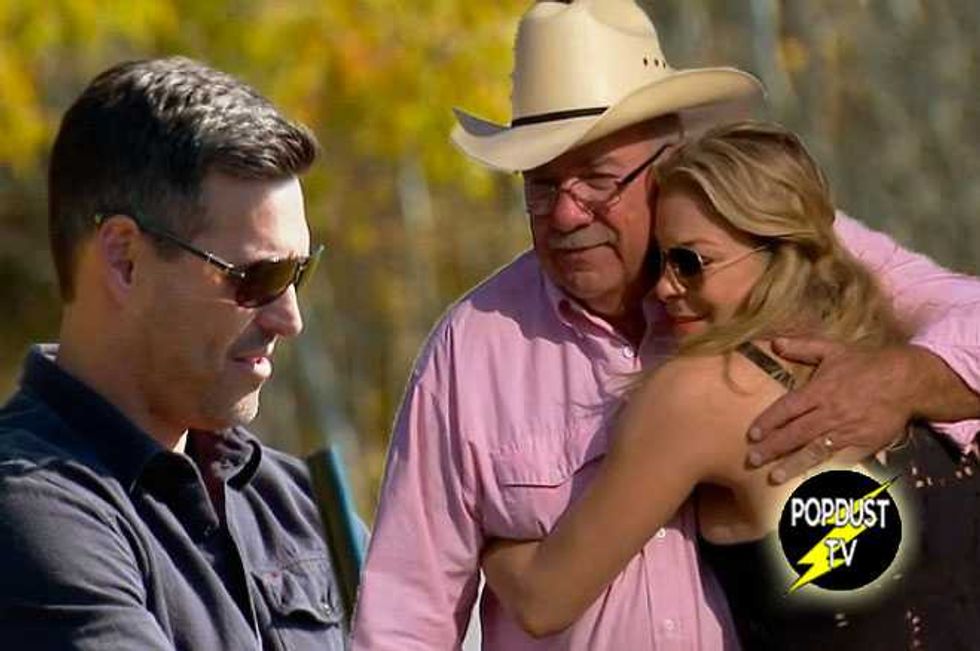 The LeAnn and Eddie trainwreck rolled into Lebanon Tennessee last night.
The couple ventured to "Cowboy Country" so Rimes could make peace with her father, Wilbur—and of course, further emasculate Cibrian whilst she was at it.
Fabulous! A twofer!
LeAnn and Wilbur have enjoyed a fractured relationship, to say the least. LeAnn sued her father back in 2000, claiming he, and her former manager, had mismanaged her career, costing her millions. They eventually settled the lawsuit but, not surprisingly, things are still a little awkward between the two.
"Some people never get over that kind of falling out," explained wise old Rimes before vowing to make her dad "happy."
Always thinking of others that LeAnn!
On the journey down South, LeAnn voiced her concerns that Eddie would be like "a fish out of water" and "a deer in the headlights"… and sure enough, her fears were realized.
The writing was on the wall the minute clueless Eddie announced his fail proof plan to win over his testosterone filled father-in-law.
"In the south there are two types of respect you can get from your father-in-law, respect based on how well you treat his daughter and the cowboy respect. I'm looking for the cowboy respect," he explained.
Yeah, good luck with that buddy.
First on Cibrian's cowboy respect winning agenda was shooting practice—unfortunately, poor Eddie was absolutely resoundingly thrashed by LeAnn's 11-year-old nephew, and pretty much crapped out at hitting a single target.
Then, after boasting he "could make horses dance" the 41-year-old was promptly thrown off his stallion.
Next up, Eddie failed miserably at rodeo—as he attempted time and time again to lasso a fake cow.
Never mind Eddie, your loving wife is always there to make you feel better, yeah?
Nah, not so much. After showing him how it's done by lassoing the target first time, LeAnn made sure to let Eddie know his real strengths—and place—in life, by getting him to carry her handbag for her.
Ride 'em cowboy!
Meanwhile, it really wouldn't be an episode of LeAnn and Eddie without some waterworks from Rimes—and, sure enough, LeAnn was predictably overcome with emotion after performing one of her songs at the Grand Ole Opry in Nashville, in front of her hubby and dad.
"It's the first time that my dad has seen me perform in a long time, that got me nervous, I just hope he enjoyed it," she blubbed. "I feel like a little girl again, just trying to make my dad happy."
Quick final, rousing, rendition of Jesus Loves Me on the Rimes family porch and it was, thankfully, all over once more… until next week.
LeAnn and Eddie airs Thursdays on VH1 at 10.30/9.30 central.
For the best deals on LeAnn Rimes tickets visit TiqIQ.com