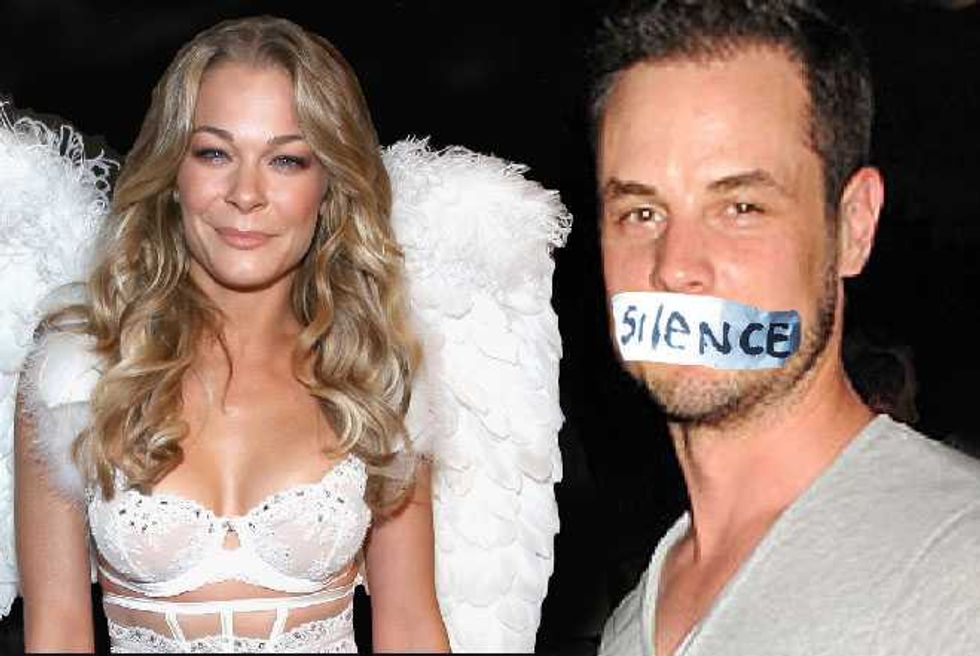 leann rimes ex husband LeAnn Rimes REALLY Doesn't Want Her Ex To Spill Any Dirty Secrets
LeAnn Rimes ex husband, Dean Sheremet, has been sent a legal letter from the singer's lawyers, ordering him to keep his mouth firmly shut.
The former backup dancer-turned-chef, is gearing up for a publicity tour, to promote his new cookbook, and it appears Rimes is more than a little concerned over what dirty little secrets her ex may spill.
Once You See LeAnn Rimes And Eddie Cibrian Twerking You Can't Unsee It
As Popdust previously reported, Sheremet has remained pretty tight lipped when it comes to their messy break-up, seldom speaking out about the cheating scandal that ended their 7-year-marriage—and, it turns out there's a reason for that.
Do as Rimes says, not as Rimes does
Although Rimes is more than happy to share her side of the story, over and over again, via numerous interviews, tweets, and her short lived glorious train wreck of a reality show, she doesn't want to afford her ex the same privilege—which is pretty much par for the course when it comes to the 33-year-old's track record.
Brandi Glanville Gets All Zen And Shit, Sends Love To Leanne Rimes
Let's face it, if there's one thing Rimes' ongoing public feud with Brandi Glanville has proved, it's that she loves to dole it out, but really does NOT like to take it.
So, sure enough, she runs to her attorney in a bid to stem any bad publicity. However, as is often the case with Rimes, her scheming backfired, as Sheremet shared her attempted gag order with the press.
Oh snap!
LeAnn Rimes Openly Mocking Brandi's Kids Now—Stepmother Of the Year!
LeAnn Rimes ex husband STFU!
In Touch has a copy of the letter, which reminds Sheremet of the confidentiality agreement he signed as part of their divorce settlement, chides him for daring to speak out last year about his ill-feted relationship with Rimes, and threatens him with legal action should he do so again.
STFU Dean Sheremet!
LeAnn Rimes Photoshopping Herself Into Eddie Cibrian's Family Pictures?
It reads in part:
Last year you gave some interviews that we believe were clearly stepping over the confidentiality line imposed by Paragraphs 14.1.1 and 14.3.1. LeAnn chose to not pursue legal remedies at the time in the hope that there would be no further violations of your agreement.

However, it now appears that your book coming out on February 8, and the publicity and marketing associated with it, will certainly once again violate these paragraphs.
The attorney then attempts to pretend that Rimes isn't just a self-centered narcissistic control freak
LeAnn has no desire to interfere with your ability to earn a living as a professional chef. That ability, however, cannot be tied to any more discussion of your former relationship with LeAnn, on any level.
He then demands an advance copy of the book, and warns Sheremet that neither of them is allowed to describe "any party or the marriage or the relationship of the parties" in public.
LeAnn Rimes' Obsessive Stalking Of Brandi Glanville Is Getting Scary
Something Rimes clearly feels it's OK for her to do—she even sang about her marital drama, and her affair with Eddie Cibrian, who was married to Glanville at the time, in a number of songs on her album, Spitfire.
Just prior to the album's release Rimes talked to the Daily Mail about one of the songs in particular, Borrowed
It's definitely been a turbulent four years and to say I've been on several rollercoasters is an understatement.

Obviously, [my affair with Eddie] was a very controversial topic to write about, and as hard as it was for me to write [Borrowed], I think it painted at true picture of that situation,.

I wasn't being hard on myself when I wrote it—that line about feeling pathetic is just true—but I wanted to describe a very stark moment in my life.

You just feel in completely limbo and I felt guilty too; it wasn't pretty at all. But I made my choices and I'm living with them. I know I'm not the first person to go through it and I won't be the last.
In a NY Post article, titled, "How cauliflower helped me get over LeAnn Rimes" Sheremet attempts to lay out his argument for why his book isn't about LeAnn Rimes, all while talking about LeAnn Rimes.
LeAnn Rimes Continues Campaign To Be Most Disgusting Person On Earth
Bear with us here.
I would try to be her manager, director, creative consultant, friend, lover and husband all at once. I was always trying to advance her career and I could never turn it off. It ended up consuming us.

Looking back, it seems crazy we married that young. You don't know who you are at that point.
He continues:
"It's not a revenge cookbook," says Sheremet, who finalized his divorce in 2010. "It's more about eating real, nutrient-rich food rather than dieting."

After years of eating poorly on the road with Rimes, his first days in New York were far from virtuous.

"I was partying, eating and drinking too much," he recalls.

But cooking his own food and developing these recipes — including cauliflower steak with romesco sauce — helped him recover from the mental trauma of divorce.

"I had no idea that the knowledge that my grandmother gave me as a kid would save my life," he says.
The article concludes:
He describes his relationship with Rimes as "cordial" but admits they don't keep in regular contact. "I ran into her one time in Laguna Beach, [Calif.,]" he says.

"I saw my wife was talking to someone, but I couldn't see who it was and, sure enough, it turned out to be LeAnn. My wife just introduced herself and they started talking. She's ballsy, but it was one of the weirdest moments of my life!"
Meanwhile, showing a lack of self-awareness to rival even even that of his ex-wife's, Sheremet insists he's "over" Rimes and urges her to move on.
LeAnn Rimes Makes Peace With Dad, All While Further Emasculating Eddie Cibrian
The lawyers wanted to know what details I included about LeAnn [in my book] . I just don't get it. She already killed my happiness the first time around. [It's like], 'Move on already, LeAnn. I've moved on!'

I worked very hard on this book and I'm proud of it. I'm on people's radar because of my past with her. I can't erase my past; I referred to it and was very respectful. I'm not the one who cheated.
Just to clarify how much he's over all the Rimes drama, Sheremet made sure to focus his entire book premise around her, along with his marketing campaign.
LeAnn And Eddie Trainwreck Keeps On Rolling—Yet More Brandi Bashing
The official synopsis for Eat Your Heart Out, reads:
When Dean Sheremet's marriage to LeAnn Rimes went up in smoke, he decided to put his life back together, recipe-by-recipe. And it worked.
Is it just us, or are all these people bat shit crazy?
For more entertainment, world, music and pop culture updates and news, follow Max Page on Twitter