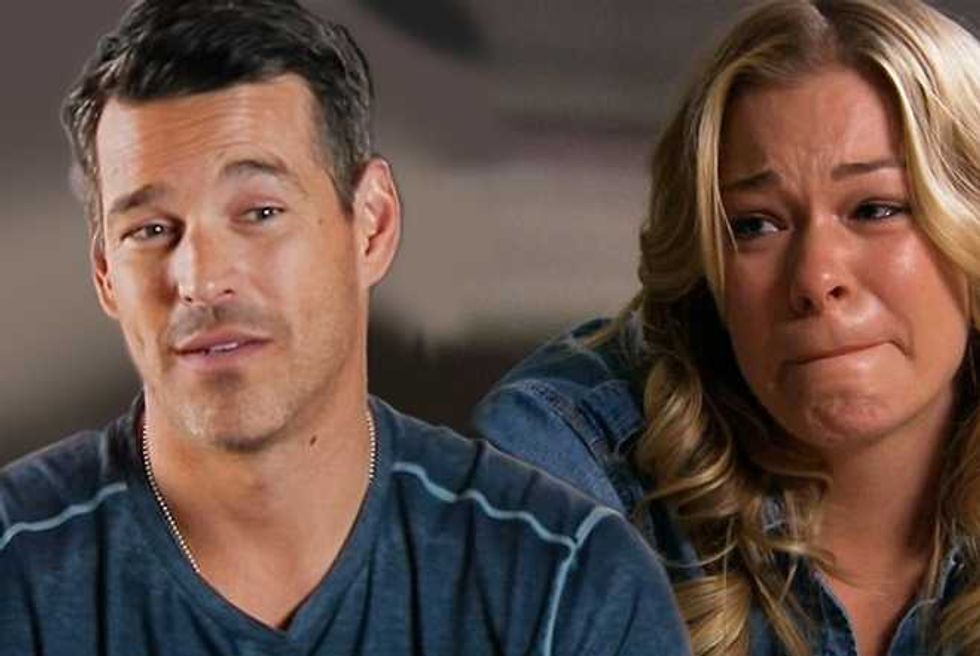 LeAnn Rimes broke down in tears after hubby, Eddie Cibrian, turned down an amazing acting role just to keep her happy.
The 31-year-old cried with joy after Cibrian revealed he had rejected an offer to appear on the TV show, Dallas—which would have meant filming in Texas for seven months with trips home every third weekend— so he could stay close to her.
Rimes' weeping was caught on camera for her new reality TV trainwreck, LeAnn and Eddie, which aired last night.
Cibrian broke the happy news to his wife-of-three-years after she arrived back home to their Malibu mansion after a night out dancing with her pals in LA.
"I have made my decision. I am going to pass [on the Dallas role]," Cibrian announced.
"Really, are you okay with that? The last thing I want is for you to be resentful of the situation," an ecstatic Rimes replied.
"I am totally okay with it. Even if they could have worked it out it would have still been very difficult. There is no way that I could do it," Cibrian answered.
"I know you need to feel fulfilled, you love what you do and it breaks my heart to see that you have to compromise as much as you do to be honest," Rimes replied—convincing absolutely NO-ONE but herself (maybe) and gullible Eddie (perhaps).
"To me it is completely worth it," Eddie vowed, continuing, "I'm at peace with it, you know family is more important to me. Another job will come around that is better and that is here."
Cue stomach-turning make-out session.
For the best deals on LeAnn Rimes tickets visit TiqIQ.com