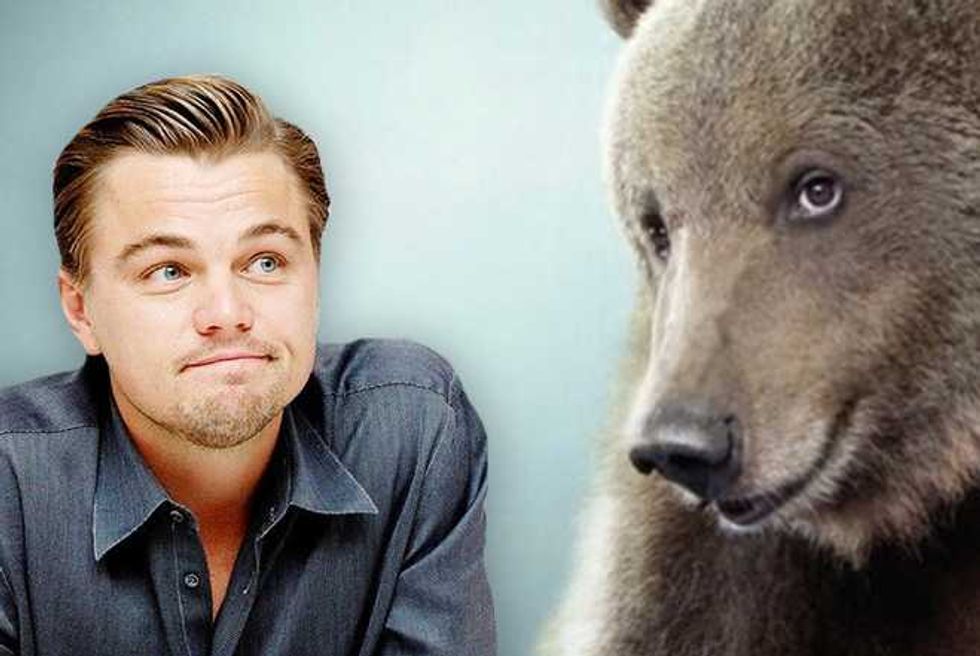 leonardo dicaprio raped bear
Leonardo DiCaprio would like the world to know that he has NOT been raped by a bear—OK?
The crazy rumor sprang up earlier today, courtesy, right wing nut-job conspiracy theorist web portal of choice The Drudge Report.
Ever Wondered What Leonardo DiCaprio Is Like In The Sack? Bobbie Brown Will Tell Ya!
With, in ever tasteful and sensationalist Drudge Report fashion, the headline:
DICAPRIO RAPED BY BEAR IN FOX MOVIE
But hold on, DiCaprio being raped by a bear isn't quite sensationalist enough for the good old Drudge Report—oh, no siree!
Saudi Millionaire Beats Rape Charge, Claims He 'Fell Into' Teen's Vagina
So, they go on to claim the actor is raped not once, but twice, by the bear!
The new movie 'REVENANT' features a shocking scene of a wild bear raping Leo DiCaprio!

The explicit moment from Oscar winning director Alejandro Inarritu has caused maximum controversy in early screenings. Some in the audience escaped to the exits when the Wolf of Wall Street met the Grizzly of Yellowstone.

The story of rural survivalism and revenge reaches new violent levels for a mainstream film.

The bear flips Leo over and thrusts and thrusts during the explicit mauling.

He is raped -- twice!

Not to be outdone, DiCaprio rips open a horse and sleeps naked in its carcass!
Leonardo DiCaprio Gets The Most Pussy In His Posse—But Then You Knew That Already
Several major news sites immediately picked up the story and ran with it, and, before we knew it, poor DiCaprio had unwittingly become a wild bear rape victim.
As the story continued to gain traction throughout the day, Fox studios, who are releasing the movie, saw fit to shoot down the bizarre rumor—releasing a statement to the media.
The bear in the film is a female who attacks [Leo] because she feels he might be threatening her cubs ... there is clearly no rape scene with a bear.
You got that people? No wild bear rape for DiCaprio.
Leonardo DiCaprio Opens Up About a Childhood Filled with Junkies and Prostitutes
The Drudge Report story appears to have stemmed from a review of the movie by Roger Friedman, which he posted on his blog Showbiz 411—and, heaven only knows what goes on in poor Roger's head, because he swears he definitely saw some bear lovin' going on.
"The bear flips [DiCaprio's character] over on his belly and molests him– dry humps him actually– as he nearly devours him," he writes.
Kate Winslet On Leonardo DiCaprio—Was There Real Romance During Titanic?
"How Innaritu and DiCaprio did this is a movie mystery because it is as real feeling as Bruce the shark in Jaws 40 years ago. It's as real looking as it could be, and maybe the most frightening moment I've seen in a film in eons."
Frightening indeed—bear raping, not so much.
However, DiCaprio did go to pretty extreme lengths to portray 1800s, legendary frontiersman Hugh Glass, in the Alejandro González Iñárritu-directed film.
Leonardo DiCaprio Welcomes Robin Thicke Into The Folds Of His Pussy Posse
How extreme?
Well, although he didn't engage in any bear rape activities, he DID sleep in animal carcasses, risk hypothermia by submerging himself in frozen rivers, and eat raw bison liver.
Leonardo DiCaprio Dances Like Your Dad....Your Dad At Coachella....On A LOT Of Acid 
By hook, or by crook, DiCaprio IS going to win an Oscar—GODDAMMIT!
For more entertainment, world, music and pop culture updates and news, follow Max Page on Twitter