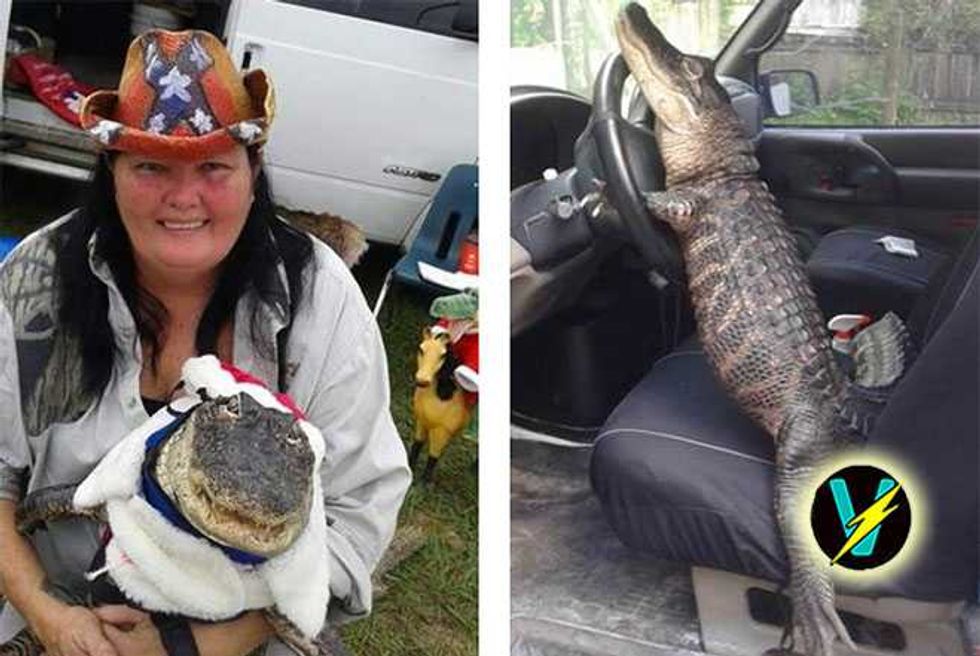 florida woman pet alligator rambo Let This Florida Woman Keep Her Pet Alligator Rambo, Goddammit!
A Florida woman is fighting for the right to keep her pet alligator, Rambo.
Mary Thorn adopted the gentle giant 11 years ago, along with four other gators.
The five reptiles had been kept in a cramped closet for the first four years of their lives, and were ultra-sensitive to light and frightened of other animals.
Florida Pro-Gun-Nut Mom Shot In The Back By Her 4-Year-Old Son
Six feet long
florida woman pet alligator rambo
Sadly, Rambo was the only survivor, but he's flourished under Mary's gentle care, growing to six feet long.
Because of his sensitivity to sunlight, Thorn keeps Rambo inside most of the time and dresses him in specially made clothes when he ventures outside, to protect his skin.
Florida Man Charged With 'Throwing Alligator' Into Wendy's Restaurant
Rambo understands sign language, loves to dress up, and is even potty trained—performing a wriggly dance when he wants to go outside to relieve himself.
Loves kids
florida woman pet alligator rambo
Thorn taught Rambo not to bite, or to swat his tail, and he's popular with children—Mary takes the gator to local schools to teach kids about reptiles.
Florida Man Locked In Trunk Gets Busted For Possession
However, Florida officials are now threatening to take Rambo away from Thorn, as law states alligators of his size must be kept outside, on at least 2.5 acres of land—and, Thorn doesn't have that much land.
She's now petitioning to keep Rambo, explaining that he's one of the family and just a big old softy.
Florida Man Eaten By Alligator While Hiding From Police
Gentle giant
florida woman pet alligator rambo
Thorn tells the NY Daily News:
He's like my son. He's my family. He's not a normal gator. He has never been a normal gator.

We tried treating [the four other alligators I adopted] like gators, and one-by-one, they died. So then with Rambo, we stopped treating him like a gator. We held him and kept him inside, and he got through it.

He watches TV on top of my dogs. People get along with him, kids love him. Brand new babies have sat with him to do pictures.

When there's kids around, he doesn't want to hurt them even by accident, so he closes his mouth real tight so the kids can't get their fingers inside. He's never hurt anyone.
Thorn explains that she and Rambo are now inseparable, and that he waits at the door for her to return whenever she goes out without him. And, he gets anxious if she is gone too long.
Florida Cop Drunk At Drunk Driving Conference
Kiss of death
florida woman pet alligator rambo
Mary is scared Rambo will perish if he is taken away from her—fearing his sensitivity to sunlight and terror of other reptiles will be the kiss of death for the now-15-year-old.
She fears that even professional reptile handlers would not be able to provide the care and love that Rambo needs.
Florida Woman Accidentally Glued Her Eye Shut
Thorn tells the NY Daily News:
They'll treat him like a normal gator, and he'll be dead in weeks.

If he gets put in a tent with other gators, they'll eat him.

His immune system is low — other gators will go after sick gators.
Sign the petition!
florida woman pet alligator rambo
There's more details about Rambo on Thorn's Change.org petition:
11 years ago, Rambo was adopted by Mary Thorn of Lakeland, FL. Mary has been taking care of disabled alligators for years.

It is not uncommon to find Mary and Rambo at benefits where she teaches people about alligators and allows them to pet and even take pictures with Rambo.

Rambo has proven to be quite docile and sweet as he welcomes kisses and obviously loves to be the center of attention.

This special guy is potty trained, knows to keep his snout tightly closed while in the company of people and even raises his head to accept petting.

Rambo also obeys 70 commands and has never had an incident in the many years that he has been exposed to the public.

Sadly, Rambo may be removed from his home with Mary because she does not have the required 2 1/2 acres to accommodate a 6 foot-plus alligator. An alligator who also resides indoors....

Rambo suffers from extreme sensitivity to the sunlight due to the poor conditions of darkness that he endured prior to meeting Mary.

The clothing that he wears is not for entertainment but is designed to protect his fragile skin. Rambo accompanies Mary to special charitable events and she donates 100% of the earnings to organizations like: Shriners, Toys for Tots, schools and police departments.

Due to a paperwork issue on her Class II license that was obtained in 2012, Rambo's well being is at a crossroads. Rambo has never lived in the wild and the presence of more land for a proposed habitat is not going to benefit a gator who resides indoors.

We do not want to see Rambo removed from his loving home and placed into unknown conditions - especially when he is afraid of outside noises and is very much a member of the family.

Rambo and Mary are obviously attached to each other and, though they may be the "odd" couple, they are apparently the right pair who need one another.

Therefore, we are asking the Florida Wildlife Commission to please make an exception in regards to the 2 1/2 acre rule.

Please do not remove Rambo from Mary's care because by doing so may be a death sentence for him.
Sign the petition today  —urge Florida officials:
Let Rambo stay with Mary!
florida woman pet alligator rambo
For more entertainment, world, music and pop culture updates and news, follow Max Page on Twitter