Top Stories
The up and comers bring New York City to its knees with their first NYC show in almost a year.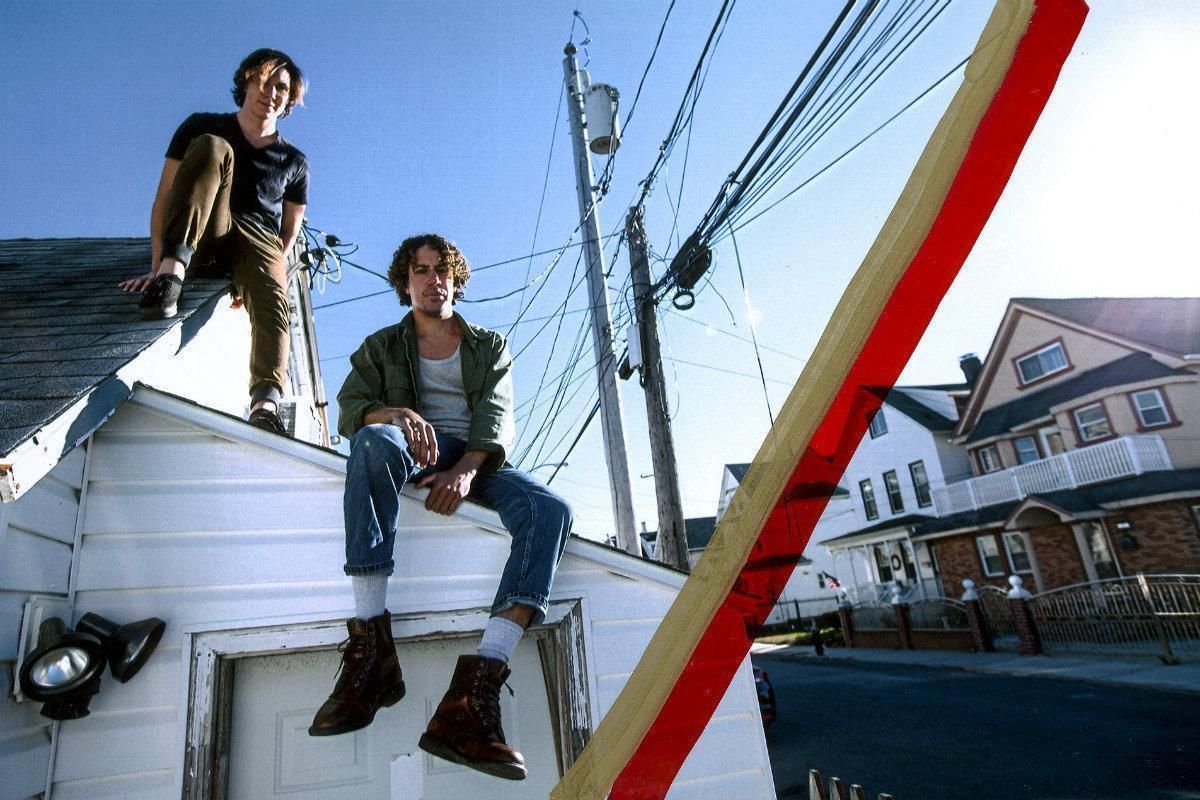 Littered with acoustic guitars, beats thicker than the sweltering heat and sly vocal ticks, Lewis Del Mar's self-titled album is a wrecking ball tantamount to the destruction of the Berlin Wall. Comprised of childhood comrades, lead vocalist Danny Miller and percussionist/songwriter/singer Max Harwood, the alt-urban duo lit up the stage of the Music Hall of Williamsburg on Friday evening (April 21)--scattering their grooves, brash sensuality and humble charm across the crowd. "It's almost been a year to the day since we've played in New York City," Miller told the crowd to uproarious cheers and giddy applause. Their headlining gig was industrial but raw, pieced together but succinct, and devoid of polish but painted with slathers of mass appeal.
Constructing a dynamic and compelling live set can be tricky; but Miller and Harwood have sanded it down to a fine, delicate art. Animating cuts from their full-length record, as well as 2016's splashy extended play, the pair pontificated on breakups and shakedowns, the age of trolls and "embracing all dichotomy," they stopped their performance mid-way through to promise. And they certainly ripped out the pages of convention, instead to get you thinking--not only on a skin-deep lyrical level but musically. The stark contrasts between the brash nonsense of "Loud(y)" to the plucky, rainbow-kitchen flow of "Painting (Masterpiece)" and the filtered-piano haze of "Malt Liquor" pound you in the face and chest; it's relentless but for a reason. They drug out their own skeletons out onto that stage and invited us to take a closer look. Judging by the reaction of the crowd, Lewis Del Mar are marching to legend status, just give them a few more years to further corral more fans. It's their destiny.
Opener Madison McFerrin, a Brooklyn-based tunesmith with a penchant for groove- and rhythm-based material, primed the crowd with doses of her 2016 EP Finding Foundations: Vol. 1. Fueled by the work of Erykah Badu and India Arie, McFerrin is the next generation. Her vocal went down smooth, particularly on songs like "No Time to Lose" and "Learn Your Lesson." Working extensively with the loop pedal, she built each track right before the crowd's eyes, a rather intoxicating feeling--with a tremendous payoff. It's certainly not a new stage trick, but McFerrin brings such an undeniable and energized spirit to the stage, you can't help but revel in her warmth. "Yass, we're all queens," she wailed at the beginning of her set. At a time in the world when hate is alive and well, we need the raw, enthralling, thought-provoking art of such artists as McFerrin to make us think, act, reflect, resist and resolve to change the world for tomorrow.
---
READ MORE ABOUT MUSIC...
Premiere: Brunelle strip back "Let Me Love You" in new video
Premiere: RYAL honor George Michael with "Father Figure" cover
Interview: Ricky Reed talks new album, fatherhood & Kesha
---