Lil B's "I'm Gay" Album Cover Is Not Very Provocative At All
Several months and several death threats after announcing that his upcoming album would be called I'm Gay, weirdo rapper Lil B has backed off a bit, or clarified a bit, or something with the cover art.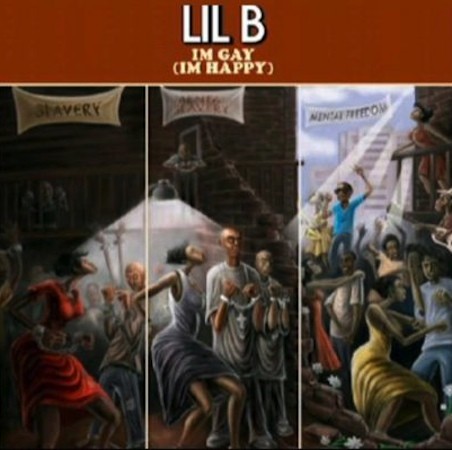 So yes, there's that "I'm Happy" parenthetical right below the title, which kind of sounds like an elementary-school joke but, to be fair, is the same rationale Lil B's been giving ever since the announcement. Again, he wants the world to know "words don't mean anything"--which anyone who's ever used the words "I'm gay" to say that, in fact, they are actually gay might disagree with, but which certainly isn't inconsistent with B's stream-of-consciousness style.
It also appears that he's Gaye--Marvin Gaye, whose I Want You album cover incorporates the Ernie Barnes painting "Sugar Shack." B's version, done by Uncle Grumpy, is obviously a little different. He explained to MTV:
It's the three sides of the slavery, mental slavery and mental freedom at the ending where everybody is happy.
In other, possibly more exciting Lil B news, he'll be featured on Lil Wayne's mixtape, likely Sorry 4 the Wait. And that's about all we know about that.