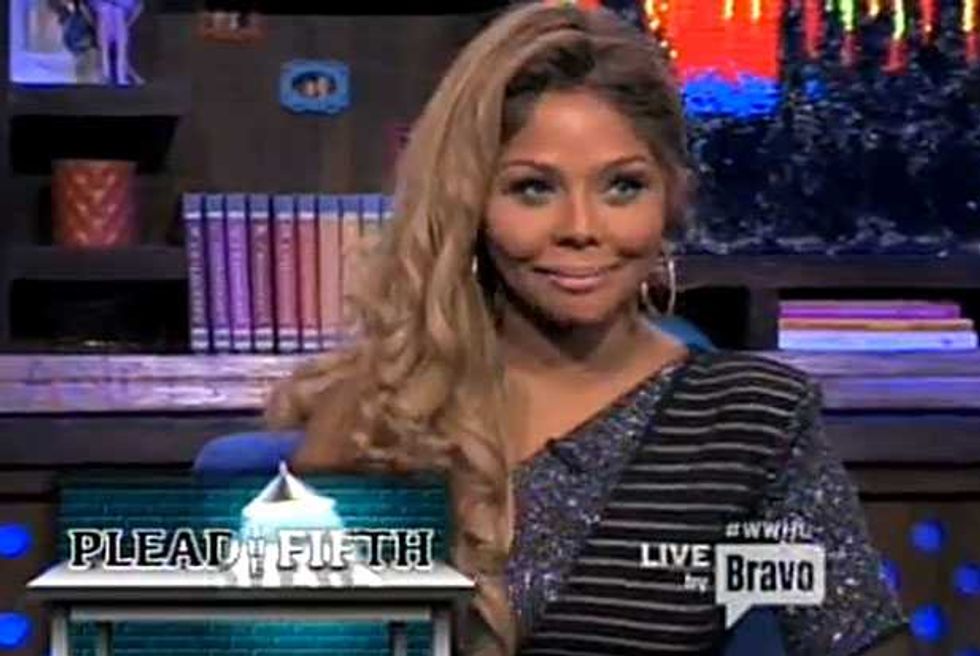 If you haven't been following, the Harajuku Barbie and original Queen Bee have been trading slight insults for the last few months, with the latter claiming that Minaj has been copying her style since she emerged on the arm of Lil Wayne. Because there's only room for one female rapper with a penchant for colorful wigs and foul language. But no dig has ever been completely straightforward, so with all the close-reading and deciphering of subliminal messages in performances, how are we supposed to know what either of them really think of one another? Luckily Bravo's Andy Cohen, our generation's greatest journalist, knows how to ask the difficult questions. The late-night host welcomed Lil Kim to Watch What Happens Live on Wednesday, double-stuffing the set with MSNBC's Willie Geist, an equally concerned hip-hop fan. Best pairing ever? Kim successfully made her way through the three grueling questions of Cohen's Plead the Fifth without revealing much, but it wasn't until Geist asked her directly—another fine example of the necessary interrogation skills—that she finally shed some important light on Minaj's new material. "If you have to make a song 'Stupid Hoe,' you must be a stupid hoe," she explained. And it's as simple as that! If the men of hip-hop are going to wash their hands of all potential beefs, we might as well strap in and see where this goes.
Kohl's scaling up stores, goods.
Chicago Tribune (Chicago, IL) October 7, 2006 Byline: Sandra Jones Oct. 7--Kohl's Corp. is getting hip in a big way. The sensible suburban department store is on a building binge, remaking its stores with contemporary interiors and trendy merchandise in hopes of broadening its appeal beyond the middle market to include more affluent customers.
This weekend alone the Menomonee Falls, Wis.-based retailer opens 65 stores nationwide, including one in Oswego and one in downstate Bradley. It's the largest number of store openings at one time in the company's 44-year history. Kohl's plans to add a total of 85 stores this year and pick up the pace of expansion next year, opening roughly 100 stores a year through 2010. By then, Kohl's expects to operate 1,200 stores, a four-fold increase from 2000. "They're trying to do what everyone is trying to do, get scale," said Love Goel, CEO of Growth Ventures Group, an Edina, Minn.-based investment firm. "That is the name of the game in the department store business right now. It's very clear there will be very few survivors. You need scale to survive." The new stores tout glass storefronts, canopy shelters, display mannequins and photos highlighting fashion trends, directional signing, spacious fitting rooms and redesigned cashier stations. Kohl's also signed in recent weeks exclusive licensing deals with designer Vera Wang for home goods and apparel and with the Food Network for cookware, kitchen gadgets and table linens. The bulk of the new stores are slated for territory outside of Kohl's Midwest stronghold, moving into the northeast, northwest, southeast and southwest, and most will tout the new design. The greater Chicago area is home to Kohl's greatest concentration of stores, with 45 currently in operation. this web site kohls printable coupons
Kohl's plans to incorporate the new look into older stores as it remodels. In Chicago, this has been done in Vernon Hills with two other yet-to-be-determined stores remodeled next year. "Our typical shopper has been the soccer mom," said Sandra Crowley, a district manager in the Chicago area. "We're now also focusing on the customer who wants to trade up and who has a disposable income and doesn't have kids." Kohl's expansion comes as rival J.C. Penney Co. moves away from its legacy as a mall anchor by rolling out single-level, freestanding stores designed to capture shoppers averse to malls. Penneys operates 22 freestanding stores and plans to have 44 by the end of the year. The retailer is targeting an annual rollout of 50 such stores a year starting in 2007. It currently operates more than 1,020 stores. Likewise, Federated Department Stores Inc., the owner of the former Marshall Field's, is betting that bigger is better. It doubled its size to more than 850 stores when it bought May Department Stores Co. in 2005. Kohl's began its aggressive expansion push in 2004 after recovering from a string of inventory and merchandise snafus that hurt sales and its stock price. In the past year, Kohl's shares soared 42%, closing at $67.63 on Friday, the highest in four years. This isn't the first time Kohl's has stepped away from its roots as the pioneer of suburban strip center retailing. Kohl's opened its first urban store within the Chicago city limits last year on Elston Avenue near Lincoln Park. It's about 60% bigger than a typical Kohl's and is one of only four city stores Kohl's operates as it attempts to capture new customers. Kohl's Chairman and CEO Larry Montgomery told investors at a meeting in Tampa earlier this week that he wants to build more city stores. In the Florida speech Montgomery said, "We think this (urban store) is going to be a pretty big vehicle for growth as we learn to operate in these kind of environments." Distributed by McClatchy-Tribune Business News. web site kohls printable coupons