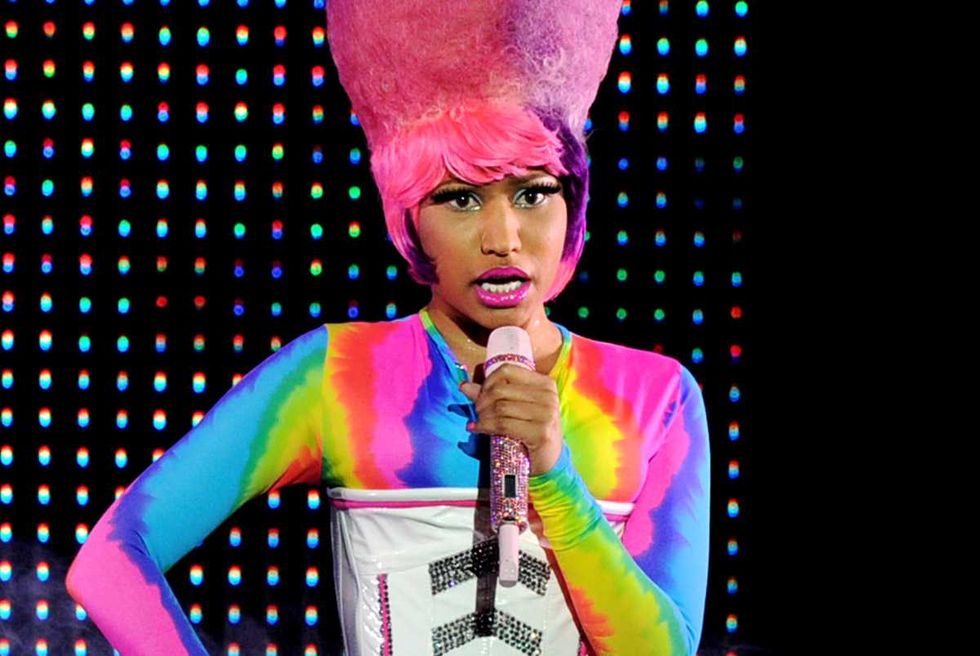 Lil' Kim, the formerly unquestioned Queen Bee of hip-hop, has never taken particularly kindly to arguable successor Nicki Minaj, who Kim has accused of "swagger jacking" from her, and of dissing her in the Eminem-featuring Pink Friday track "Roman's Revenge." The Black Friday mixtape subsequently released by Kim featured countless shots at Nicki, most notably its provocative cover, which featured Kim holding a lance next to Nicki's decapitated body. Now the beef has migrated to the battlegrounds of all 21st century feuds that are worth a damn: Twitter.
Amidst all the sea of Osama Bin Laden-related tweets after news hit of the Al-Qaeda leader's death on Sunday night, a tweet started circulating supposedly offered up by Nicki Minaj stating "Lil Kim U Next.' The authenticity of the tweet, which no longer appears on Nicki's timeline, has been questioned, but apparently Kim was fairly well convinced it was legit, since this morning, she started responding in turn:
[blackbirdpie url="http://twitter.com/#!/LilKim/status/65278107036299265"]
[blackbirdpie url="http://twitter.com/#!/LilKim/status/65280336506011648"]
[blackbirdpie url="http://twitter.com/#!/LilKim/status/65283970270629888"]
And so on. Nicki has yet to return fire on her own page, and if we here at Popdust could offer her some sage advice from our studies in hip-hop battle history, it would be to let this be the end of it. Kim, who hasn't had a hit single since she got out of jail in 2006 and whose Black Friday was met with some pretty scathing reviews, is the only person with anything to gain from the continuation of the beef, and even she's coming off as ridiculous enough that she would probably be better served by focusing her attention elsewhere at this point. There's no upside for a contemporary star like Nicki continuing to respond to the grievances of an ex-star like Kim—the way to really lay the Queen Bee to rest is to just stop acknowledging her altogether.
That said, nothing like a Twitter soap opera to get you through the mid-afternoon lull. Just keep it clean and apolitical, girls.