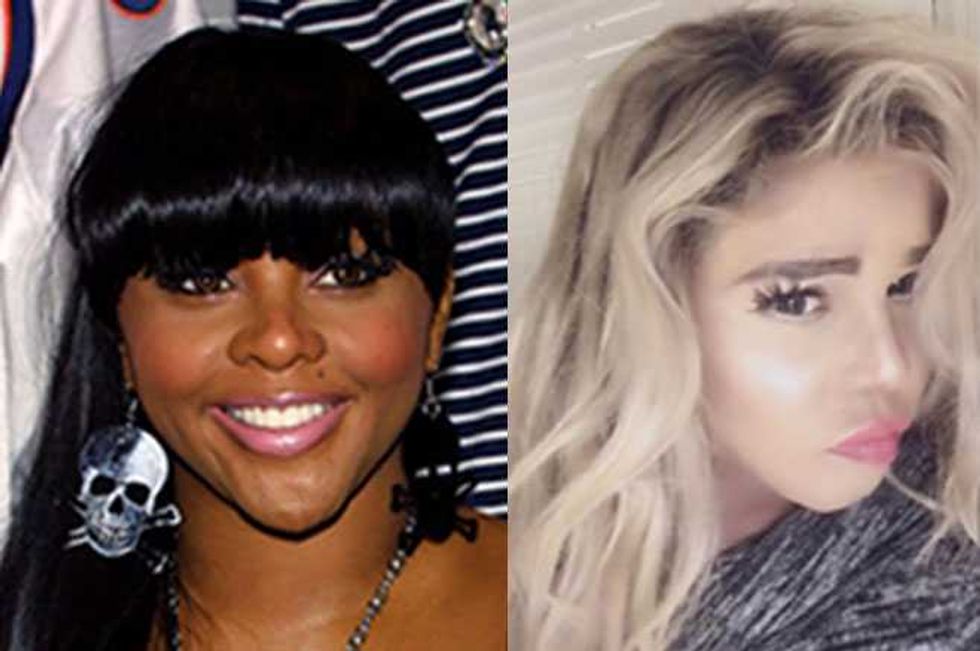 Does Lil Kim's new face mean she's in trouble?
Lil Kim's new face has shocked her fans, with some saying the extent of her makeover is a clear indication of her deep-seated unhappiness, and that the rapper needs some serious help.
Posting a series of selfies on Instagram, the photos reveal that 41 year old Lil' Kim, who is well known to have been no stranger to plastic surgery over the years, has had even more work done rendering her pretty much totally unrecognizable. Apart from the differences to her nose and eyes she also appears to have undergone skin bleaching and looks completely white.
Fans have reacted with concern to the musician's changing look, mostly with sadness that she feels the need to go to such extremes.

That @LilKim photo makes me sad. I loved #Lilkim but I can't rock with this it's too sad to see a #legend end up like this

— The Syrup (@team_syrup) April 25, 2016

https://twitter.com/pariis_w/status/724544585729474560

Born Kimberly Jones in Brooklyn, the 4ft 11 star gave an interview with Newsweek back in 2000 which gives an insight into why such a talented, successful artist would feel the need to turn herself into someone else.

She said of her father;

"It was like I could do nothing right. Everything about me was wrong--my hair, my clothes, just me."

She left home at 14 and got mixed up in a world of drug dealers and pimps which just reinforced her lack of self worth;

"I did what it took to survive. I ran errands for drug dealers, lived with them--whatever it took to make ends meet...All my life men have told me I wasn't pretty enough--even the men I was dating. And I'd be like, 'Well, why are you with me, then?' It's always been men putting me down just like my dad. To this day when someone says I'm cute, I can't see it. I don't see it no matter what anybody says.

I have low self-esteem and I always have, guys always cheated on me with women who were European-looking. You know, the long-hair type. Really beautiful women that left me thinking, 'How I can I compete with that?' Being a regular black girl wasn't good enough."

The interview speaks volumes. However, some Twitter users have defended Lil' Kim's right to transform her face, and ask what the difference is between Lil' Kim feeling unhappy in her skin and wanting to change herself and someone like Caitlyn Jenner doing the same?

They supported Caitlyn Jenner but can't support Lil Kim Smh😏😏😏

— KIRUI CELESTINE (@celekirui) April 25, 2016

Well the difference is that Caitlyn Jenner didn't transform herself because she was made to feel she wasn't good enough as a man. She didn't transition to make herself more acceptable to others, to try to fit in with other people's pre-conceived notions of what is attractive—she didn't change into a woman as a reaction to being rejected as a man.

Lil' Kim is clearly the complete opposite, we can only hope that her friends, family and surgeons are having some serious conversations with her.

What do you think?

Lil' Kim's face has changed a fair bit over the years to say the least...