Frontpage Popular News
"That's the best song ever." - Golden Globe Award Winner Donald Glover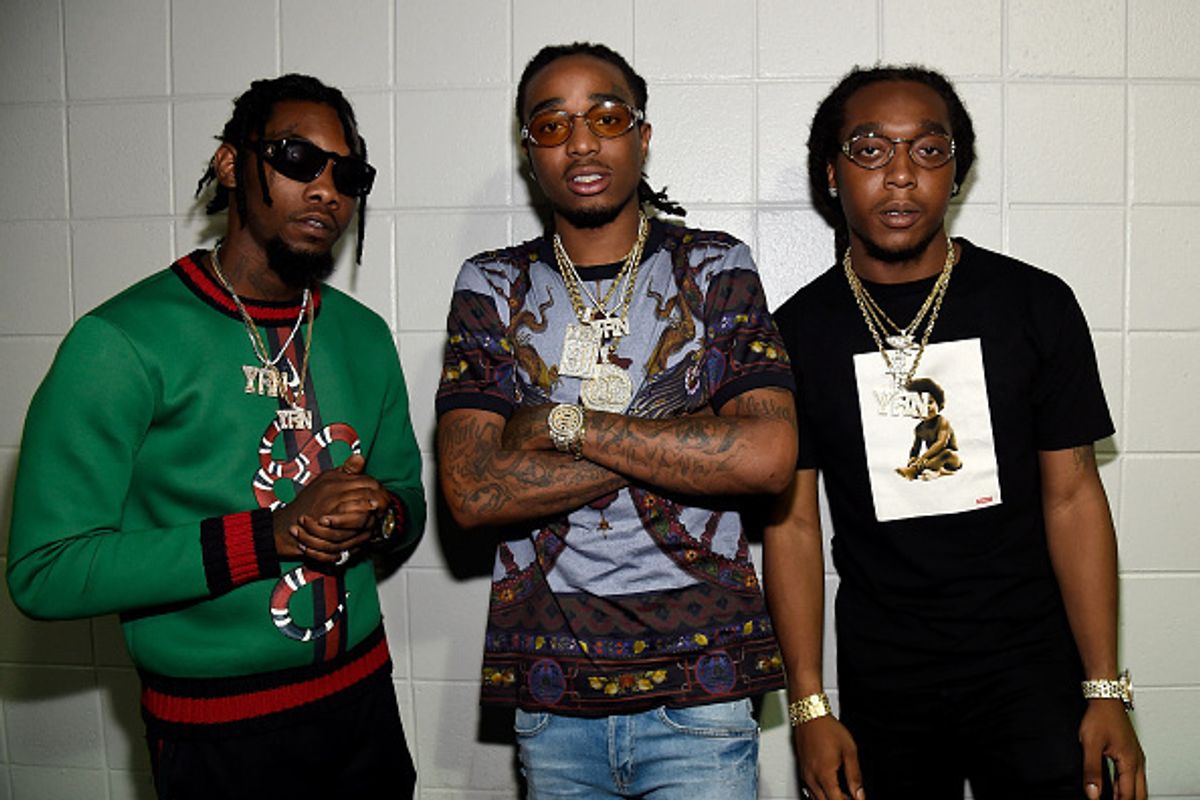 When Donald Glover gave Migos a shoutout in his Golden Globe acceptance speech, he was spot on: Billboard #1 hit "Bad and Boujee" is, like, the best song ever. We here at Popdust have been listening to the Lil Uzi Vert featured single non-stop since 2016, so we figured we should come up with a list of different things to listen to than Offset spazzing "rain drop… drop top…"
11

.

Dat $tick by Rich Chigga
Yes, the, at-the-time, 16 year old Indonesian rapper's song is nearly a year old, but this song still goes hard, and if you've grown tired of the original, you can listen to the remix with Ghostface Killah and Pouya.
10

.

T-Shirt by Migos
Migos have songs that aren't "Bad and Boujee", including hits like Fight Night and Versace. Their newest single comes with a solid music video featuring fur and trap beats. Chance the Rapper took a pretty strong liking to this video.
This needs an Oscar. Has @QuavoStuntin directed before this? pic.twitter.com/JZdE04QfaG
— Lil Chano From 79th (@chancetherapper) January 6, 2017
9

.

Black Beatles ft. Gucci Mane by Rae Sremmurd
Chances are this is the other song you've been playing with "Bad and Boujee" anyway. If so, good for you, this song is still a certified banger (despite getting knocked out of #1). It even seems like the song itself outlived the meme, which is a considerable feat.
8

.

It G Ma Remix ft. A$AP Ferg, Father, Dumbfoundead and Waka Flocka Flame by Keith Ape
Who cares if Korean rapper Keith Ape bit OG Maco's sound? He makes a hard song with plenty of Bape, and Fergie, Father, Waka, and Dumbfoundead all drop a fat verse on this remix.
7

.

Closer ft. Halsey by The Chainsmokers
This song is definitely still stuck in our heads, and definitely not the original inspiration for this article.
6

.

Minnesota ft. Quavo, Skippa da Flippa by Lil Yachty
This song is really stupid, and mostly we're reminded of the Sprite commercial with LeBron James. That being said, we can't get enough of the minimalist beat, and Quavo's obsession with his Motorola.
5

.

Bad and Boujee ft. Lil Uzi Vert by Migos
Oh, fuck.
4

.

X ft. Future by 21 Savage & Metro Boomin
Some of here at Popdust are consistently disappointed by Savage, but a list like this kinda requires both a 21 Savage song and a Future track, so we can kill two birds with one stone here. The way 21 and Future trade bars is pretty cool too... "hold up"
3

.

I Want You (She's So Heavy) by The Beatles
Complex has 10 reasons why Migos are better than The Beatles (see below), and that's all I need. Some people seem to think that The Beatles are one of the GOATs, so I figure we should toss them a bone. That being said, while this song doesn't have dope visuals to accompany it (music video), it is definitely a 60s banger and deserves infinite listening.
2

.

Broccoli ft. Lil Yachty by Big Baby D.R.A.M.
Doing Real Ass Music with Lil Yachty sounds and looks like a blast. If I took my recorder lessons seriously in the fourth grade, maybe I'd be there and not here. Alas, I'm here and I'm writing lists.
1

.

Father Stretch My Hands Pt. 2 ft. Desiigner by Kanye West
What is a banger list that doesn't include Kanye West. "Father Stretch My Hands Pt. 2" is basically just a better version of Desiigner's Panda anyway, and you can kinda just play it anywhere, and you know people will be ready to get turnt.
What do you think? Do you know songs that aren't "Bad and Boujee" ft. Lil Uzi Vert by Migos? Let us know in the comments below!