Events
BREAKING UPDATE: LIL YACHTY'S TWITTER PRESENCE DENIES FACEBOOK PRESENCE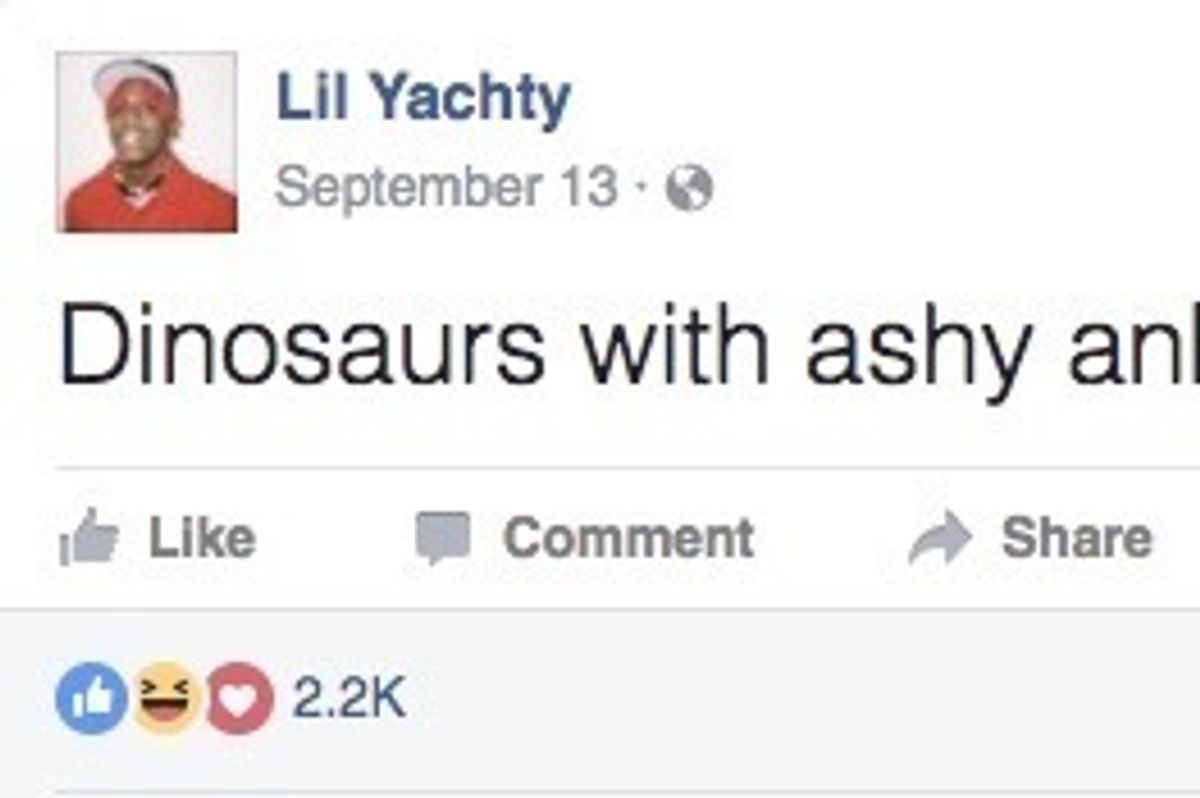 source: facebook
In addition to electing Donald Trump, another popular decision that America appears to have made was hating Lil Yachty. From radio DJs throwing shade on his freestyles to Shia Labeouf, I guess, everyone seems convinced that Atlanta's latest talent is not a real rapper or really talented or is some kind of fraud not worthy of our clicking-based dollars or however it is music makes money these days. Whatever. What Lil Yachty has undisputed command over, however, is something far weirder: Facebook.

That's right. Tha Social Network itself. Just a few months ago, Mr. Will Oremus, senior tech editor at the cultural organ that is Slate, declared that Facebook was dead, gone, or just in mad decline. "Facebook has seen a decline in 'original sharing'—posts by people about themselves and their personal lives, as opposed to articles they're sharing from elsewhere on the web," Oremus reports from the front lines. Which means that it's all just a trashcan of memes, vaguely sponsored content or your racist uncle uncovering the truth about the Clintons, the Obamas, and the freemason conspiracy theory that has kept Nicholas Cage out of a good movie since 2006. Twitter, but really Snapchat and Instagram are where the kids and the celebrities pretending to be kids, are apparently.
But what Mr. Oremus, and all these thinkpieces (and these too), is not reporting on is Lil Yachty's Facebook page. It's alive and swell --while everyone else and their mother has taken to Twitter to have their meltdowns and dramatic deletions, Yachty clearly sees value in Facebook game. Besides, what's the point of Mark Zuckerberg's lil empire if it's not to watch some haters?
Here's some highlights: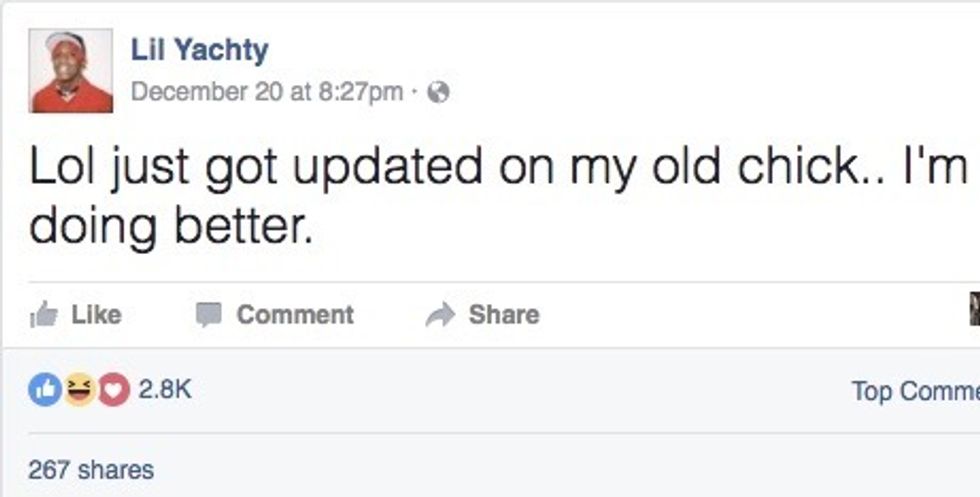 Serious shade! He's flying high right now and doesn't have time for anything that isn't the best. Or maybe he's gotten over India Love, the model he accused his idol Soulja Boy of stealing from him/breaking his heart. But maybe the ambiguity is part of the point, back when I used Facebook (early high school) the game was all about throwing those vague statuses around, safe in the knowledge that whoever liked your status would know which way the wind was blowing. Speaking of things I did in high school:


Lyrics! That could be read as either an endorsement of tourmate Sremmlife's chart-topping jam or some more hella cryptic shade. Your mother, who is also on Facebook, seems to think the latter:


Do even know the fan-magnet quality of authentic prime-grade rapper beef is? Ditto getting the grammar police out of their shells:

But, as Lil Yachty told Fader back just last week: "I like the hate":

Not that Yachty doesn't have some random-ass advice for any of the haters in the room:

Or more random-ass advice about, um, life: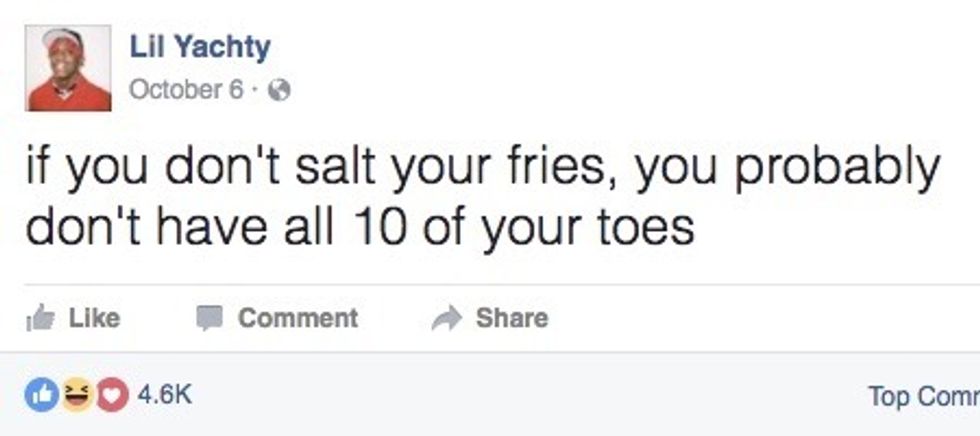 Entirely sure that I'm missing out on an inside joke some some kind, but its not like the Lil Yachty facebook community is all too helpful: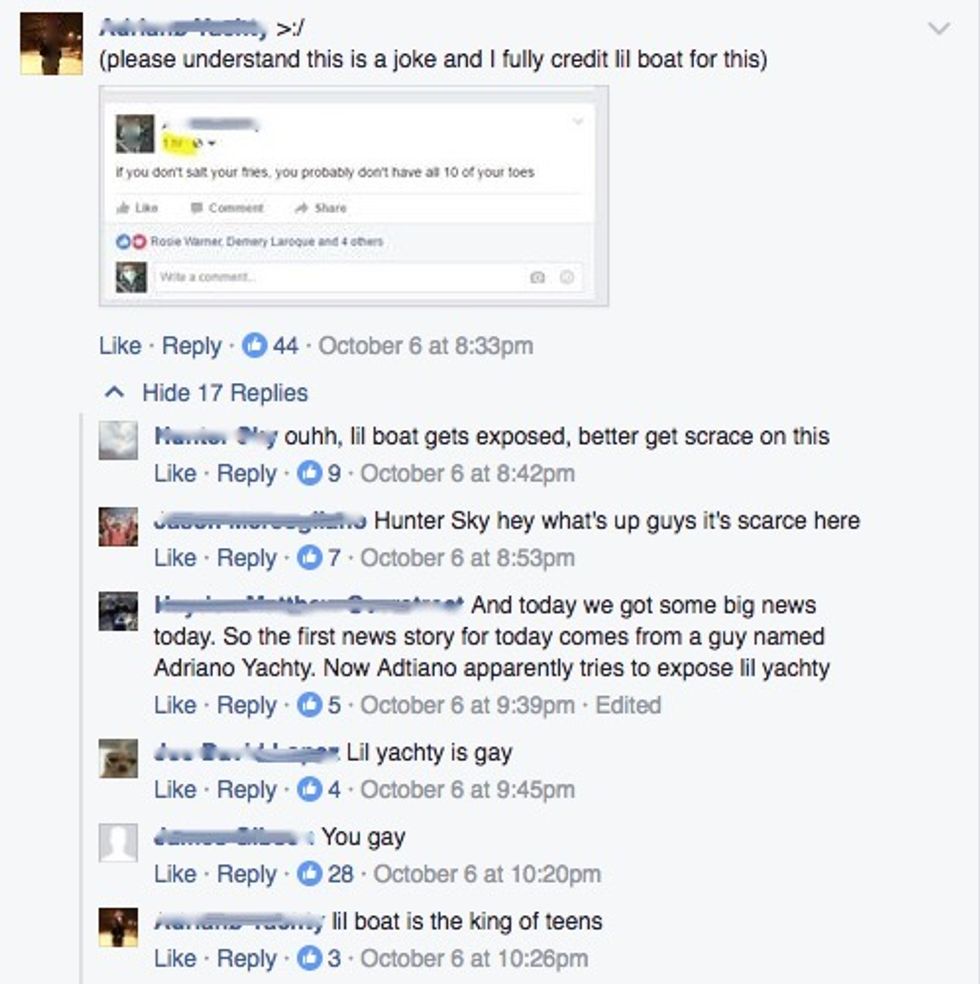 But Lil Yachty is happy for with facebook crew, even if he mysteriously waited over a week to repurpose up a thank you note from his twitter. Why the week-long wait? Don't most rock and rollers have interns who do this? Not in Min-Es-Oh- Taaah, that's for sure:

UPDATE: LIL YACHTY DENIES LEGIT-LOOKING FACEBOOK PRESENCE, WE ALL ASK WHAT THAT LIL BLUE CHECKMARK EVEN MEANS ANYMORE: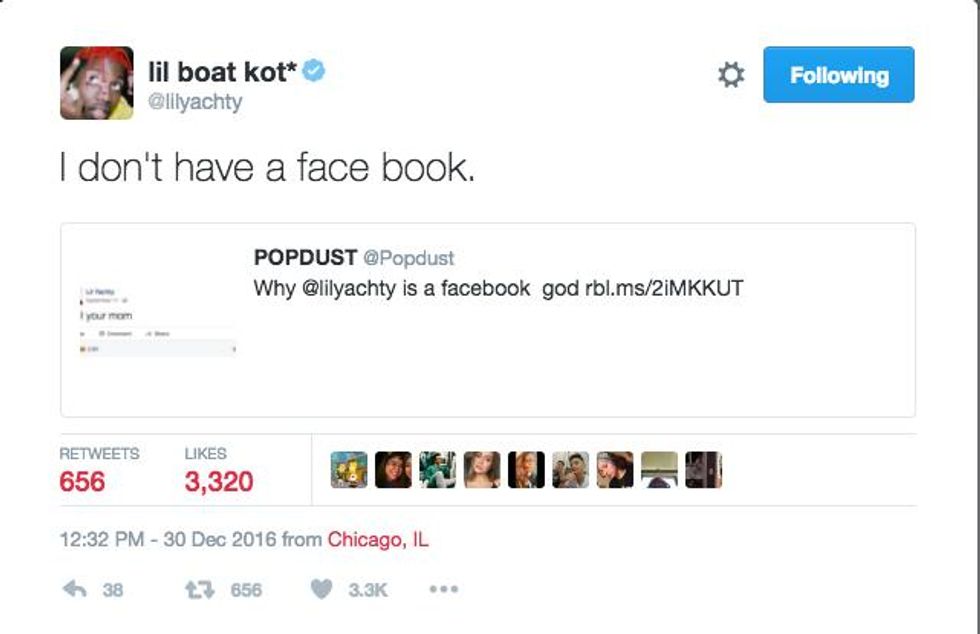 Others voices, are less sure: