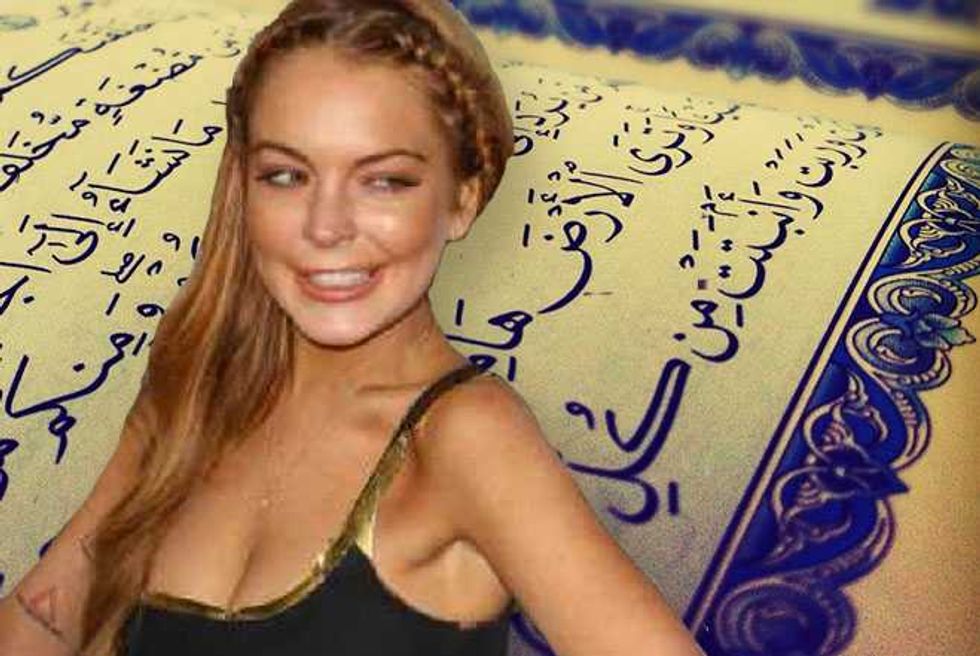 lindsay lohan studying islam reading koran
Lindsay Lohan is undergoing yet another spiritual awakening, insha'Allah.
The 29-year-old is studying Islam, in addition to carrying around and posing with reading the Koran.
Ya Rab! Like the poor Muslims of this world aren't battling a bad enough image problem already what with so called Islamic State and all.
LiLo is also meditating apparently, and doing "this thing called tapping".
For those of you on a lower spiritual plane than LiLo, tapping is:
A combination of ancient Chinese acupressure and modern psychology, to improve your health, wealth, relationships, level of happiness, and much more…
Lohan opened up about her new-found Islamic thirst to the Sun newspaper:
America has portrayed holding a Koran in such a different way to what it actually is.

We all believe in something and at the end of the day it all ties to a god or a spiritual adviser.

We all have a similar belief in whatever it may be personally.

My sister is Buddhist but she is still interested in learning other things from me. It's good to be open-minded.
Who knew she was such a wise old sage?
Lohan, who was born Catholic, has previously dabbled in Kabbalah, and was once a member of Courtney Love's Buddhist chanting group.
Wait, whaaat???? Courtney Love has a Buddhist chanting group?!!!!
LiLo talked about her "spiritual" side during that train wreck Oprah docu-series she did back in 2004.
I'm a very spiritual person and I've become more spiritual as time has gone on.

I'm really in touch, whether it's prayer or meditation... there are so many powers greater than me in the world.

I've been blessed and lucky enough to have been given a gift to share with other people.
Meanwhile, Linds admits she still has quite a way to go on her spiritual journey—like actually beginning to read finishing reading the Koran for starters.
I'm not done reading it.

Do you know how long that would take? It takes so long.
Well, it's certainly no 50 Shades of Grey, Lindsay.
Although, according to Answers.com contributor, Ibrahim El-Osery, it would actually take around 15 hours.
For more entertainment, music and pop culture updates and news, follow Max Page on Twitter
Marco Rubio Really Wants A Beer With Malala Yousafzai (A Muslim Teenager)
Muzmatch—A Matchmaking App For Muslims
American Apparel Under Fire, Accused Of Exploiting Women, Insulting Muslims With New Ad
lindsay lohan studying islam reading koran
Katy Perry Offends Muslims With Dark Horse Video
Madonna Says President Obama Is a Muslim, For Some Reason (UPDATED)
Donald Trump Wants To Kill Families Too When He 'Bombs The Shit' Out Of Syria
Dutch Biker Gang Joins Fight Against ISIS In Syria
lindsay lohan studying islam reading koran