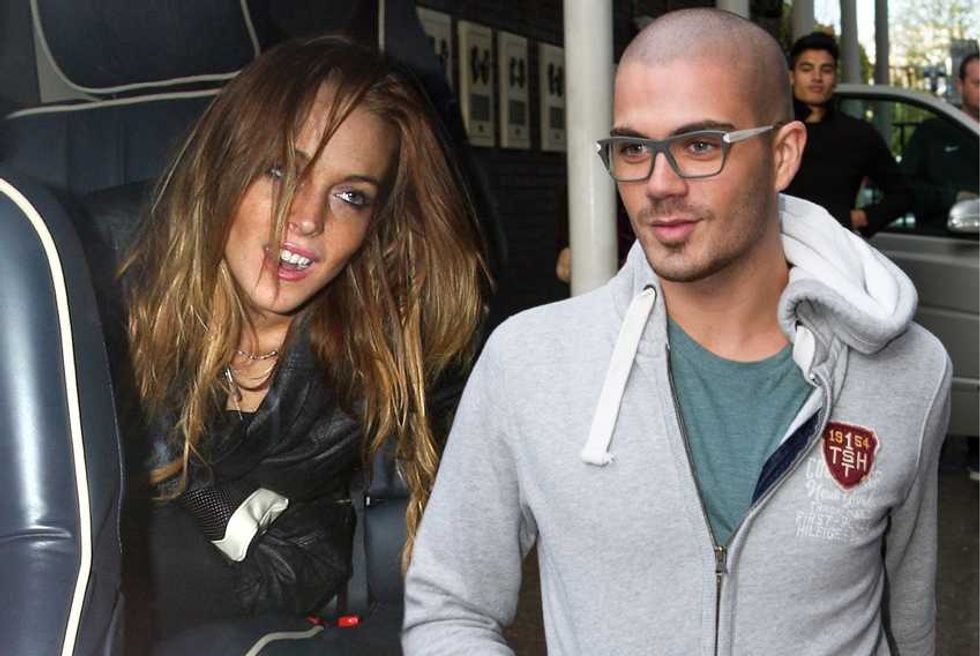 The connections between this morning's LiLo arrest and last night's Justin Bieber concert continue to be drawn. Lohan was spotted at Madison Square Garden, drawing a noticeable crowd around her but ultimately left in a huff. Where she went is unclear, but what she ended up with were misdemeanor assault charges. The knowing minds at TMZ have unearthed more information that leads us to believe LiLo's messy fighting match might be the result of a lover's quarrel, or a temper tantrum resulting from unrequited love. Below you'll find the account of last night's ugly chain of events, followed by when we would hit the bottle if we were recently employed by Lifetime.
Lohan attempted to get backstage at the Garden, but was denied. [DRINK] It's unclear whether or not she made it through the entirety of Justin Bieber's set. If she did... [DRINK x 2] Following the show, the 24-year-old Brit, known to smoulder, grabbed Tom and Jay and met Lohan at a hotel bar [DRINK, DRINK, DRINK—they're British], before heading to Avenue in Chelsea. Once there sources say Linds got "drunker and drunker," which Max and Yolanda Foster can both agree is not a good look for a woman. [CHEERS!] He's also repeatedly confirmed his desire to stay single [DRINK] which means, yes, he started chatting with another girl. [TAKE SHOTS] Cut to: America's Sweetheart punching that girl in the face. Violence is never the answer, and your anger was misdirected, LL! Max already revealed who he was crushing on earlier this fall.
TMZ's eyes on the scene will have interested minds know that Max was "really drunk too" and wound up going home with an unrelated third woman. Getting out of there before things get too fishy is always a good strategy. Now that the papers have been delivered and everyone's hangover has hopefully begun to weaken, deep thoughts about what transpired have emerged:
eventful night!!

— Max George (@MaxTheWanted) November 29, 2012
God bless The Wanted and their unfiltered Twitter feeds. Max and the gang head back to MSG for the second Bieber show tonight. It's likely Lindsay will not be in attendance, and that any former child stars will be kept out of the building entirely. Aaron Carter, take heed.