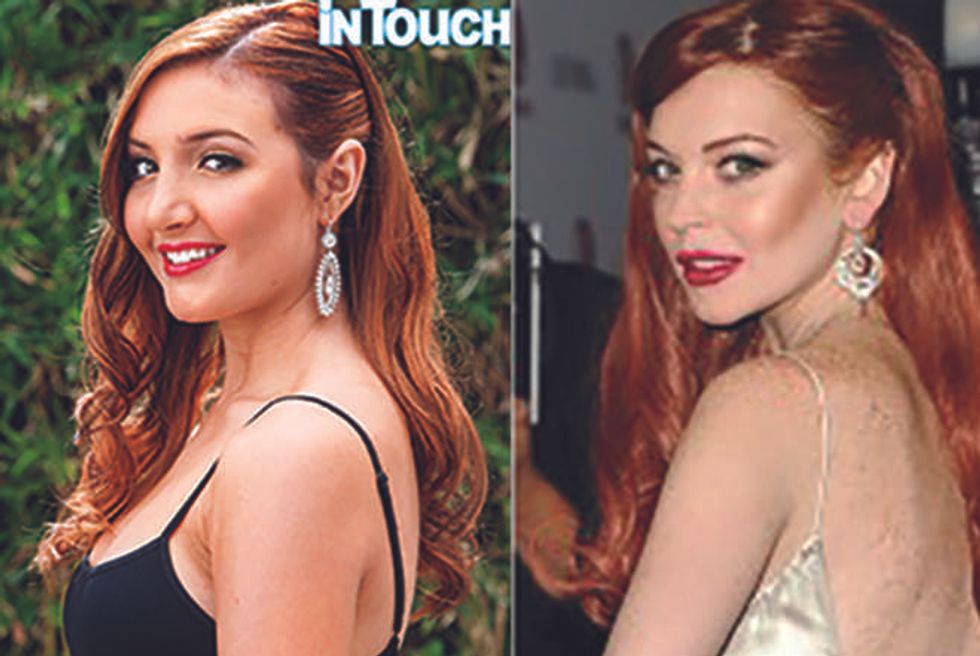 Its a creepy case of single white… sister…
Ashley Horn has undergone a series of plastic surgery procedures—to the tune of a cool $25,000 in a bid to look like her estranged half sister Lindsay Lohan.
And, true to his usual outspoken form, Michael Lohan, who is father to both girls, has quite a lot to say on the subject!
"It's disgusting and totally crazy!" Lohan tells Popdust in a exclusive interview. "It's totally shocking. Why on earth would she do something like this? It's just sick and twisted.
"She's only 18 years old and she's undergoing plastic surgery? She was a really pretty girl in her own right, why would she do something like this?"
In Touch magazine has an exclusive interview with Ashley, where she talks about the work she has had done and shows off the results in a series of exclusive shots.
"I've gotten rhinoplasty, a bit of refinement underneath my cheeks and jawline, some fat injected into my chin and some fat injected into my upper cheeks," Ashley explains to the magazine.
"My goal was to look like Lindsay in her good days, when she was around 18, 19 years old."
News of Ashley's existence broke in 2011 when it was revealed that her mom, Kristi, had had an affair with Michael Lohan during the time he was married to his now ex-wife, Dina.
Michael was confirmed as her father after undergoing a DNA test on the Trisha show.
Michael says that he does not have a relationship with Ashley as he had a major falling out with her mother—and his other children are not in contact with her either.
"Kristi is constantly trying to thrust Ashley into the limelight," Michael says. "When it was confirmed I was Ashley's father Kristi wanted Ashley to meet up with Lindsay and Ali—but she never mentioned anything about their brothers Michael and Cody, she was only interested in Lindsay and Ali, because they're famous and she wants Ashley to be a star
"I suspect Kristi is behind the decision for Ashley to undergo all this surgery purely for publicity purposes. The crazy thing is Kristi is constantly complaining that she's broke and yet she manages to pay out $25,000 for her 18-year-old daughter to undergo cosmetic surgery when it's totally unneeded!
"I don't know what is going through her head to do something like this… but if she thinks for some twisted reason it might help bring Ashley closer to Lindsay I can say for definite that it won't—it will just push her further away."
Meanwhile, Ashley says she is thrilled with her new look, and claims she looks even "hotter" than her famous half-sibling.
"I'm hotter than Lindsay!" She boasts to In Touch. "I have no problem saying that."
Meanwhile, Michael says he doubts Lindsay is even aware of Ashley's shocking surgery, as she doesn't read tabloid magazines—and that his oldest daughter is concentrating fully on her sobriety nowadays.
"Lindsay is doing so well," Michael tells PopDust. "She's really doing amazing… she's back to the old Lindsay, she's healthy, she's happy and she's fully committed to staying that way."
You can read the full interview and see more photos in the new issue of In Touch—on newsstands Thursday
In Touch/John Chapple