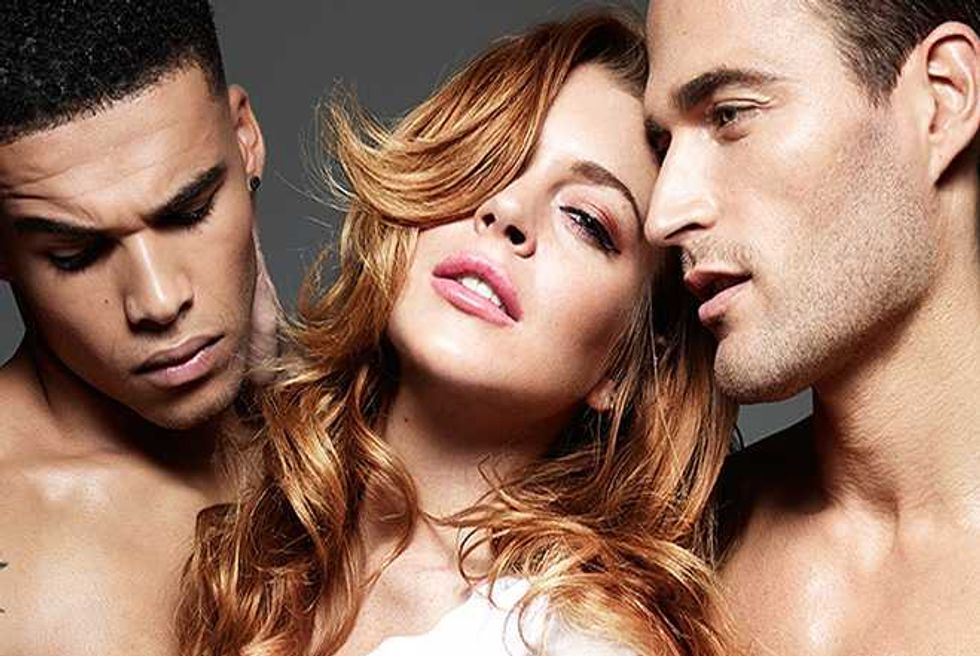 The Los Angeles bisexual train wreck serial criminal offender Lindsay Lohan that we all knew and loved so well appears to have disappeared into thin air.
In place, we now have the serious, hard working "Londoner Lohan" —a "lunch and dinner type of gal" who is all about the dudes when it comes to dating (if, serious, hard working Londoner Lohan had time to date that is.)
The 28-year-old opened up about her new home, dating preference, good genes and what makes her feel sexy—HINT: it involves lots of skin, no clothes, and a dab of Chanel No.5…..sooooo Marilyn cliche sweetie!—in an interview with Home Style Magazine.
Here's some highlights:
On why she loves her new home London and where she likes to hang out:
[I like to hang out] mostly in Knightsbridge, Mayfair, and Notting Hill. I'm a lunch and dinner type of gal.

It feels like home, I miss it every time I have to leave for work and can't wait to get back. I go back to NYC and LA for family and work.
On dating:
I haven't really thought about it in a while, I've been so focused on my career. At this time, I'd probably have to say someone not in show business, maybe a business man, but I'm just enjoying being single and enjoying experiencing everything here.
On what makes her feel sexiest:
Naked and wearing Chanel No.5! But I do love lingerie. Lace is always the best, and I feel beautiful in a night slip. It's fun to be girly and womanly.
Meanwhile, as Popdust previously reported, Lilo has been receiving (mainly) rave reviews for her turn in David Mamet's Speed the Plow
The Guardian gushed:
Lohan brings on stage a quality of breathless naivety that is far and away the most interesting thing in Lindsay Posner's otherwise tame, under-powered revival … aside from a single prompt, she holds the stage with ease and doesn't let the side down … She brings a fresh quality to Mamet's play by suggesting Karen is less a manipulative witch than a figure of genuine missionary zeal.
The Telegraph raved:
Attractive, leggy and arrestingly husky of voice Lohan, 28, gives an ample sense of this journey, convincing us she's an outsider even if certain lines ("I know what it is to be bad") seem calculated to remind you of her real-life Lalaland exploits.
However, The Times was rather more lukewarm:
Shock news: Lindsay Lohan can act a bit. No, it's not quite the opening line we disaster-hungry hacks were sharpening our nibs for … And I did say "a bit": at last night's opening she needed a prompt once; waved her arms around too often; and was, no question, less assured than her co-stars Richard Schiff (Toby from The West Wing) and Nigel Lindsay.