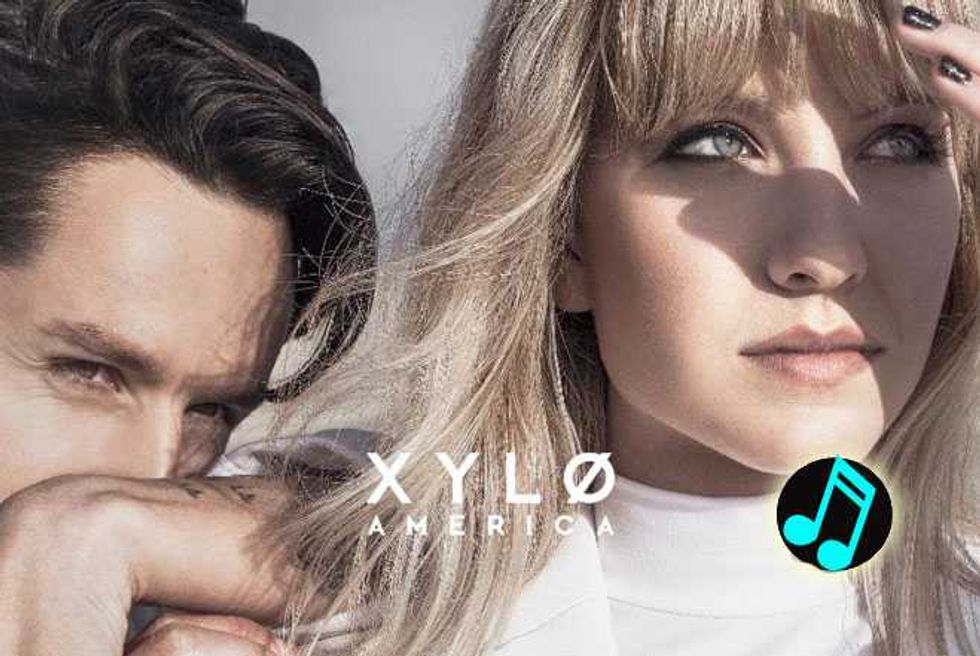 Bang Bang, you've fallen off the deep end into the musical abyss known as XYLØ. The electro-pop outfit have previously experimented with substantial moody and often ghostly harmonics in their work (see: Between the Devil and the Deep Blue Sea and America), but their brand new track is a curve ball of rhythmic proportions. As a sampling to their forthcoming and long-awaited America EP, the grunge-soaked track is a sonic upheaval and departure from what fans have come to expect (thus far) from the sibling duo.
"This EP was created out of my home studio which I had built in just two weeks," Chase Duddy says of their new project (out everywhere Feb. 26). "We instantly jumped into creating XYLØ, making our vision come to life. We had very little money and resources to get the project off the ground. We collaborated on the song writing, which I then produced and mixed all out of my garage. To me this EP represents the inception of XYLØ and making music independently. We're now fortunate to be under Disruptor Record's wing with the launch of the America EP."
On the new song, Paige Duddy says, "[This] is about when you feel unstoppable and all that matters is now, and the EP is very autobiographical. Each song is a mini chapter of our lives. They range from love and euphoria to heartache and anxiety (and everything in between."
Listen to Bang Bang below:
Last year, the duo detailed (at length) to Popdust their rap and hip-hop influences (which you can hear in waves, especially, in their latest release). "There's a 10-year age difference between Paige and I. I'm 10 years older than her. People probably expect, I imagine, since we're brother and sister, we grew up doing this together and working on this our whole lives," Chase said. "That really wasn't the case. This was an accident kind of thing. It's been more effortless than what people might think. We've only been working on it for a year and a half."
Paige added, "The reason we pretty much started the project, too, was because creatively we had a lot of chemistry. That was the starting point. We realized that when we worked together, everything was just effortless. It just happened. Personally, there have been some bumps in the road because we're brother and sister. But for the most part, creatively, we don't really have any differences, ever."
"I grew up listening to the music my parents listened to, like my dad's favorite band ever (Led Zeppelin). I loved Hall & Oates," Paige continued. "To be honest, since I have such a huge age gap, I realized I could sing an Ashlee Simpson record. I would sit in my bedroom and belt that entire album ['Autobiography']. I was also obsessed with Hilary Duff. I listened to Snoop, too, and Outkast all the time with my friends."
Chase, however, had an ear for a different style of music. "I liked Nirvana and Rage Against the Machine, Weezer and Red Hot Chili Peppers. Those are my firsts, when I got a drum set, those are the things I remember. I also got into Tag Team, total '90s rap. Later on, in junior high, I liked Jay Z and Snoop and DMX and some other gangster rap."
Check out the America EP tracklist below:
1. Bang Bang
2. Afterlife
3. America
4. BLK CLD
5. Between the Devil and the Deep Blue Sea
6. L.A. Love Song 
Stay tuned for XYLØ updates. Be sure to follow @Popdust and @JasonTheScott on Twitter!