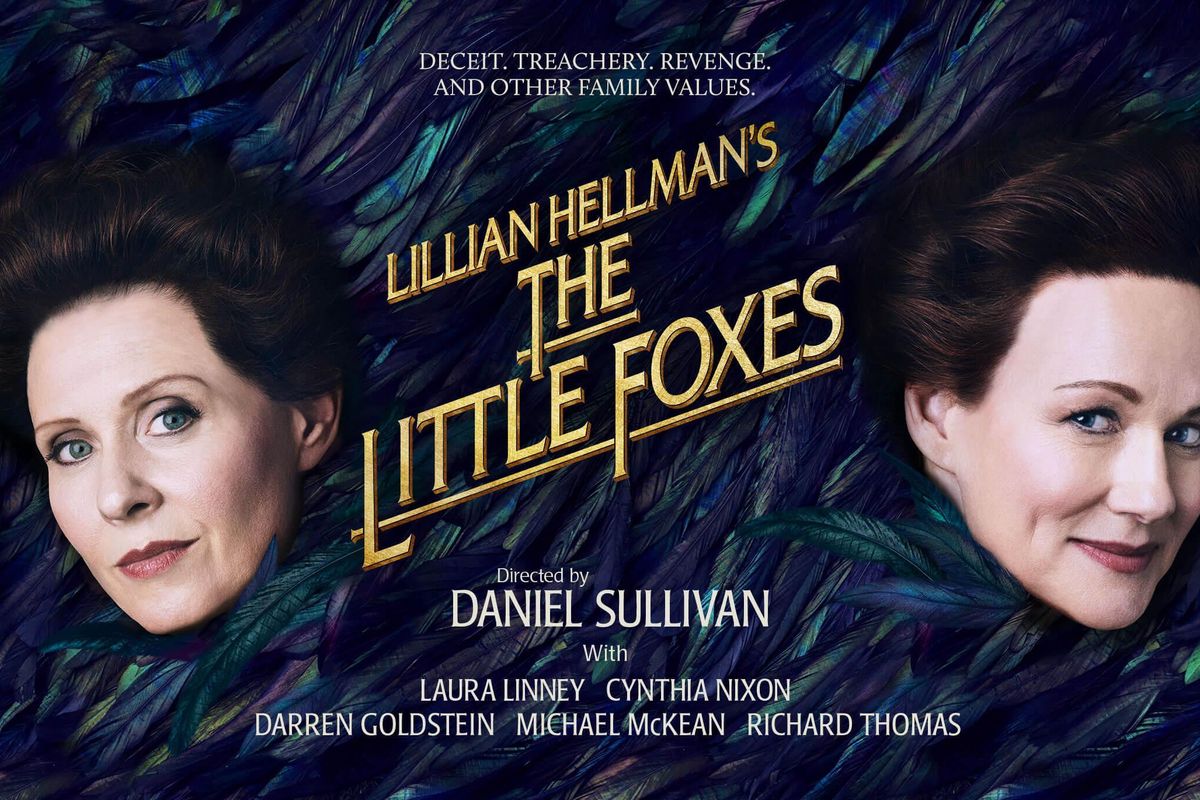 The Little Foxes is a play that feels quietly subversive in the current political climate. In as much as a play about a dynasty family ripping off their community and feuding with one another doesn't feel all that foreign in 2017. Lillian Hellman's play is dated only slightly, and, though its pacing is the slowest of slow burns, Daniel Sullivan's iteration of it is emotionally charged, divisive, occasionally cuttingly funny, and a welcome addition to this Broadway season
Of course, the big draw of this production is the double-header starring line of Cynthia Nixon and Laura Linney. Both of them put in excellent work here, and alternate the roles they play each performance. On the day of my visit, Nixon was playing ice-queen Regina and Linney the brow-beaten optimist Birdie. Nixon plays a devilishly good, yet understandable villainess, and Linney is her perfect opposite. The duality of their casting reflects the character oriented irony of their characters. Birdie may have had a happier life if she had more of Regina's strength of will, Regina may have been a nicer person if she shared even a little of Birdie's world view. We pity Birdie for lacking many of the qualities we loathe in Regina, and thus a marvelous hypocrisy is exposed in the audience.
Surrounding the show's name talent are a decidedly over-competent company. Francesca Carpanini shapes out a compelling journey as Regina's daughter Alexandra, distilling, in many ways, the essence of both Birdie and Regina by the end of the play. Richard Thomas as Regina's sickly husband Horace, is able to convey incredible strength of character and will in the face of a looming end. His performance is endlessly moving, nuanced, and occasionally slips over into what we could call 'powerhouse'. Michael McKean and Darren Goldstein as Regina's brothers are suitably vile, yet unmistakably human, all at once. Michael Benz as Birdie's son Leo is a brilliantly brutish buffoon. Finally, David Alford, Caroline Stefanie Clay and Charles Turner round out the cast brilliantly, providing moments of exquisite levity and humanity at moments when the play needs it most. Overall, an excellent company.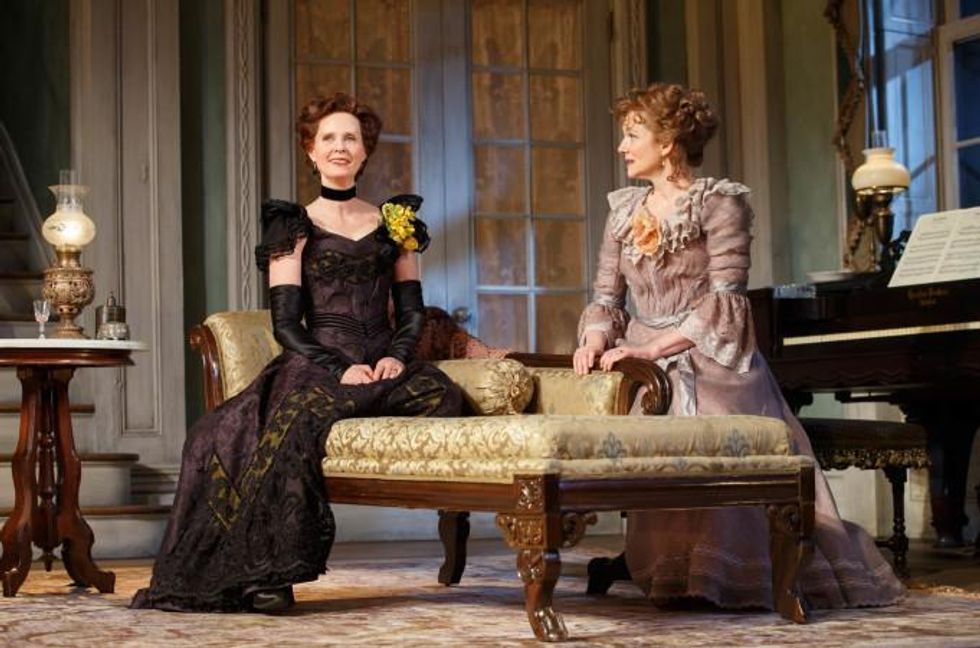 Joan Marcus
Scott Pask's ever-so-slightly forced perspective set frames the action. The house is simultaneously indicative of the obvious wealth of its owners, and of their grey, often soulless existences. Indeed, boiling the play down, you could well say that this is its sole message, that it is an age old tale of money not buying happiness. But that would be a gross oversimplification, the work speaks to the frailties of humanity in the face of wants and desires, and the mismatching of fates within the cruel worlds that money creates. For all the moral objectionableness on display here, every action taken by a character feels like it comes from who they are, not some contrived villainy, and that is why the characters are so engaging and terrifying to watch. They are not caricatures. This is as much to the credit of Hellman's writing, as it is to the cast and crew of Sullivan's production. Linney, Nixon, and the whole assorted company are suited brilliantly to the material, and deliver its ripe social commentary with gusto. For the discerning theatre-goer, this play is definitely one to catch.